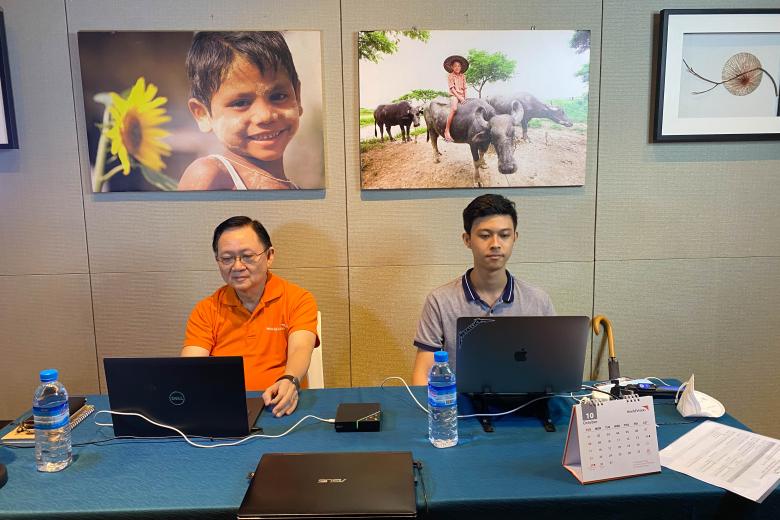 Zwae: A Changemaker from Myanmar
Friday, May 19, 2023
Beginning of the Journey
"One of my best memories was when I was part of "It Takes A World" campaign to end physical violence against Myanmar children at home and in school," Zwae recalled.
Zwae, a 17-year-old changemaker, is a true inspiration to children in Myanmar. He recognised that there are various issues that children in the country are facing, such as physical violence, malnutrition, poverty, and more. In particular, he believes that physical violence against children is the most pressing and damaging issue that children in Myanmar are currently facing.
In 2017, Zwae joined the child group of World Vision Myanmar and decided to work with the organisation to amplify his voice against physical violence toward children. He faced numerous challenges along the way, especially the conservative views of some adults on child punishment.
Challenging the Elders' Belief in Punishment
Zwae stated that "Unfortunately, in Myanmar, there is a prevalent belief among adults that physical punishment, including beating, is an acceptable way to discipline children."
And "They do not realise that beating leaves mental scars on children for their entire lives. The worst impact on children is that they can suffer from trauma, leading to loss of confidence and other issues that can negatively impact their development," he added.
His commitment to ending physical violence against children in Myanmar is admirable. He notices that this form of punishment can perpetuate a cycle of violence and harm, as children who experience violence are more likely to become perpetrators themselves in the future. Additionally, he understands that beating as a punishment is deeply rooted in tradition and has been passed down through many generations. 
Embracing Conviction in One's Purpose
However, he believes that change is possible.
With the various platforms provided by World Vision Myanmar, Zwae was able to leverage his messages to raise awareness about the issue in collaboration with education authorities, influencers, school teachers, parents, and caregivers. Through the ITAW campaign, he has advocated for ending physical violence against children and worked to change societal attitudes toward child punishment. As a result, teachers have stopped using beating as a punishment in schools is a significant achievement that shows the impact of his work with key stakeholders.
Zwae proudly said, "All of the achievements are the result of many children's voices. I am just a part of it. That is the most grateful moment that I can pick out for myself."
During his time with the child group of World Vision Myanmar, Zwae participated in the Asian Regional Forum, where he met with other changemakers from various countries to discuss the issues facing children in their respective nations. Through this experience, he gained a global perspective on the challenges faced by children and was able to share the insights he gained with the World Vision Management Team. He also had the opportunity to present and discuss the issues that children are facing in Myanmar with World Vision CEO Andrew Morley.
In addition to his work on ending violence against children, Zwae has also been involved in environmental protection activities. He participated in the Climate Justice Asia Event to discuss the role of children in protecting the environment, highlighting the need for children to be involved in creating sustainable solutions for the future. On March 5, 2023, he served as a moderator in the UN online Regional Dialogues, focusing on eliminating all forms of violence against children, which were led by Najat Maalla, the UN Special Representative of the Secretary-General.
Unwavering Dedication
Zwae's involvement in the Child Leader Advisory Group demonstrates his willingness to provide feedback and suggestions for future projects and programs that reflect the voices of children. His dream of becoming a legislator who can make meaningful laws to protect and justify the people of Myanmar, especially children, is a noble one.
Zwae has a message to world leaders to provide better support to children and child leaders and empower them through supportive law enforcement.  "Don't stop advocating for the children's future and stay strong together," he added to future changemakers. The world will then hear our voices."