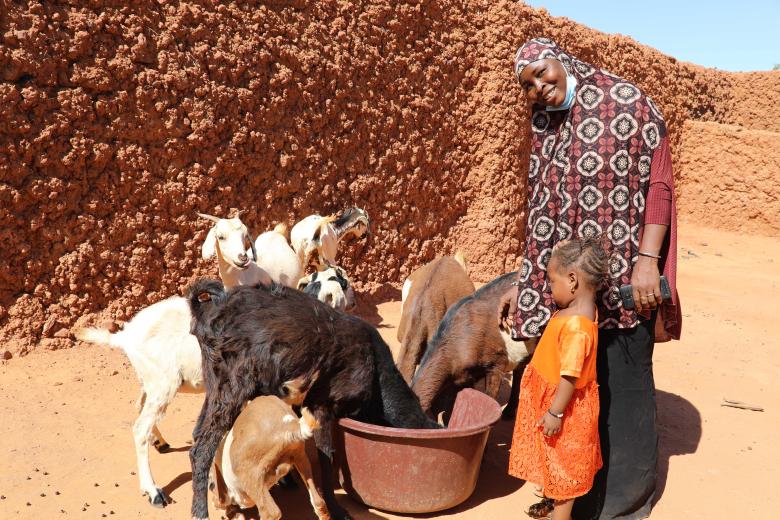 How Nasbatou got her joy back
Tuesday, March 8, 2022
In Niger, 52% of the population are women; with a poverty index of 67.2%. The fertility rate remains the highest (7.2 children per woman). The country's high population growth is therefore explained by this very high fertility rate, the population's youth (average age 15 years), a low level of education and a patriarchal society where men work in the fields (79% of the population in rural areas) while women stay at home or do market gardening. According to a United Nations study, Niger's population is expected to reach 79 million in 2050 and 209 million in 2100.
According to the United Nations Children's Fund (UNICEF), 30% of girls are married before the age of 15 and 75 percent before the age of 18. These marriages often interrupt girls' schooling, as was the case with Nasbatou Issoufou, a 25-year-old mother who has been divorced and remarried for several years. She narrates her story below.
My name is Nasbatou Issoufou, I am 25 years old, and I live in the village of Kalfou. I have four children, but I live with three of them. The eldest lives with his father since we divorced. For six years, I have been member of a savings group called "Tatali Iyali" which means  "Taking care of the family" in my mother's tongue. I love this group because it has transformed my life and my children's lives.
Before joining the savings group, life was boring and difficult. I was always at home doing nothing. I did not do any activity that could provide me with money, and I depended solely on what my ex-husband would rarely sen for the children through his parents.
I suffered a lot because taking care of the children alone was not easy. Whenever they were sick, I had to take care of them on my own. Sometimes, finding money to pay for credit (airtime) to call their father and ask him to help me was impossible. I once went to beg the children's paternal grandparents to help me care for my youngest daughter who was having diarrhoea and was vomiting blood. But to my surprise, they chased me away and asked me to go elsewhere to get money. This made me very sad because it wasn't normal for me to be rejected this way. After all, these children were their grandsons.
Apart from that, my children had lost interest in school because I didn't have any recess fee to give them. They couldn't bear to watch their friends eat during recess. When they came back from school, they would spend all their time crying, and that broke my heart.
In addition to the situation of the children, I could not satisfy my own needs. I was constantly dirty because finding money to pay for soap was difficult, let alone clothes.
One day, one of my friends informed me about the savings group. So I joined and started to participate in their different meetings. I took a loan, with which I started making cookies that I sold in my neighbourhood. After that, I took out a new loan to pay for women's items that I resold. Every month, I could have a profit of 30, 000 FCFA (US$60), and with these savings, I was able to buy eight goats that I was breeding.
Last year, I sold four goats at 115,000 FCFA ($230). With some part of this amount, I paid for food for the house, and with the other, I repaired our house. Now I have four goats left, and one of them has just given birth, so I have five goats.
Since I became a member of this savings group, there has been a big change in my life and my children's lives. I have forgotten the rejection and all my sufferings. Now, I can take care of my children without any problem. The children go to school happily because, every day, each of them receives money for recess. I can assure loads of 20, 000 FCFA $ (40) per month, whereas before, to find 3,000 FCFA per month  was an ordeal.
Now, I have remarried, but I don't depend on what my husband gives me. Even before he spends for me, I have already paid for what I wanted. I don't have to wait for him to give me food or clothes. As soon as I see what I like, I automatically buy it.
I just pray that God blesses this NGO through which I have regained the joy of life, because it has taken the women in my community out of poverty and transferred them into abundance. We have received several trainings in this group. Now, we all have activities that generate money for us, and we have become independent.
-
In addition to Nasbatou's group, 139 groups of 25 women were trained each, not only on income-generating activities, but also on community life, financial management and ideas on entrepreneurship.