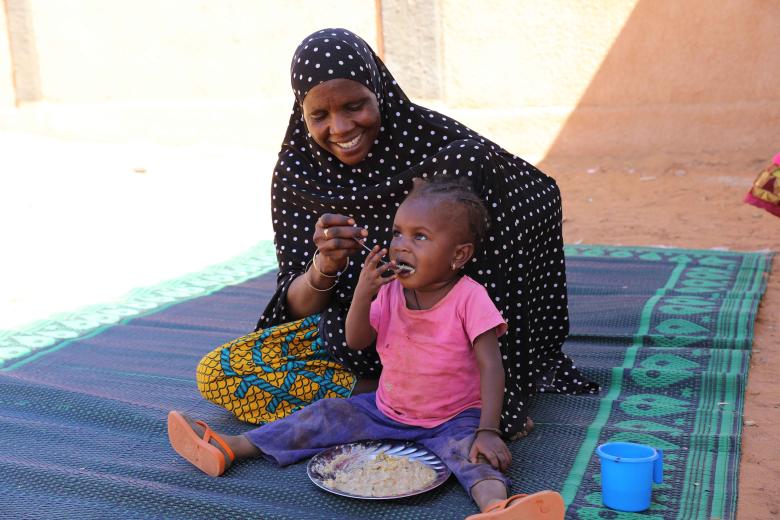 Widow Bassira's once malnourished children are now well
Thursday, April 15, 2021
It's a sad statistic. According to UNICEF, only 23% of babies in Niger are properly fed. And for Bassira, a 40-year-old widow, it was even worse.
Bassira lives with her six children in Kalfou village. She tells us how difficult it was to raise her children who were all malnourished at an early age.
"Just after their first years, they lost a lot of weight. I had to manage every time to bring them to the health centre to receive the plumpy'nut (ready-to-use therapeutic food), but the children recovered slowly and with difficulty", she says. "I remember, as if it were yesterday, how I suffered with my first son. It started with diarrhoea that got worse every day."
Bassira further explains the experience with her firstborn's disease. She thought she was doing the best to cure him but it complicated the situation even more. "I was inexperienced and didn't know what to do, so I ran to the nearest street vendor to pay for medicine. So the vendor gave me medicine for the diarrhoea, but it made the situation worse. So I ran to quickly to borrow some money to bring him to the health centre. Once at the health centre, my child was consulted, then I was told that my child was malnourished", she says with a sad expression.
''We were given plumpy'nut that I had to give him to help him regain his health. So every week, I had to go back and forth to the health centre to take plumpy'nut until he recovered. I also had to prepare a recipe based on cowpeas and meat that I gave him in addition to the plumpy'nut."
This situation did not only affect Bassira mentally; it also had an impact on her finances.
"It took seven months for my son to fully recover. I spent more than 70,000 FCFA (US$140) until his complete recovery. About 40,000 FCFA (US$80) of this sum was from loans that I gathered from my acquaintances. After that, I had to work as a servant for people for five months to be able to repay this amount.''
A sufficient and balanced diet protects children under five years of age from undernourishment and malnutrition. Children who do not receive essential nutrients can suffer from malnutrition and be exposed to serious health problems that could hinder their development. These include issues with their growth, intellectual development, and a weakened immune system.
Unfortunately, little Fadjimata, Bassira's last child, became malnourished just after she was weaned.
"Last year, after I weaned my youngest daughter, she refused to eat. She was losing weight day by day, then she started to have diarrhoea. I took her to the health centre, and it was detected that she was malnourished", says Bassira with a faint voice, clearly heartbroken.
After Bassira had discussed with a community health worker who told her that there was a possibility for Fadjimata to recover, there was a glimmer of hope for her, and she did not hesitate to jump on that opportunity.
''Then the community health worker of our village informed me of the existence of a hearth (structure used for educating parents and caregivers on the Positive Deviance/Hearth approach) where they were treating malnourished children," Bassira continues, with eyes now full of sparkle.
''When I arrived at this hearth, I learned many things. During 12 days, the community health workers showed us how to prepare different recipes based on several local foods. After that, I continued what I learned at home. One month later, we weighed my child and she gained weight. I continued with the recipes, and after three months, we weighed her and she weighed 11 kilos as opposed to when we arrived where she weighed six kilos.''
Bassira is now full of joy because all her children are well. She is able to prepare a balanced diet for them. Today, little Fadjimata likes to eat and even has food preferences.
"Among all these recipes, my daughter prefers the cowpeas mix and sorghum paste. She enjoys it and eats with appetite!", Bassira says with a smile as she feeds her daughter. ''I would like to thank World Vision for this initiative because through what I learned in this hearth, I am now able to prepare balanced meals for my children that are based on easily accessible local foods.''
Bassira does not keeps what she learned to herself; she spreads the knowledge within her community. "Now I also provide guidance to women in my village and give them advice on how to feed their children to prevent them from becoming malnourished", she concludes.
Positive Deviance/Hearth (PD/Hearth) is a behaviour change programme used to rehabilitate underweight and wasted children like Bassira's daughter aged between six and 36 months without medical complications; sustain their rehabilitation, and prevent future malnutrition. Word Vision initiated the approach in Niger in 2015, and currently, it is one of the key interventions of its nutrition programme in the organisation's intervention areas in the country. The programme has reached more than 12,000 children who have been rehabilitated. Between 2019 and 2020, 618 children suffering from moderate acute malnutrition and 25 from severe acute malnutrition were also rehabilitated.