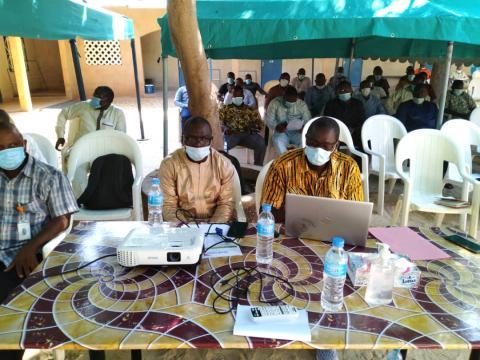 World Vision's team in Niger holds day of prayer to kick off 2021 fiscal year
Monday, November 2, 2020
It is around the theme: "Seek first the Kingdom of God" Matthew 6.33 that World Vision's annual day of prayer was held, under a background of praise worship, prayers, communication and communion.
Our 2020 fiscal year was a special year in several aspects because in addition to the increased humanitarian needs, the security context has deteriorated suddenly and since the end of 2019, the world has been facing a pandemic which has affected more than 33 million people around the world.
The first day of our 2021 fiscal year took place against the usual norm in the context of COVID-19, obliging teams to celebrate separately in Maradi and Niamey regions in order to comply with barrier measures and prevent the spread of the virus.
"From October 1 2019 to this day, a lot of changes, a lot of challenges, a lot of difficulties have occurred. However, do not let ourselves be blinded by the difficulties but take the time to say thank you to God because He kept his promise and did well beyond everything we could have imagined or thought" said Carla Dominique Denizard, the Regional Leader of World Vision in West Africa in her message to World Vision staff.
Niger has similarly recorded the worst floods in the last 40 years, killing at least 65 people with more than 300,000 victims. Thanks to their adaptability and resilience, World Vision teams have been remarkable and have mobilised to provide assistance and save lives despite a context of COVID-19.
World Vision's National Director for Niger, Mr. Yves Habumugisha when thanking God for our 2020 fiscal year, shared that "In the midst of this pandemic, God has kept His promise. World Vision has mobilised resources and reached 51 million people. In Niger, we were able to mobilise resources and provide assistance in seven regions to impact more than 3 million people through prevention means, support to the Ministry of Health and community mobilisation messages".
Pastor Yacouba Seydou, the National President of the Union of Evangelical Missions and Churches of Niger was invited to develop the theme of this important day. He delivered a message of encouragement and prayers for the entire staff. "Seek God's blessing; if you want to help your neighbour, let God change your way of seeing things. Seeking the Kingdom and righteousness of God first, is a recommendation that is opposed to worry," he added. He further recommended that through daily prayers we can obtain the strength to endure our various problems, and be armed against the temptations that may arise, so none of these trials will touch us spiritually.
"The days ahead could be difficult, but we know that God will help us succeed. So let's seek God, in all sincerity and in all humility, and the rest will become easily. My exhortation for this day is in keeping with the spirit of this day's theme, "Seek first help and righteousness of God, and all these things will be given to you on top." Concluded the National Director.
This year's annual day of prayer ended with meditations and intercessions under the coordination of Pastor Razak, World Vision's Faith and Development Coordinator for Niger.
Scroll below to see photos from our staff day of prayer to start the new fiscal year, as is customary across the World Vision Partnership.