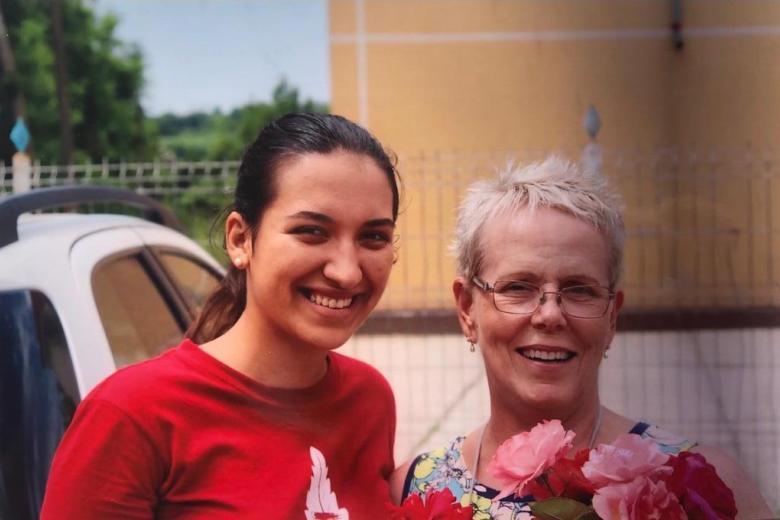 A friendship beyond World Vision borders
Monday, April 12, 2021
Ionela's story is about a moving long-lasting relationship between sponsors and a child. Ionela was registered in World Vision Romania programmes from her young age. Her father is a day laborer and her mother is a housewife. Her family lives in a village in Vaslui county, Romania. For several years their financial situation wasn't very good. Through World Vision programmes, Ionela got help with preparing for the middle school and high-school exams, she attended career counciling group sessions and benefitted from personal development activities. Ionela had a good progress at the school thanks to World Vision programmes.
Ionela was enrolled in World Vision Sponsorship Programme but for few years she didn't get a sponsor; people were preferring to sponsor younger children. Don and Paula came to rescue. A couple from the US decided to sponsor an older child and little did they know that these relations will grow into strong friendship.  
They supported Ionela through high school and now continue to support her in the university. She was accepted to Nursing School, after a strong competition. Don and Paula are extremely proud of her. 
"I am very grateful to my sponsors because they wanted to keep in touch and keep supporting me even after graduating the high school. They are paying my tuition now and supported me to buy a laptop which is so important for my studies. When they visited me two years ago, Don told me that he wanted to study medicine when he was younger, but never got the chance. I think this connects us a lot," says Ionela. 
During their visit Don and Paula had a chance to spend time in Ionela's village and in the surroundings, meet her parents and teachers. It was a very special time for Ionela and her two friends. They visited the churches and the local apiary where they could watch the bees inside the beehives. "That was a very special moment for me, because I did it with my friends Paula and Don." says Ionela. 
Paula and Don are determined to give a hand to Ionela throughout her studies, they keep in touch regularly and created a trusting relationship. 
Here is Ionela's message to her sponsors: "I feel extremely lucky that I met both of you and that you support me so much. You are both wonderful people and I am very proud of myself that I could make you feel proud of me."