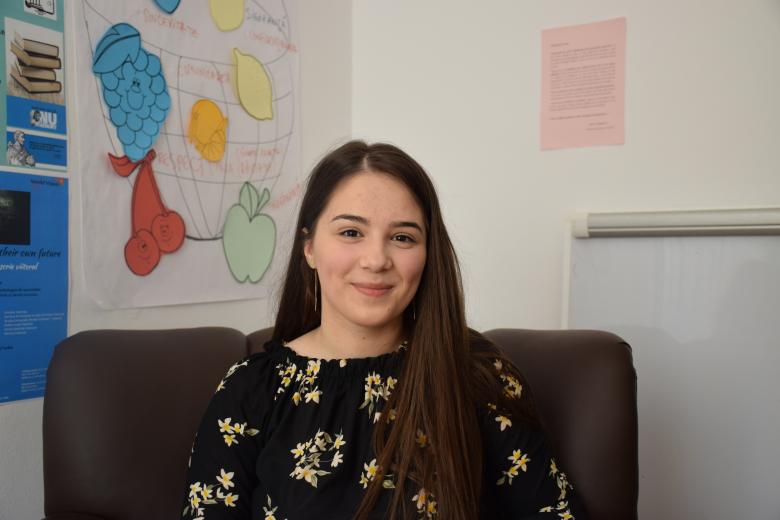 A mentor at 12. Patricia is a champion of others.
Monday, April 12, 2021
Like any other member of World Vision Consultative Council of Children, Patricia is jaunty and excited to share her experiences. She talks fast, has a smile on her face, and it seems like nothing can stop her. She seems exactly like any other 17-year-old teenager.  
But beneath the surface is a young woman who has had to fight to get where she is. 
"My childhood was very beautiful," she says. "My mother offered me everything a child could want. That's why, when I was in the first grade, my mother left to work in Italy for four years. I was left with my grandparents. She left for my better future, to assure she can provide anything I wanted. She returned a long time ago, when I graduated fourth grade." 
It's the same story for countless Romanian children whose parents sacrificed for their children and left for work abroad.  
"It was very hard to see her sacrifice for us, for me and my two younger sisters," she says. "But I knew she was doing it for us. I was grateful about the fact that she was thinking about us. And I wanted to repay her with my interest in school." 
Patricia entered non-formal education programs in third grade. Even if the conditions in her school weren't that good and her mother was away, Patricia wanted to get more involved. In the fifth grade, she became a mentor, volunteering in the remedial education activities organised by World Vision in her school in Negresti.  
"When I entered in this project, it was a key moment for me," she says. "I then realised that not all children are as lucky as me. And that many children needed more than just help with the homework. They needed someone to listen and advise them. I could see some of them weren't happy children." 
It's quite something when a 12-year-old child who lives in the poorest city in Romania sees herself as a mentor. As a mentor, Patricia worked with younger students on homework, everything as a volunteer in her free time.  
Patricia has been the representative of Negresti city in Consultative Council of Children, representing the voice of the children in her city, for several years now. She has to know the urgent needs and problems that children confront every day. She exposes these issues meeting the  CCC. Together with the other representatives, she works to find solutions and implementation methods.  
World Vision is to Patricia as a second school and family where she learnt how to help her community, how to understand herself and her colleagues. "I grew up with this foundation and I learnt here that empathy and love for others are the most important values I could have," she says. "World Vision changed my perspective and my lifestyle."