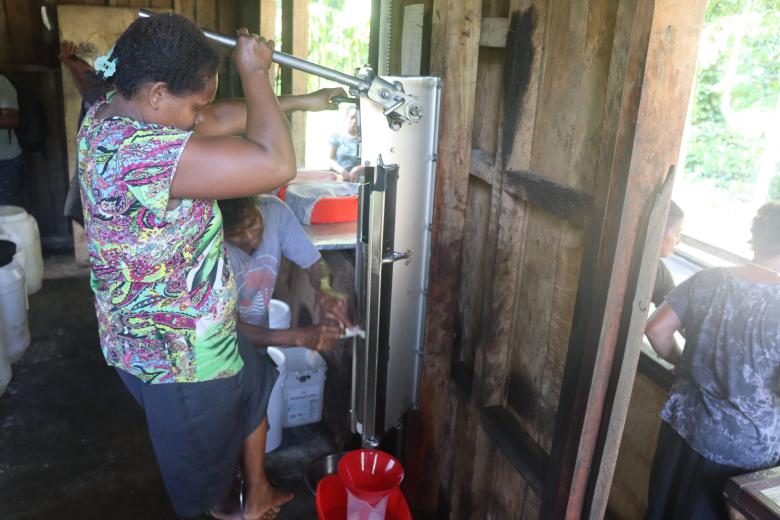 Mothers taking the lead in oil production
Tuesday, August 31, 2021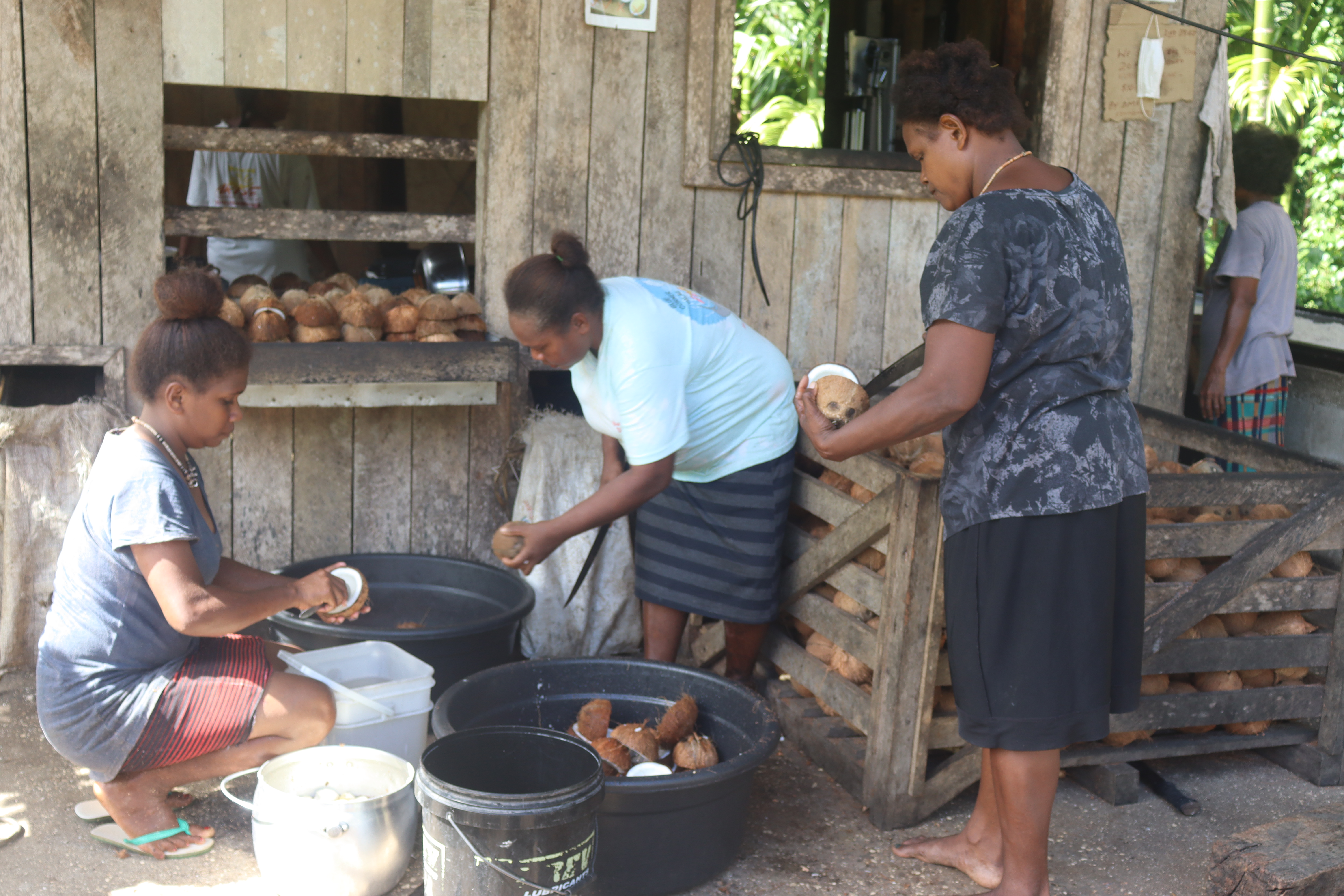 Having coconut trees at their door steps, Mothers from Tawairoi community in West Are'are, Malaita Province do not have any issue when the Australian Government through the Department of Foreign Affairs and Trade (DFAT) has funded a coconut crushing mill to them.
They are not only sees the crushing mill as a gift but are taking the lead on the oil production.  Every month their targets is fifteen to twenty barrels that would be send to Kokonut Pacific Solomon Islands (KPSI). KPSI has been their market through the arrangement by the project.
Tawairoi Community is among five communities in Southern Region of Malaita Province that are partners of the World Vision Solomon Islands' Market Linkage Phase II Project (MLPII).
The project funded them a coconut crushing mill, a gift that mothers from this community described as a blessing to them. Despite it is a hard work, they toil it with joy and excitement because already they had seen the benefits from it.
Mrs Angella Sikiri said, the coconut crushing mill gives them employment opportunity.
"I am very interested and happy to work in this crushing mill and every day we come to work," Mrs Angella said.
She also shared that they are really benefiting from the project especially because it is generating income into the community and also the oil produced from the mill can be used at home.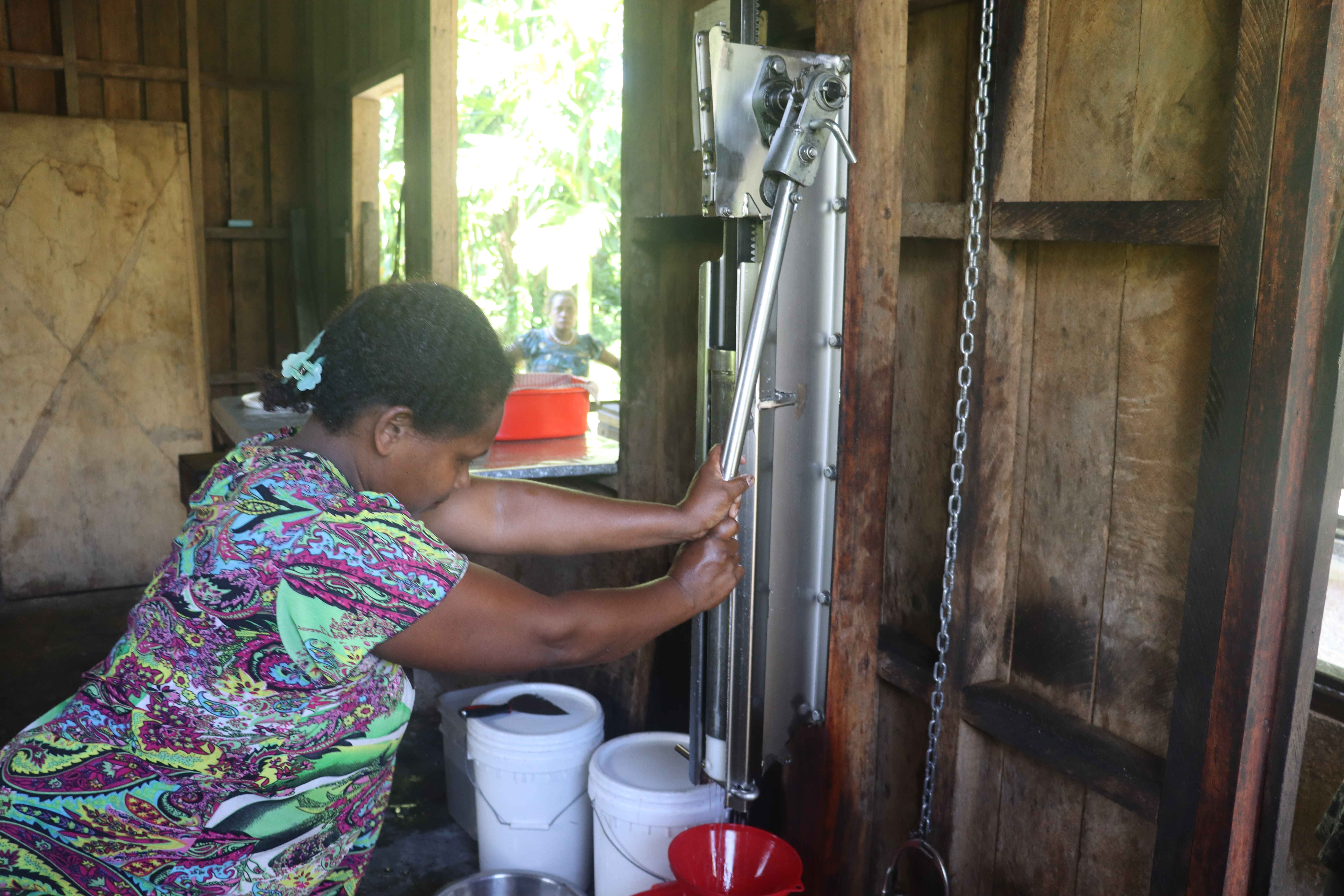 "The money we earn from the mill helped our families to meet children's needs and school fees, we also using oil that we produced for our bodies," she said.
Another mother shared that the processes of the production are very important and must be done correctly so that the end product which is the oil be a quality one.
"When it reached the smoking stage of the crushed kernel, we have to be there all the time to turn them over and over and this is very important because after this stage then we will produce oil out of them," she explained.
Meanwhile, the Mill Manager Peter Takina said, the oil will be stored up to fourteen days before they are ready to be shipped to KPSI.
"This is very important and we must live up to the procedures so that the oil that we are producing is good," he said.
Mr Peter added, their saving is really boosted as the coconut crushing mill is earning them thousands of dollars every month.
"Our target every month is 15 to 20 barrels to be shipped to KPSI, where in return we are around 20 thousands depending on the number of barrel that we are sending as each barrel will earn us up to $1400," he said.
The project introduced to them a Saving For Transformation (S4T) a saving model that encourages community members to establish saving clubs where they can save money. While saving, the members can also access small loans from their savings where then can be repaid with small interests. They also have different pass books for different areas like Saving Producer Groups Funds that including Sustainability Fund, Operation Funds and Profit funds and also Sector Funds which including social, church funds, youth and women funds. The pass books can help them access money from them when the need arise from these different areas. Annually the Saving groups can do share out to their group members. Usually, 25 people are on each saving group.
They also established Producer Groups (PGs) and engage on oil production as their main economic generating activity.
MLP II Project is currently implemented in 20 communities in South Malaita, Makira and Marau Sound, Guadalcanal Province. The total beneficiaries expected is 4210 including children and women.