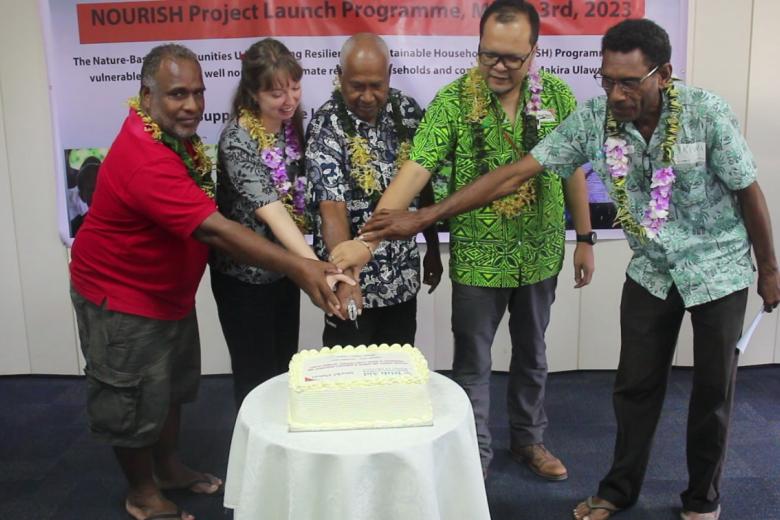 New Project to empower communities address climate change and nutrition issues launched
Monday, March 6, 2023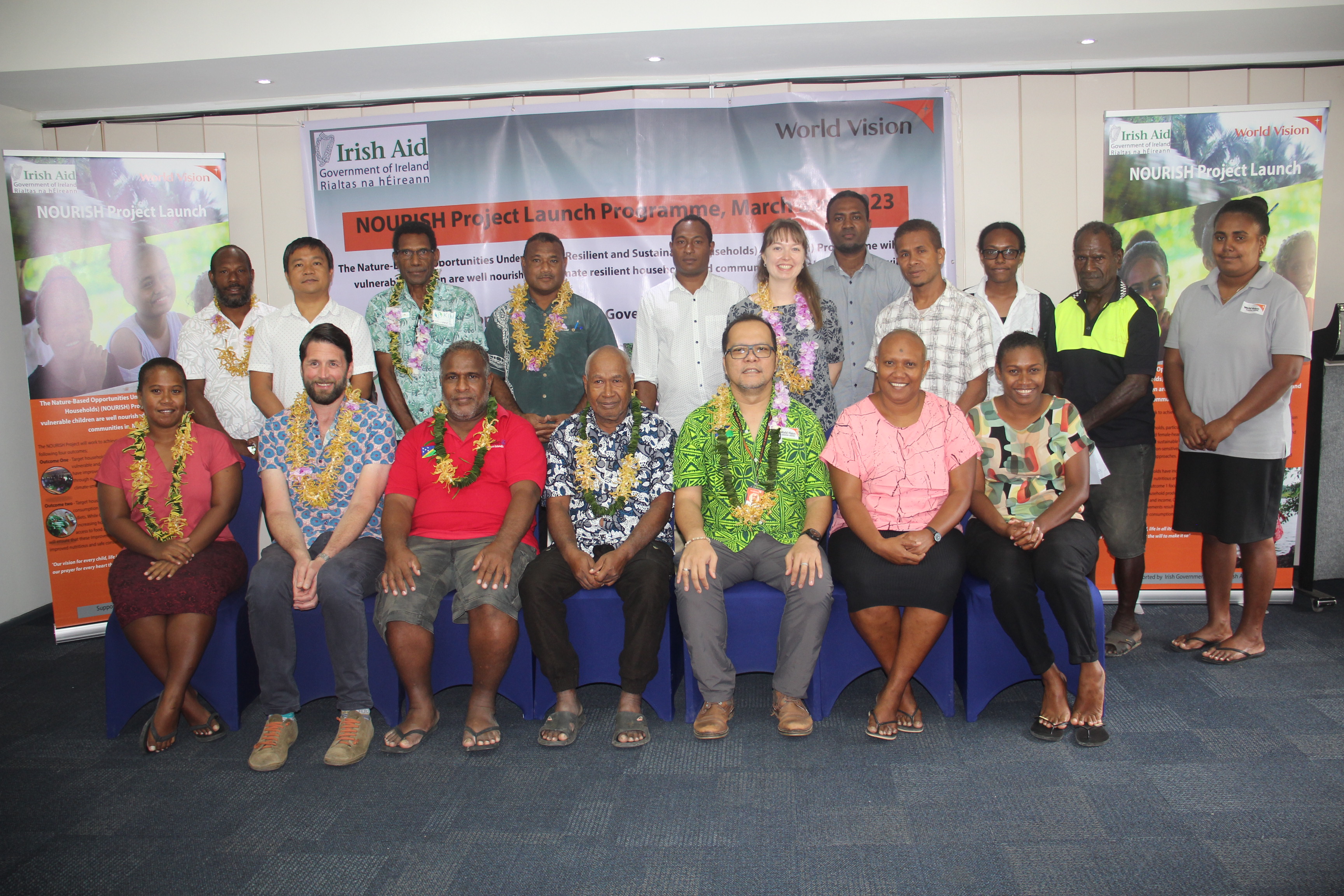 World Vision Solomon Islands launched a new project on Friday, 3rd March 2023.   
The Irish Government-funded project through Irish Aid is a five-year programme that will be implemented in six communities of Makira Ulawa Province. The Nature-Based Opportunities Underpinning Resilient and Sustainable Households (NOURISH) project will ensure vulnerable children are well nourished in climate-resilient households and communities in Makira Ulawa Province.
The event was graced by the Premier of Makira Ulawa Province, Hon. Julain Maka'a, WV Ireland team including Maurice Sadlier and Clodagh McLoughlin, Ministry of Environment, Climate Change and Disaster Management representative, Ministry of Commerce representative, Kastom Garden Rep and other partners. 
The NOURISH Project will work to achieve four outcomes, including  Outcome One - Target households, particularly the vulnerable and female-headed ones, have improved sustainable livelihoods through nutrition-sensitive and climate-smart approaches. Outcome two - Target households have increased consumption of nutritious and safe 
diets. While Outcome 1 focuses on increasing household production and access to food and income, Outcome 2 will ensure that these Improvements result in improved nutritious and safe food consumption. Outcome Three - Target communities have strengthened disaster risk reduction and management strategies with appropriate climate migration and adaptation activities. Outcome Four - Women and girls are empowered socially and culturally. 
Guest of Honour Maurice from World Vision Ireland highlighted in his speech the need to work with small Island states like the Solomon Islands as they are directly impacted by climate change. 
"World Vision if we are serious about working to address climate change, we need to work in small Island states like the Solomon Islands, 
"WV Ireland, during the visit in Makira, we observed in the field the community loss of land because of erosion due to climate change, and so in doing climate justice, we need to work in the Solomon Islands," he said.
Maurice added that climate change should be everybody's business to address its impacts. 
Jimmy Nadapdap, WVSI National director, presented predictions that climate change will increase childhood undernutrition. 
 "without a climate change is indeed affecting the people of the Solomon Islands. It is predicted that climate change will increase rates of childhood undernutrition and related morbidity and mortality, especially in Africa and Asia, and it is estimated that climate-related dietary changes will contribute to an additional 500,000 deaths a year by 2050. 
He added that the 2018 IPCC report on the impacts of global warming of 1.5°C clearly highlights that "populations at disproportionately higher risk of adverse consequences with global warming of 1.5°C and beyond include disadvantaged and vulnerable populations, some indigenous peoples, and local communities dependent on agricultural or coastal livelihoods like Solomon Islands. 
Meanwhile, Makira Ulawa Premier Julian Maka'a emphasised that rural communities struggle with undernutrition due to cheap imports of low-nutrition food. 
" In the face of increased access to cheap food imports of low nutritional value, rural communities that rely on agricultural livelihoods now struggle with under-nutrition, over-nutrition, micronutrient deficiencies, and diet-related non-communicable diseases (NCDs). Limited access to income and employment opportunities on dispersed islands presents a significant economic challenge for many rural people, particularly women and youth," Premier Maka'a said. 
Premier Maka'a said the support is timely and welcoming to ensure communities are well prepared for the negative effects and bad consequences of climate change.    
He also thanks Irish Government through Irish Aid for the support and welcomes the project to be implemented in his province. 
"We aspire to the highest levels of best practice and accountability in all that we do. It is even more welcoming to note that this project is, among other things, that aims to help the vulnerable people or our communities," he said.