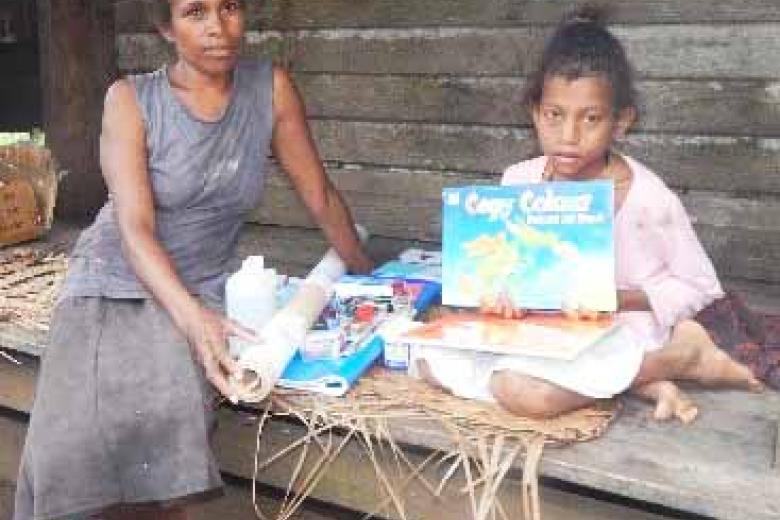 World Vision's intervention gives Beglyn a second chance of learning
Wednesday, July 26, 2023
Beglyn loves going to school. She was committed to attend her Pre-Primary Year classes in Makira Ulawa Province. Her performance was better, and she got top of her class on their semester result. Later in 2021, Belgyn got sick, resulting in an eye impairment.
Her parents took her to the hospital to closely examine her eyes. After spending several months in the hospital, she returned home but on strict orders from doctors. With precautionary measures for health risks under the doctor's advice, her parents withdrew Beglyn from school. Despite her interest in school, the situation prevented her from attending classes.
Because of the situation, Beglyn's mother, Catherine, was sad because her daughter couldn't further her education. She lost hope.
It happened that World Vision Solomon Islands introduced the Strongim Education Together (SET) Project in their school through the support of the Solomon Islands Education Sector Support Program (ESSP)– a partnership between the Solomon Islands, Australian, and New Zealand governments.
SET Project is an Early Childhood Education (ECE) Project, and its goal is to ensure schools, communities, and governments support all children to experience improved education outcomes. A total of nine schools in Makira become project sites. The project established school committees, where mothers like Cathrine can volunteer as a committee member.
Her engagements with the project gives her hope, and she is now knowledgeable about how she could help her daughter continue her education at home. Through the project, Catherine learned about the importance of Early Childhood Education, parents' roles towards education, inclusive education, and child protection. Catherine was motivated and encouraged through the inclusive training as she learned the parents are the first teachers. Through that, Catherine is helping Beglyn out at home, doing her readings and other activities to help her continue learning.
Recently, WVSI, through the SET Project, supported Beglyn with stationaries towards her continuous education.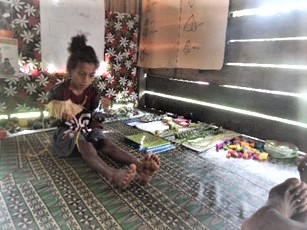 "I wish to thank WVSI through SET Project for supporting my daughter with the stationaries to help us parents to continue to teach her at home; also, these stationaries are expensive, and we cannot afford them; thus, thank you so much," Catherine said.
Meanwhile, SET Project did support Sharlyn, another child with an eye impediment. She is an eight-year-old girl who couldn't attend school because of her eye impediment. However, the SET Project intervention encouraged her parents to send her to school and supported her with the stationaries. Sharlyn is now enjoying and committed to her classes.
World Vision Solomon Islands is proud that through its work, children are attending schools as Article 28 of the UNCRC says that children and young people have the right to education no matter who they are: regardless of race, gender, or disability; if they're in detention, or if they're a refugee.