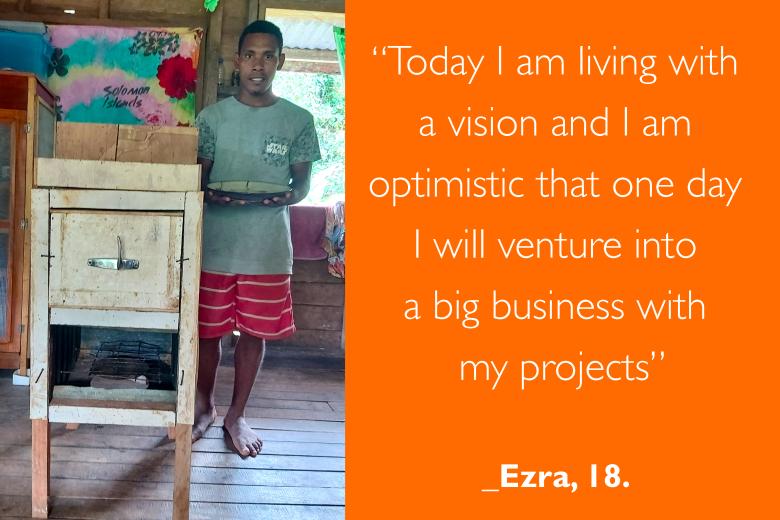 The young enterprenuer
Sunday, August 30, 2020
18-year-old Ezra is a year eleven student and a successful young entrepreneur from East Malaita. He is one of the many youths in his community that are currently experiencing the impacts of the World Vision Youth Social Entrepreneurship Development (YSED) project. 
"I was grateful to be selected by my community to attend the leadership and mindset training workshop back in 2019 when the project started," shared Ezra. "It was a very rewarding experience for me as it triggered and motivated me to pursue the potential I had as an individual," he added.
With a natural drive for innovation and creativity, Ezra was already teaching himself basic construction engineering from books he collected from the school library. Today in his community, Ezra is building clay stoves, which he sells for SBD$150 each. His customers are family and community members, who bake bread and cook fish to sell at the local markets.
"I slowly built my entrepreneurship skills by attending training that was offered by the project on a positive mindset, creativity, and innovation," Ezra said. "Apart from participating and sharing ideas with others in our Youth Impact Clubs, I also work on my own projects," he added.
Excited after his continued research, Ezra is currently working on upgrading his clay stove model to be a raised wooden frame cooking stove with clay interior that enables users to stand up whilst cooking. He already sees beyond the horizon and later plans to work on making clay plates and bowls.
"Work is still slow because I also attend to my studies at school. However, today I am living with a vision and I am optimistic that one day I will venture into a big business with my projects," says Ezra.
Through the YSED project, Youth Impact Clubs were created to bring together youth innovation and creativity through sharing ideas and initiatives while showcasing individual leadership skills in the community. This activity comes under a Community Service-Learning module, which is a form of service learning where youths learn and develop by identifying, planning, and implementing a project or activity that meets the needs of a community. This can gradually empower youths to think positively, engage in community activities, reduce anti-social activities, and thus start to participate in community meetings and taking on leadership roles within their community.
Supported by the New Zealand Government, the World Vision Youth Social Entrepreneurship Development project currently works in North and East Malaita and aims to support 2,000 youth realize their full potential to engage in the social and economic development of their various communities.