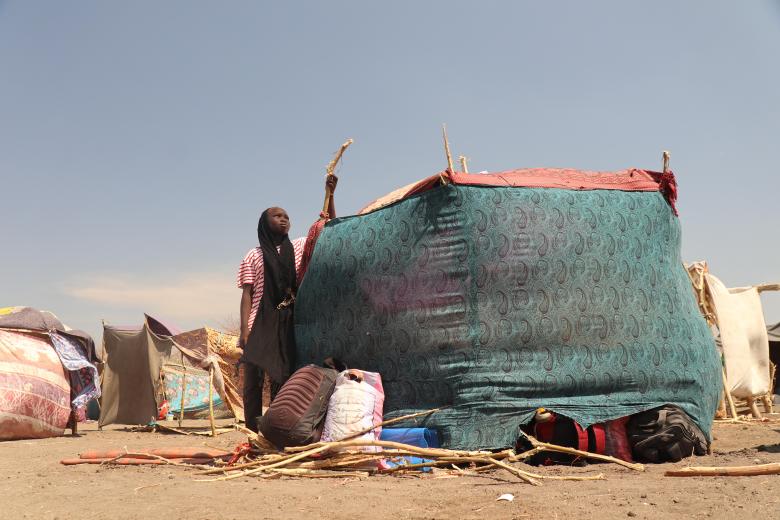 Becoming a returnee from being a refugee: A girl's journey back to South Sudan
Wednesday, May 17, 2023
For many South Sudanese refugees living in Sudan, a conflict forced them to leave their homes. And now, it is again because of conflict that has left them with no choice but to return. In addition, the ongoing crisis in Sudan has been forcing many people to leave their homes for safer places to live.
For 13-year-old Tina, returning to South Sudan to flee from the ongoing conflict in Sudan brought back painful memories. It was like reliving a nightmare that she wished she never had.
It has been six days since she and her family arrived in Renk, a county near the Sudan – South Sudan border points in South Sudan's Upper Nile region. They traveled for over three days, transferring from one bus to another and walking extensively on foot.
"We could only carry two bags containing two bedsheets, two scarves, a few clothes for the children, a bucket of water, two plates, and saucepans," Tina shared.
In Renk, Sudanese refugees and South Sudanese returnees like Tina are confined in a transit center. Many of them, women and children. They live in makeshift tents made of bedsheets, which are not enough to protect them from the scorching heat of the sun (40 degrees Celsius), wind, dust during the day, snakes, mosquitoes, and cold at night.
Tina and her family were among the hundreds of thousands of refugees who fled to Sudan eight years ago. The height of South Sudan's civil war displaced over two million people.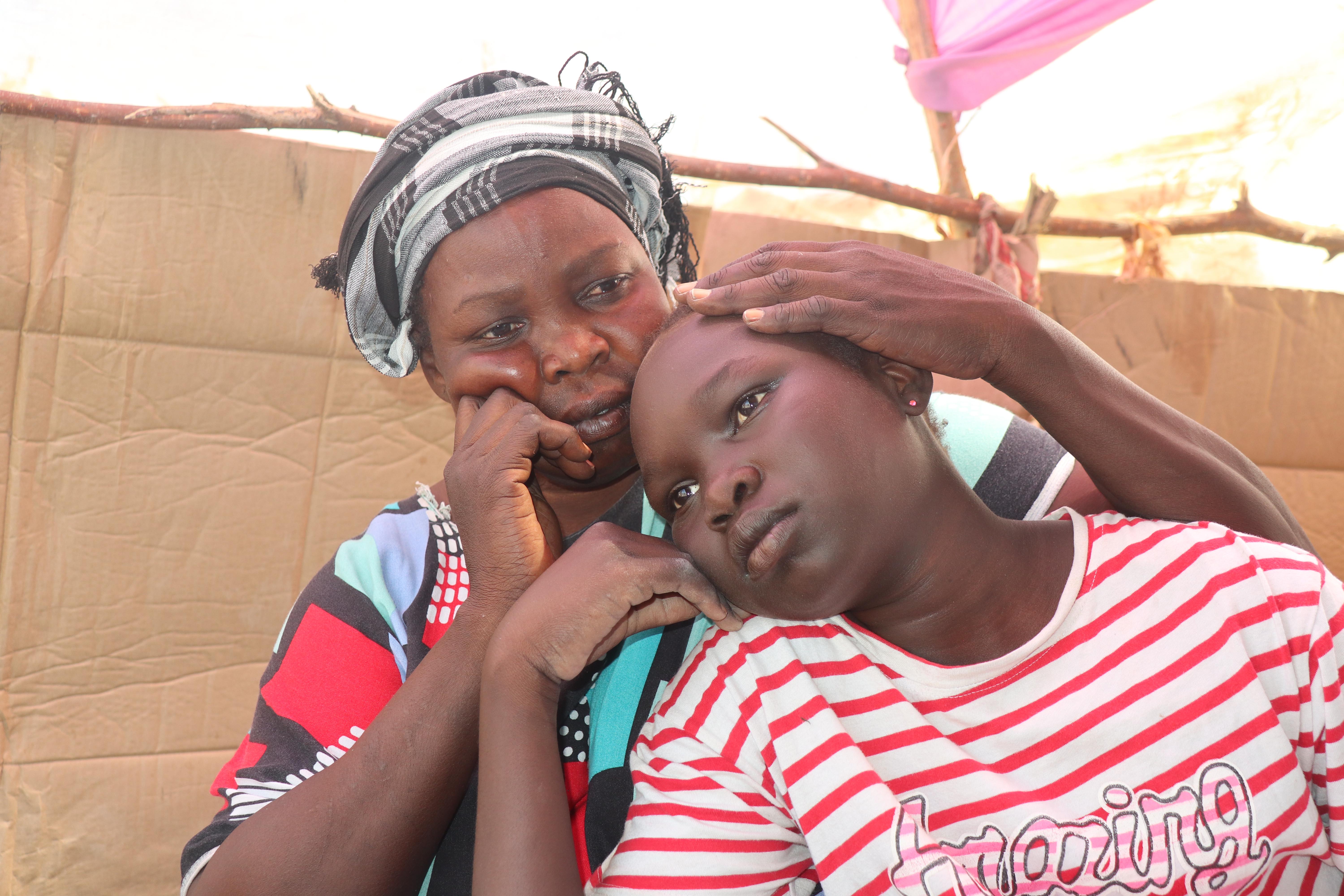 Tina recalled that at five, she witnessed immense fear in her mother's eyes as they left home. "We boarded two boats and vehicles when we left Malakal. There were intense fighting and gunshots as we left."
Her mother, Lucia, was nine months pregnant at that time. "I had to carry stuff that was too heavy for my size. Our escape took two weeks. I watched my mother give birth to my younger brother while we were on the run," she recalls.
Life was not easy in Sudan, especially because Tina's father passed away due to an illness the following year. As a result, Lucia had to work in other people's homes to provide for their needs.
"My mother washed clothes and utensils and cooked for people to make life easy. My siblings and I focused on school because it's the only thing I believe would someday change our lives," she said.
Her dream of having a peaceful and happy future crumbled once again as the conflict in Sudan broke. 
"Me and my siblings were preparing for school when we heard gunshots. I wanted to return here someday to make a difference in my country. But I do not want to return like this. I do not want to flee for my life again. How many conflicts will I have to witness before the world becomes a better place for everybody," she lamented.
According to Tina's mom, Lucia, she prayed for the shooting to end: "Tina is already in senior grade, and hearing the gunshots, I knew that was not only going to remind her of the experience eight years ago. It was heartbreaking to see her wearing her uniform yet unable to attend school."
Lucia shared that when the fighting started in mid-April, they remained indoors. They stayed inside the house for two days and nights as the gunshots intensified during which they consumed all their remaining food.  Left with nothing, they moved to the church and stayed there for six days.  "But we had no food. My youngest son got sick. As the gunshots drew closer, I felt we would rather die by the gun than die of hunger." It was at this point that we started our journey.
"We are lucky that it hasn't started raining yet. Otherwise, sleeping in the open area would have caused even more serious issues than just fleeing from conflict. The transit center is not conducive. The other day, we spotted a snake, and the heat is unbearable, and I am beyond worried for my children," Lucia said.
My children are in danger of diseases and starvation, the food served here is not enough for people, and some families sleep hungry," she added.
Like Tina's family, most South Sudanese returnees wish to be repatriated back to their homes of origin.
According to the United Nation's humanitarian coordination agency, UNOCHA, over 50,000 arrivals from Sudan had been recorded as of 11 May.  Most of the arrivals enter through Renk, and the majority are South Sudanese returnees.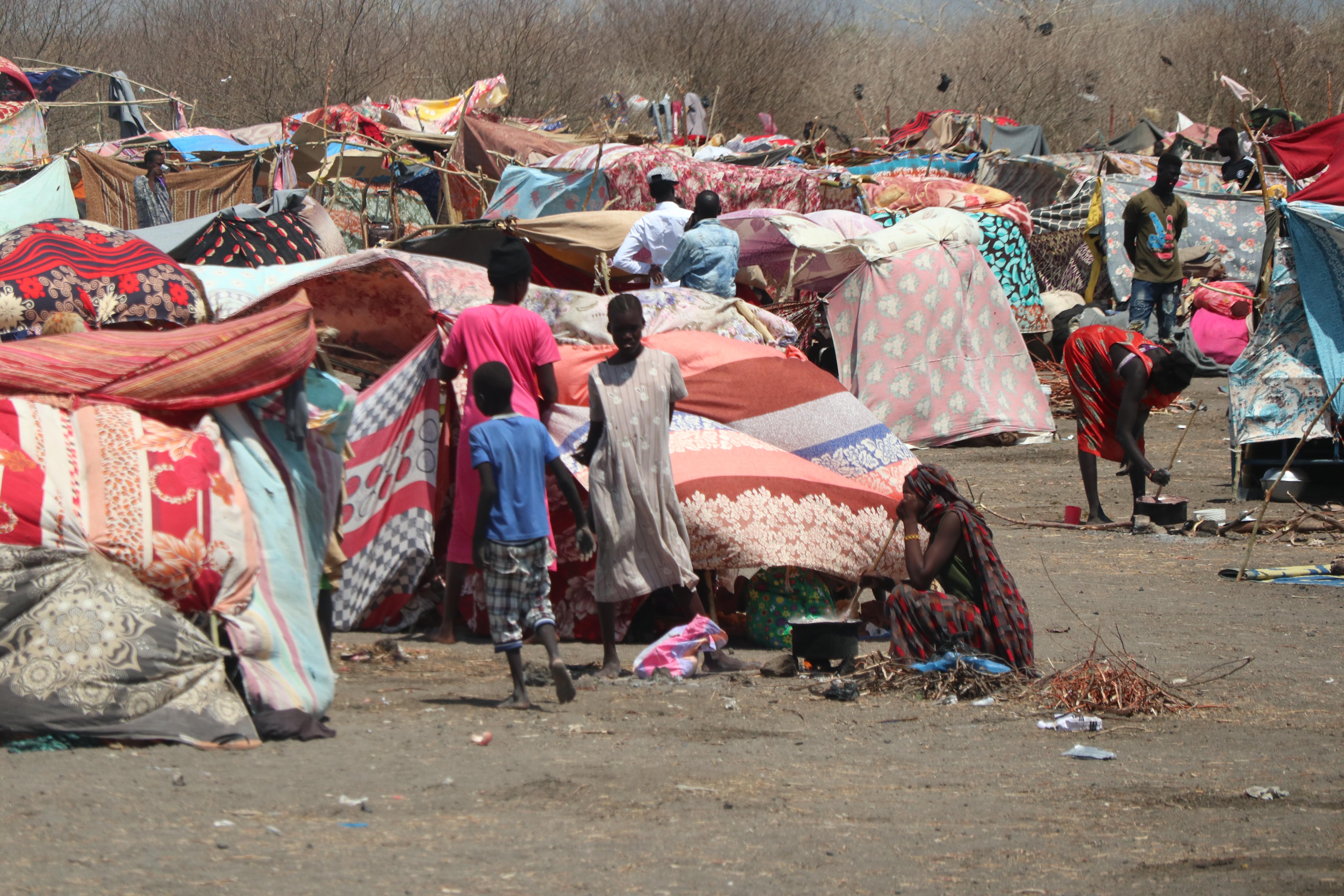 World Vision South Sudan is on the ground and has been working with other agencies to assess the needs of the refugees, South Sudanese returnees, and host communities. Our emergency interventions focus on providing food, shelter, livelihood, water, sanitation and hygiene, nutrition, and protection, especially for children, mothers, and people with disabilities.
Story and photos by Scovia Faida Charles, World Vision South Sudan Communications Coordinator.