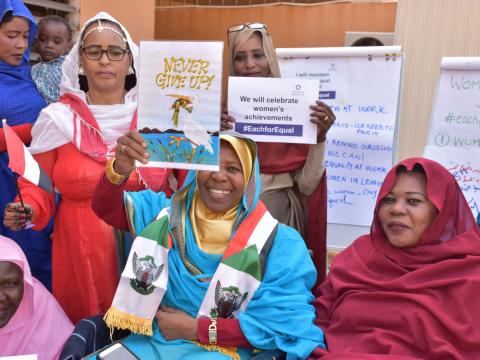 Finding the will to cope after a life altering incident: The story of Niemat
Monday, March 2, 2020
The following story is from an interview with Niemat Elkhawad. She describes how she found the will to cope after experiencing a life altering incident. Ms Niemat is the people and culture officer at World Vision in Sudan, based in Khartoum.
My name is Niemat Elkhawad. I work for World Vision since 2006.
I will never ever forget the date of 8 March because this is the day that I fell down from the stairs at home, at 6.00 a.m. I was getting ready for to go to work. 
This 8 March, it will be three years since the accident.
During this accident, I broke my back and sustained head injuries. My family rushed me to the nearest hospital. When we arrived at the hospital, I couldn't recall what had happened to me. I could talk and recognise the voices of the people, but I didn't recognise their faces.
The doctors scheduled me for a surgery, and on 9 March, 2017, when the doctor explained to me about the surgery and what I thought about it, I asked him if it was possible to do the surgery outside of Sudan. He said this would be difficult, particularly since the surgery had to be conducted as soon as possible, to minimise further damage.
I asked what would be the success rate of the surgery. He gave me options, maybe a 100 or 50% or even 0% success rate. I told him I will leave this to God, you can proceed with the surgery. 
The surgery lasted four hours, and at midnight I came out of the theatre.
The next morning there were relatives from different states in Sudan, friends and colleagues who had come to visit me. My family was concerned that I was very tired, but I said no problem, let them see me, they have come from so far. Please, let them.
Fast-forward post-surgery:  Niemat learns to cope with her 'new normal'
I came back to work after three months.
It was difficult at first, for example adjusting to sitting down for eight hours continuously. But I have learnt to cope with my situation, like taking rest after every two hours, and then I continue with work.
Also, I have the support of my family and friends in World Vision. I don't even think about it all the time that I cannot walk, because they are like my legs. I just call, and I find them around me.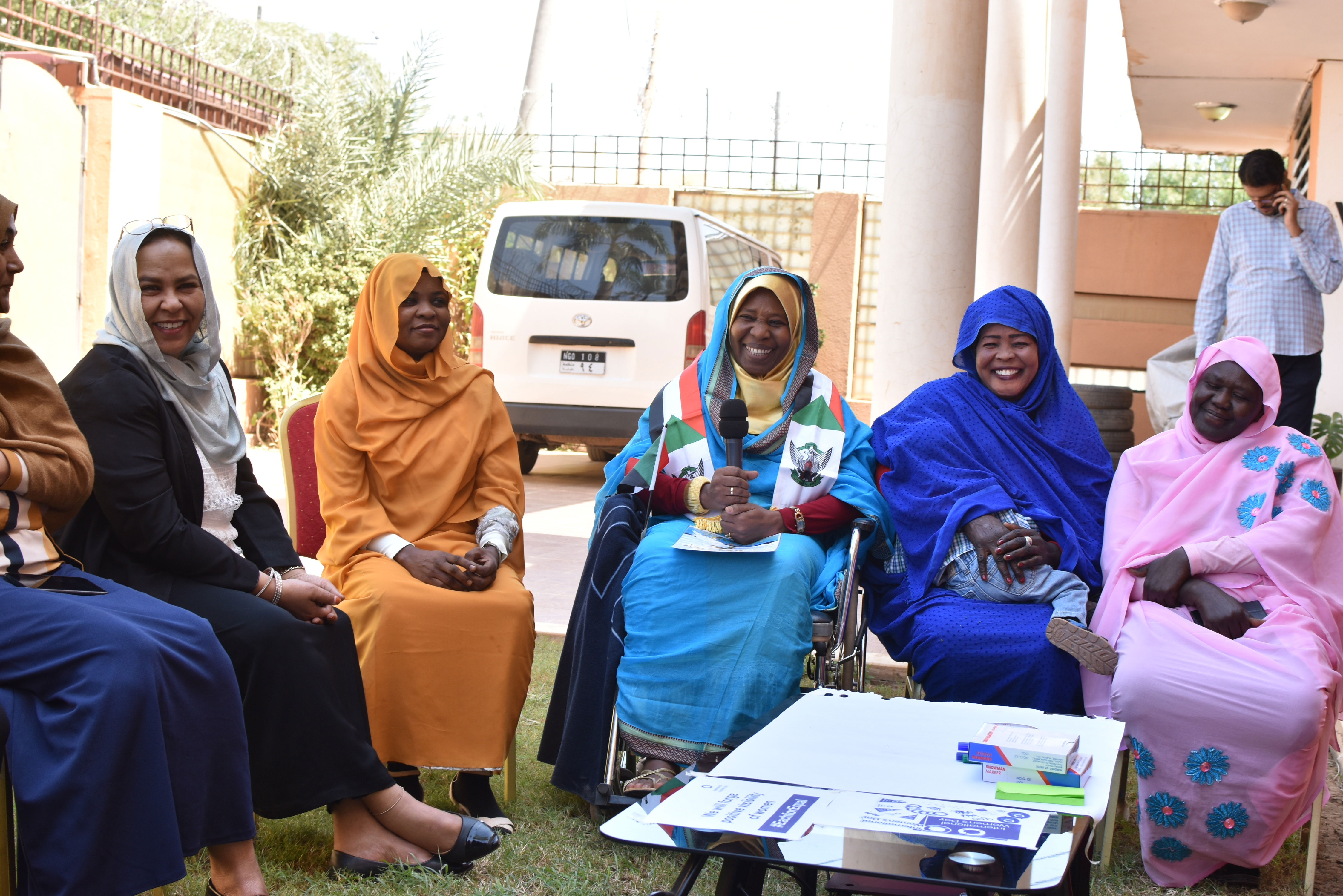 I also have this sign that I put at the front door of my office, to remind me to never ever give up.
I am happy to be part of World Vision family and for the support they have given me, and continue to give me. They haven't made me feel any different at all.
This has really encouraged me to continue my work, and I do it a 100%, both in the office and at home.
I have come to accept my situation, and I know that Allah is beside me. I remember when people visited me at home after I was discharged from the hospital. They thought that I would be feeling down and isolated, always thinking about what happened to me, but I thank God that did not happen.
Often when something bad happens to us, we get angry with God, but just know that anything bad that happens to you, there is meaning behind it, and also good to come out of it.
While what happened to me is something negative, it has also made me to learn about how to deal with my new situation. In fact, when I started my physiotherapy, the doctor told me that I was coping very well, something not very common for people with situations like mine. I am okay; I thank God.
The love and support of the people around me give me strength every day, and I am always encouraged to know that I have their love and support. There is not much to say in words but that I am very happy.
On this International Women's Day, I want to congratulate women all over the world, and in particular, the women of Sudan.
Mona Mohammed, Niemat's immediate Supervisor says this about Niemat, with much admiration, "She is such a symbol of hope and a role model for lots of us."
International Women's Day is celebrated on 8 March each year to celebrate women's achievements and a call to action to accelerate women's equality. This year's theme is: "An equal world is an enabled world." It was first celebrated in 1911 with the support of over a million people.
From World Vision in Sudan: We join Niemat in wishing women all over the world, Happy International Women's Day!