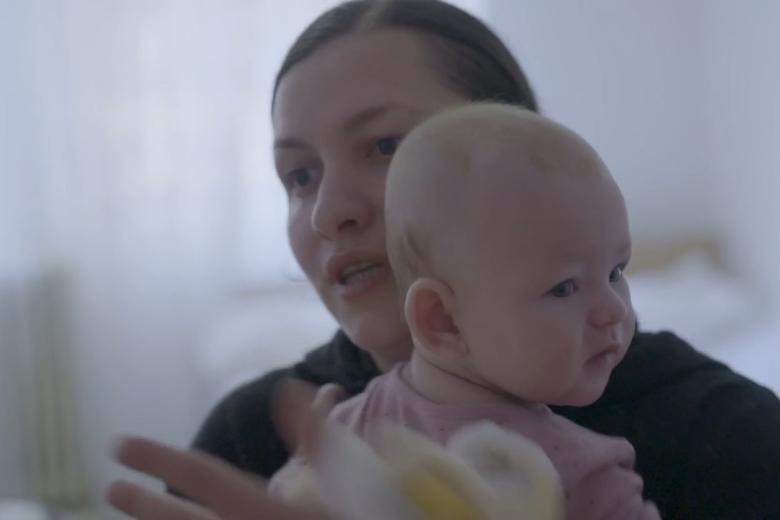 Women from Ukraine carry immense burdens as they seek shelter in neighbouring countries
Friday, March 18, 2022
Mothers, aunts, grandmas and caregivers; with martial law declared across Ukraine, women throughout the country are hastily gathering babies, children and teenagers and carrying them across borders to safety. They are holding up the elderly, comforting the young, soothing babies and supporting those with special needs.
They are carrying them through the freezing conditions, rain and snow. They are hiding out in cold, waterless, blacked-out basements with nothing but a small suitcase and the clothes on their backs and whatever money they can draw out of their accounts at short notice.
The vast majority of these women and children share a common destination: absolute uncertainty.
They do not know if or when they will see their family members who stayed behind; many of whom are too weak or old to travel. They do not know what awaits them in countries which they have never visited and whose language they do not speak. They do not know how they will provide for their families. And, they do not know when they will be able to return home – or even if they will have a home to return to.
Tetiana's voice shakes as she talks about her decision to flee her home in Odesa, in western Ukraine.
"It was 3 a.m. I heard a helicopter and then I heard bombardment... It was so close to my house, and in that moment, I decided: Enough."
She's tending to her five-month-old daughter, Monic, who because of complications at birth has special needs. "I waited 10 years for this baby," Tetiana says. She spent all her savings to prepare for Monic's arrival and rent an apartment. "And now this has happened in my country. We've lost everything."
Tetiana travelled by bus with Monic, her nephew Nikita, 13, and her mother Marian, 71, to the Romanian border town of Husi.
For now, they have found shelter in a Romanian Orthodox Church refugee centre, operating out of a school building.
Tetiana was a piano teacher in the life she left behind. Having left behind the single item that supported her livelihood, she doesn't know how she'll be able to look after her family. More than three million people – 73,000 children a day -- have now fled Ukraine, often arriving at borders with the most basic of items.
World Vision has been working in Romania since 1990. Over the past 30 years, World Vision's programmes in Romania have supported more than 560,000 children from 500 rural communities.
Our team has been responding to the initial needs of refugees from Ukraine by providing safe, warm spaces for children to play while their papers are processed and supporting existing shelters, offering somewhere for families to stay.
In the transit centres of Sighet, Siret and Isaccea, we have already supplied 173 heaters and 15 TVs to give small children a sense of comfort and escape from the horrors they have experienced.
In Husi and Siret, we have set up two child play areas, to help restore a carefree moment.
How can you help? 
Donate  to help children and families forcibly displaced by the crisis in Ukraine. 
Pray  for peace to be restored quickly and that children and families will be protected from harm. 
Advocate  add your voice to call for peace in Ukraine and protection for affected children and their families.