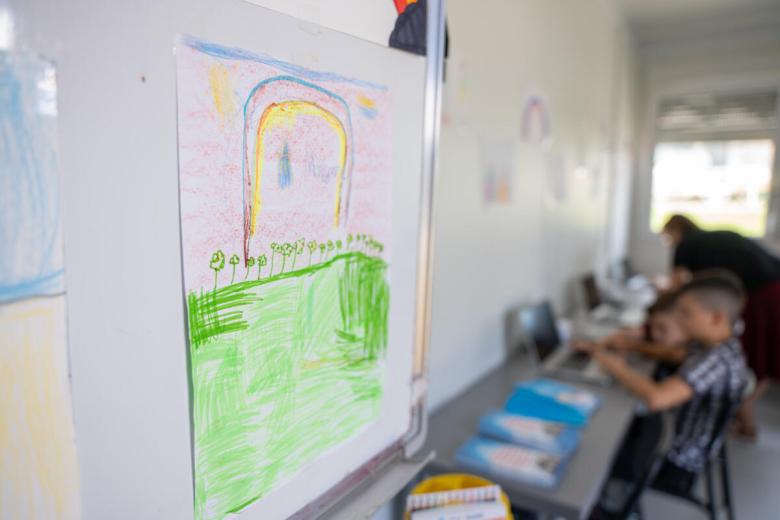 Child trafficking, the hidden risk of the Ukrainian conflict
Thursday, June 23, 2022
World Vision is a leading humanitarian organisation working with communities, donors, partners, and governments to create better futures for vulnerable children. 
The ongoing conflict in Ukraine continues to create an unprecedented crisis for refugees and displaced people in the region. With most men between the ages of 18 and 60 staying behind in the country to fight, family units are being separated as elderly people, women, and children journey to neighbouring countries for refuge - sometimes completely alone. The journey of a refugee is always fraught with risks. People lose a multitude of safeguards from their regular lives, exposing them to such risks as violence, sexual exploitation, abuse, and trafficking. When travelling alone, these risks are magnified as those who are already vulnerable make difficult decisions in the pursuit of safety.
Since the start of the conflict in late February, more than 3.4 million children have fled Ukraine. On 6th of May the Romanian government announced that 2400 unaccompanied children were registered in Romania. In Moldova, the Interagency Child Protection working group estimates that almost 1000 children are separated or unaccompanied.
World Vision staff have also encountered children who have fled Ukraine and are staying in foreign countries without their usual support networks. The journey itself poses many risks, and the dangers continue after making the crossing. Unaccompanied children often spend long periods away from their family unit and communities, without knowing when - or if - they will reunite with their parents. This is due to many factors, including decentralised registration systems for unaccompanied child arrivals. This makes it difficult to cross-reference people's cases, and help them find their families and friends. Refugees, especially children, face the prospect of remaining unaccompanied for extended periods of time, increasing the window of risk of exposure to human traffickers.
While Romanian authorities issued a procedure for registering, tracking, and protecting the unaccompanied children, it is critical to ensure family tracing and reunification, identify all children at risk or those who were not yet registered as unaccompanied, and develop reunification protocols for unaccompanied and separated children. The temporary protection regime has not been activated in the Republic of Moldova as of 25th of May.
Further risks can arise even when well-meaning people attempt to "rescue" orphans or unaccompanied children from crisis-affected environments. Unfortunately, this goodwill is misguided. It often results in children being plucked out of their support structures, thus making them "unaccompanied" in the process. Furthermore, in the early stages of a crisis, as emergency actions are undertaken to meet the urgent needs of vulnerable people, safeguarding systems struggle to develop quickly enough to be immediately effective at scale. This can be exploited by traffickers who in these moments may pose as altruistic and generous people to gain access to vulnerable people. With these things considered, the best option for children is to be allowed to be supported so that they can stay with their families and relatives throughout the entire journey of displacement.
Whilst World Vision commends the efforts made by the European Union and its Member States to support the populations affected by the conflict, we can see that children are already paying the highest price during this crisis. Currently about one in every 15 children in Republic of Moldova is a child refugee from Ukraine, though the child protections systems remain underdeveloped and under significant pressure. Considering this, World Vision insists that it should be an absolute priority for national authorities to collaborate with NGOs and other agencies to develop an effective interagency data management system. This system must be able to not only identify and register unaccompanied children, but also monitor them in their host country, facilitate their access to continued protective services, and enable tracing and reunification with their family unit. The EU funding for this crisis must prioritise child protection in humanitarian responses to ensure that organisations such as World Vision are able to continue responding to the ever-growing needs of children and young people as this crisis becomes increasingly protracted.
Currently, World Vision is supporting refugees in Romania, Moldova, Georgia, and Ukraine itself. We plan to continue working with the EU. But to do so we need the EU to create mechanisms for monitoring the rights of refugee children and women as per the Temporary Protection Decision. We also need the EU to reflect on whether the European Child Guarantee covers refugee children and include them in the framework, planning and strategy, and ask Member States to report on how they implement the Temporary Protection Decision, monitor its implementation and address any pitfalls.