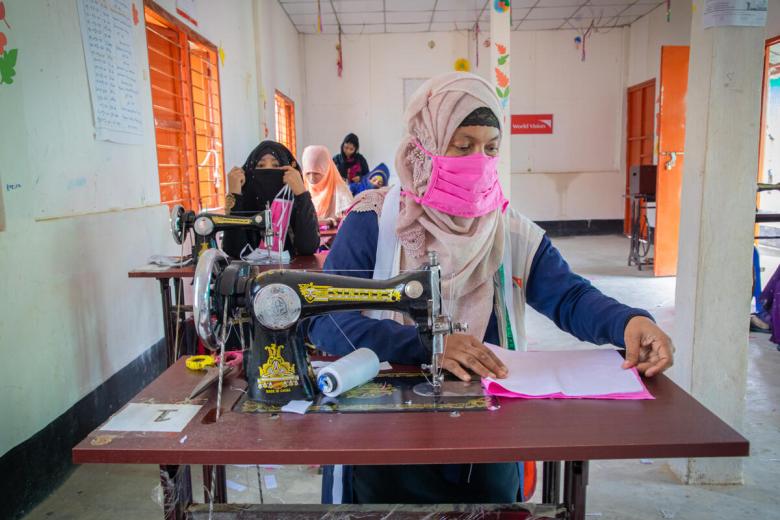 Women learn sewing masks at World Vision's multi-purpose training center to protect Rohingya communities from COVID-19
Sunday, November 15, 2020
Coping with the COVID-19 pandemic is an unprecedented challenge for Minara, a 35-year-old single Rohingya mother, who came to Bangladesh in July 2017 with her five children just before violence erupted in Myanmar. She now helps protect her people by sewing face masks and saving lives in the world's largest refugee camp in Cox's Bazar, Bangladesh—home to almost 860,000 Rohingya people who fled violence from Myanmar in August 2017.
Minara recalls her past, "Alam and I loved each other. So, I married him. But our love didn't last long. My husband divorced me and went abroad. My parents died soon after that, so I was in the midst of boundless sorrows." She decided to restart her life anew. "One morning, I left my home, holding the hands of my two younger sons and the girl children followed us as well."

Starting life in the camp in Bangladesh wasn't easy for her. "I didn't receive any ration card for months. When I finally received a ration card, the food wasn't sufficient as my family was large, having six people and three grown-up daughters,'' Minara says reflecting on her struggles at the beginning of camp life.

In January 2020, Minara felt lucky when she was selected to join World Vision's USAID-funded Multipurpose Training Center (MTC) as a Burmese literacy and numeracy teacher. "Life was moving smoothly, but ill fate is always behind me – it runs after me," Minara said. The COVID-19 pandemic disrupted her life. "COVID-19 appeared, and all of a sudden, all the activities I was involved in came to a halt. The learning centres were closed, and as the children had to stay home all day long, I also lost my job," she said.

Sharing her experience during the COVID-19 restrictions, she said, "Taking care of my family was a serious challenge for me. I hardly had enough to cook rice two times a day for my children. Everything was shut-down completely. Movement of people and transport was limited. Even going hospital wasn't easy at all. Amid this, my eldest daughter, who was 18 years old died of severe peptic ulcer."

Despite all these challenges, Minara didn't give up her fighting spirit for survival. She had the opportunity to re-join the Multipurpose Training Centers (MTCs) when they opened to support mask-making.

Minara says, "Joining the Multipurpose Training Center I learned how to sew masks. Now, I can sew masks and also earn a stipend for living expenses. The camp is densely populated. We could have been infected easily by other COVID-19 positive persons, but with the mask, we were able to protect ourselves and protect others."

As of 09 August, 78 Rohingya refugees had tested positive and six have died of COVID-19, according to the World Health Organization. Although the number of cases seems relatively low, given the camp's population, the risk of infection is high in the cramped, overcrowded conditions. Social distancing is almost impossible, given the overall population density of 40,000 people per square km.

Minara learned about keeping herself and others safe from COVID-19. "We can stay safe and protected by wearing masks. I ensure all my family members wear their masks when going out. As we learned about keeping ourselves safe, we wash our hands with soap and water for 20 seconds and as frequently as necessary. We maintain social distance and avoid crowds and mass gatherings to protect ourselves and others from COVID-19."
To help Rohingya families stay safe, as of August 2020, a total of 221 Rohingya refugee and 58 Host Community women were trained in sewing and mask making. A total of 22,390 masks were produced, with 21,536 of those masks already distributed to 10,768 beneficiaries.

Minara is also playing an important role by teaching other women in the MTC. "Now I work as a trainer for 32 girls in this centre, teaching them how to sew masks," she says. "Masks that we produced are distributed for free among the Rohingya people in the camp. It motivates me to contribute to the protection of my community." Through her work, Minara shares her happiness despite all the hard realities in the camp.

While face masks were in short supply at the beginning of the COVID-19 pandemic, through the cooperation of UN agencies and NGOs, including World Vision, coordinated efforts are ongoing to ensure the distribution of two reusable face masks to every individual by the end of 2020.
Story by Xavier Sku