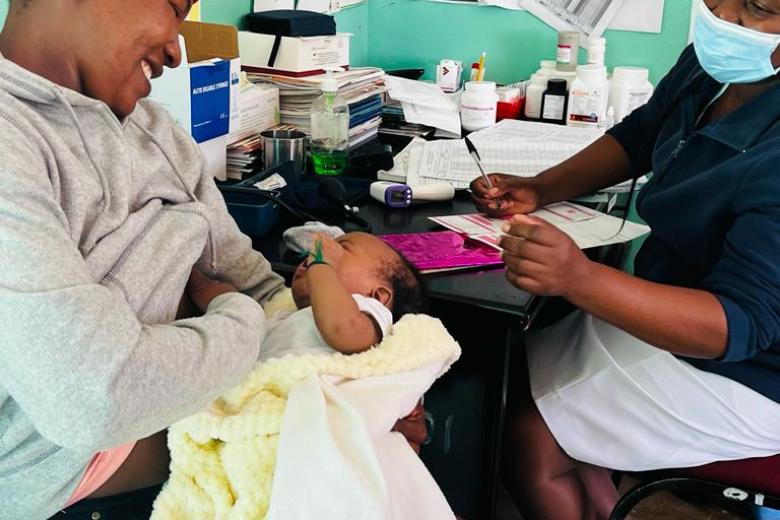 Health Access Key for Community Development – Silozwe Clinic Matobo, Zimbabwe
Thursday, February 2, 2023
Sister Sibanda narrates how when she arrived at Silozwe clinic in Matobo in 2019, the two major health issues in the area were Opportunistic Infections and Home Deliveries. She adds that this resulted from the distance this community had to travel to get to the then-nearest clinic, 7-9 kilometres away. Many opted to skip their treatment or give birth at home to avoid these distances. Driving up to the area, steep and winding roads make one sympathize and understand why a pregnant mother would want to avoid this long and painful trek.
We understand that people were not going to the clinic for delivery because the distance was just too long, we thank World Vision Zimbabwe for the clinic they constructed in our community. The community is happy and we have been recording a steady decline in home deliveries from four in 2019, three in 2020, one in 2021 and none so far in 2023. This is a testimony of the positive contribution the clinic has had to the initial problem we had – Sister Sibanda, who is based at the clinic.
The clinic serves a single ward which has three villages servicing, on average, 90-100 people every week. Naka Thandiwe (Thandiwe's mother), a young mother who lives a few metres from the clinic, has come in for a routine check-up with her daughter and cannot hide her joy, citing the quality health care she is receiving from the clinic.
"These days, I am no longer afraid to sleep at night because even if my child develops a fever, I can run to the clinic, and the nurses are responsive. Sometimes, I even call them to come to and attend to my children at home, unlike when we had to walk several kilometres to Masiye clinic" – Naka Thandiwe, a young mother from Silozwe village.
Walking around the premises, we observed how World Vision mechanized the water system so that the clinic could access running water from a nearby community borehole. Furthermore, all office equipment, maternity ward equipment, as well as tubing for solar power, was provided by World Vision Zimbabwe. Another patient who had visited the clinic emphasized the impact the construction of the clinic had on the relationship between the health workers at the clinic and the community members.
"I would like to add that beyond constructing this clinic for us; World Vision managed to build a relationship between clinic staff and the community that goes beyond just patient and nurse. We built this clinic together in consultation with each other and your organisation guiding us. The staff is well aware of our needs and serves us accordingly. And for that, we are grateful," – waiting patient at the clinic.
Before leaving the clinic, we told the community members and the clinic staff that, World Vision Zimbabwe has been operating in the country since 1973 and will be celebrating its 50 years of operations. The community members and the staff had congratulatory messages to World Vision Zimbabwe and its staff on their golden jubilee.
"I would like to congratulate World Vision on their 50 years of helping us; before I came to this clinic I thought World Vision only gave lentils, vegetable oil and beans to the vulnerable, I had no idea they did such huge projects!" shouted a clinic staff.