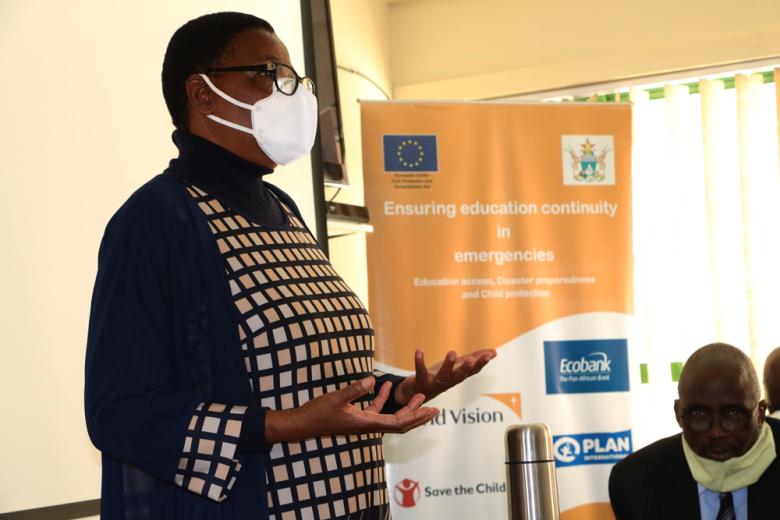 Viamo ensures education continues in the midst of crises
Sunday, May 31, 2020
Natural disasters and pandemics negatively impact the delivery and quality of children's education. Disruptions that happen after disasters have long-term effects on learners' academic and socio-emotional development.  School children in Chimanimani and Chipinge were just starting to recover from the effects of Cyclone Idai on their education. Unfortunately, exactly a year later these same learners and millions of others across the globe are having to adjust and cope with yet another disaster - the COVID-19 pandemic - which has left the world at a standstill. Schools had to close prematurely and children are currently away from school due to government-imposed lockdowns, but education has to somehow continue. Many have turned to online education to continue learning and teaching but this leaves out many pupils, especially the most vulnerable in rural areas. Many parents are left in an impossible situation.
In the midst of the educational uncertainty created by the COVID-19 pandemic, World Vision is leading a consortium in Zimbabwe called 'Education in Emergencies', which comprises of Plan International and Save the Children to ensure education continuity. Funded by the European Civil Protection and Humanitarian Aid Operations, the project is spearheading the use of the first ever mobile-learning-based platform in the country called Viamo (Via Mobile). In collaboration with the Ministry of Primary & Secondary Education, the project is working to ensure lessons shared on this platform are of high quality and meet the country's education priorities. The Viamo platform offers lessons that are pre-recorded, evaluated and packaged into audios according to grade and subject. Learners access the system when their parents' mobile numbers are loaded onto the Viamo platform, after which they can receive lessons through phones using interactive voice responses. The beauty of this platform is that it is interactive between the sender and student, and is lessons can be received even from a basic phone. The learners or parents only need to ensure that the mobile phone battery is charged and that there is a small amount of airtime.
Speaking at the official evaluation workshop where education partners were finalizing content for Early Childhood Development A learners in Ndau language in Manicaland – the Permanent Secretary in the Ministry of Primary & Secondary Education, Mrs Tumisang Thabela applauded World Vision for leading this innovation which is critical in maintaining safe and inclusive education during emergencies.
"Our current situation requires us to provide education, amid hunger, COVID-19 and whilst we are still suffering from the effects of Cyclone Idai, but children still have to learn! Their future cannot wait. Our future also cannot wait. If we don't do something, we run the risk of children coming back to school having regressed so badly that we have to start afresh. So, we have no choice but to use these technologies in defining education as we move forward," she said.
Additionally, the ministry has brought together education actors in developing content that is aligned with the country's education curricula.
Mrs. Thabela emphasised the need to translate these lessons into the 16 official languages so that they can reach all learners across the country. These mobile lessons are also being adopted into radio lessons in order to reach more children. The education ministry is liaising with various media houses so that they also facilitate the broadcast. She underlined that there is need to come up with learning initiatives that go beyond the COVID-19 pandemic to reduce disruptions in the education sector in case of other emergencies.
According to Education in Emergencies Consortium Coordinator, Dr Tapiwa Muzerengi, the platform is targeting a total of 10,000 learners. The Viamo model will not only serve as an educational tool but will also be used as a platform to spread correct and helpful preventative messages to 5,000 learners. The team has made it so that 5,000 learners can access both COVID-19 awareness messages and Early Childhood Development lessons in Ndau language courtesy of Aktion Deutschland Hilft, an alliance of German relief organisations providing rapid and effective aid in cases of emergencies.
As an organisation, World Vision is dedicated to expanding access to education to children in Zimbabwe, especially the most vulnerable – and with mobile penetration in the nation at 86%, we are hopeful that VIAMO might be the answer for many during the COVID-19 emergency and beyond!