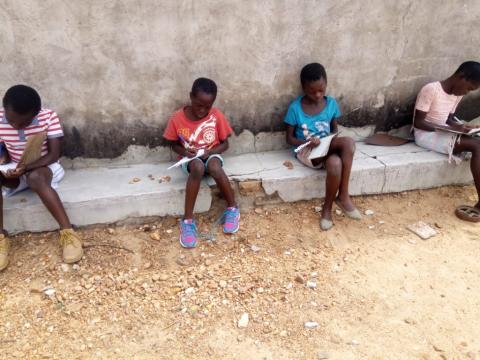 World Vision is improving access to education for children in Zimbabwe during COVID-19 lockdown
Wednesday, April 22, 2020
When disasters strike they affect everyone including the most vulnerable. Children are always a vulnerable group in any emergency and the coronavirus pandemic has changed how millions around the globe, including Zimbabwe, are educated. Amid the public health emergency, schools in the nation had to shut down abruptly in an attempt to contain the spread on the COVID-19 virus. The situation in the country is worsened by the reality that most learners have no/limited access to internet connectivity and therefore cannot continue learning at home following the school shutdowns. Without access to education, children run the risk of failing to reach their full potential.
World Vision Zimbabwe is leveraging on its existing partnerships, programs, running grants and structures in the response to COVID 19. The main focus with regards to education includes mitigating the immediate impact of school closures, particularly for more vulnerable and disadvantaged communities, and to facilitate the continuity of education given the context and under the restrictive circumstances. The UK Aid funded Improving Girls Access through Transforming Education (IGATE) project came up with an initiative to ensure children have access to education during the national lockdown. The project, which has always supported learning camps during school holidays initiated the Holiday Virtual Learning program where children receive literacy and numeracy activities via the Whatsapp mobile platform through their parents. Unlike internet connectivity, statistics in Zimbabwe show that mobile penetration stands at about 86% nationwide.
WV provides access to data bundles for community volunteers and a daily literacy and numeracy challenge that can keep learners across many grades actively learning but does not require a teacher to lead. For the past two weeks this has been piloted with 4 schools per district to learn how it can work in very remote schools while also monitoring to assure the health and safety of learners and volunteers.  
IGATE program director, Janelle Zwier-Marongedza, said they aim to encourage more learners to join this platform with the help of the parents and caregivers. This model which is being implemented in selected four schools through community learning champions in Chivi, Insiza, Mberengwa and Mangwe districts has had overwhelming response and is currently reaching more than 40 learners a day per volunteer.
 "We are happy to report the idea is taking off with volunteers dispatching to many caregivers and parents and supporting many small groups of learners for home-based study.  The intention is for this to snowball (grow organically and in a targeted way)." she said.
As a result, more WhatsApp groups are forming per districts where daily activities and exercises to assist children within their vicinity are posted. Through the existing structures, the project has managed to convince residents and willing teachers to also assist community champions to mobilise learners and to clarify the daily activities being tasked to the children.
Social Norms and Community Engagement Technical Manager for IGATE, America Ndlovu said working with community volunteers has been a great experience for her.
"I really appreciate the community volunteers that we have been working with, although not all days are great. Some days when the volunteers are busy in the field they will assist around 20 children each, but then on a good day they can reach out to more than 40 children per volunteer. My role is to support and encourage them," she said.
America said they are following and adhering to the COVID-19 prevention health guidelines in order to minimize risks for children and our community learning champions on the ground helping us make this innovation a great success.
To date we have 30 volunteers and this is growing on daily basis. With one volunteer reaching 40 learners supporting multiple groups. We are hopeful!