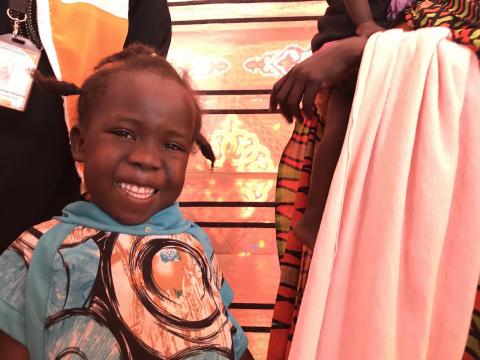 Cash makes life more convenient for over 31,000 internally-displaced Sudanese family in Otash Camp
Monday, November 26, 2018
By Cecil Laguardia, Communications Manager
The cash program registration site in Otash Camp was orderly, with the area protected from the searing heat of the sun by a colorful cloth. Among the early internally-displaced in the queue was 27 years old mother Gisma and 5-year old Rimaz who said she wanted to become a doctor.
The registration process which was being managed by the International Organization for Migrations (IOM) registers hundreds of new arrivals every day. As of October 2018, over 12,000 IDPs have been added to the list that are in Otash Camp. Over 31,000 people are being supported by World Vision's cash-based program funded by WFP amounting to a total of US$174,482.12 every month.
Most of the people, even the leaders helping organize activities in Otash Camp like camp manager Hassan Sulayman Ibrahim found the cash program more suitable for long-term humanitarian assistance. "It is obvious that people feel that dignity because they are given the choice. They can also manage their time properly", Ibrahim says.
The registration is always fast and convenient for mothers like 27-year old Gizma who brought with her her two daughters 2-year old Rayan and 5-year old Rimaz.
For a registered family entitled of the cash assistance, each member receives 260 SDG (US$5.41) every month. "With the money, the family can decide how they will spend it for their most urgent needs. If the line is long at the different centers established around the camp, they can do their house work and come until 7:00pm. They do not have to wait just like in food distributions where men have to sit all day if there is delay or cancelation of supply or change in schedules", he further explains.
Commodities Manager Soy Joseph said with all these considerations, humanitarian assistance has now been shifted to cash programming. "Except for new arrivals who are provided a 15-day food ration and non-food items, the rest of our over 31,000 beneficiaries get cash. The process is more efficient, there are less delays and long lines were almost gone. We do our best to educate people to spend the money on food, education and the most important needs of their children", he adds.
Camp manager Hassan Sulayman Ibrahim has been in Otash Camp since 2004 and has been a witness to the many transitions until cash programming was introduced. "It is more practical for the people", he attests.
Mujahid Tajir, WFP's Programme Associate for Cash-Based Program in Nyala said the paper voucher was introduced in the camp in 2014 and after three years, the whole camp population went through digital registration and became a Scope environment. Along with this, WFP has built the capacity of 24 IDPs who eventually became traders accredited to release the cash assistance instead of the banks and run shops with basic necessities available for the people.
"We have a very good working relationship with World Vision in this camp. WFP cannot do it alone. The staff are very honest and committed. Together, since 2004, we were able to serve thousands of people and make the processes more organized", Tajir says. WFP provides training to the traders, help monitor the processes and even the market where the IDPs buy their needs.
Ibrahim concurs with what Tajir said saying, "We are glad that WFP and World Vision decided to move to cash assistance. I can still remember the chaos we have to manage before during food distributions. Food assistance is limited to eating but cash can give one family more options."
From 8:00am - 7:00pm, registered IDPs can claim their cash assistance in 12 centers such as this one in the photo. It also has a shop where people can buy basic household goods and food items.
"Cash programming, indeed, gives people a choice and allows them to provide for the needs of their families, especially their children. While there is still a need for World Vision to provide food and goods for the displaced, the cash program is giving us a good, or better, option in implementing our humanitarian assistance not just here in Sudan but in many parts of the world", concludes Jimmy Nadapdap, World Vision's Operations Director in Sudan.
Mujahid Tajir, WFP's Programme Associate for Cash-Based Program in Nyala (3rd from right) with the World Vision team supporting Otash Camp.