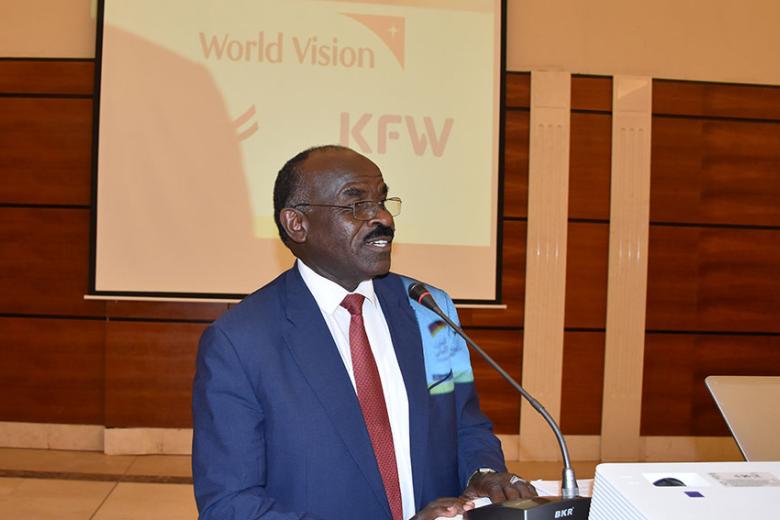 Government of Germany awards World Vision 10 million Euros to strengthen livelihoods in South Darfur
Sunday, September 9, 2018
September 2018- The German Federal Ministry for Economic Cooperation and Development (BMZ) through the German Development Bank KfW has awarded World Vision Sudan 10 million Euros to implement a three-year livelihoods project in South Darfur.
The project dubbed 'South Darfur Livelihoods and Agricultural Infrastructure Development Project' is aimed at supporting reconstruction efforts in Darfur by strengthening the livelihoods and resilience of the most vulnerable, conflict-affected households in both Host and Returnees' communities across five localities.
It will directly target an estimated 266,550 people by providing them with alternative options for income generation by promoting market-oriented crop production, establish alternative livelihoods and support the development of production, processing and marketing infrastructure.
"The project presents a unique opportunity for the targeted beneficiaries to diversify their source of livelihood, increase their abilities to earn income and take care of their families," Vince Edwards, World Vision Sudan Country Porgramme Director said. 
The focus of the project
The project will focus on supporting agro-pastoralists and pastoralists households through agro-processing activities such as milk and honey production and processing, facilitating and establishing profitable value chains and improving market linkages to significantly increase access to income, improve stability and resilience.
The project will also focus on improving agricultural infrastructure through establishing micro-irrigation schemes and water harvesting structures aimed at reducing the communities' dependency on rain-fed agriculture.
Andreas Holtkotte, KfW, Country Director for Sudan, underscored the importance of such partnerships expressing confidence that this project would contribute to increasing economic opportunities for the participating families. "This project links relief and development and is aligned to the Government of Sudan's development plans," Holtkotte noted.
This project gives us an opportunity to make use of Darfur's resources to better the lives of its people. "We must work together, we must put our expertise together so that Darfur becomes a place of solution not problems," said H.E. Holger Tillman, Germany Deputy Head of Mission in Sudan.
South Darfur State Minister of Animal Resources, Masar Ali Masar said that the project would significantly contribute to reducing resource-based conflicts between farmers and herdsmen seen repeatedly in the region. "We are ready to facilitate registration of producers' associations," he added.
The project will be implemented in Nyala, Kass, Ed Elfursan, Kubum and Rehed Elbirdi localities.
MORE DETAILS OF THE PROJECT:
This project is in line with the Sudan Government's strategy on aid effectiveness and efficiency that underscores the use of more sustainable approaches to supporting vulnerable communities.
It is also in line with the Sudan national IDP Policy, the National Strategic Plan, the interim-Poverty Reduction Strategy Programme (iPRSP), the UN Development Assistance Framework (UNDAF), the Doha Document for Peace in Darfur (DDPD)  and the Darfur Development Strategy (DDS) all emphasise the use of sustainable approaches in meeting the needs of displaced and host communities of Darfur, and the need to transition from relief to recovery and longer-term development. 
Factors considered under this project were, potential for production and marketing of selected agricultural products, feasibility to the target locations, and gaps in livelihoods and agriculture to bring a long-term impact in the target communities.
World Vision Sudan has been a beneficiary of funding provided by the German Federal Ministry for Economic Cooperation and Development  (BMZ) and other branches of the German Government (GoG) since 2015.
In the 2017 financial year, GoG accounted for 9 % of World Vision Sudan's income that enabled World Vision to deliver critical lifesaving assistance to an estimated 66,346 beneficiaries through two livelihoods projects.
For more information please contact
Vince Edwards, Country Programme Director, World Vision Sudan|E-mail: Vince_Edwards@wvi.org

 

Andreas Holtkotte, KfW Director of the Regional Office Horn of Africa |E-mail: andreas.holtkotte@kfw.de
About World Vision
World Vision is a global Christian relief, development and advocacy organisation dedicated to working with children, families and communities to overcome poverty and injustice. We serve all the people regardless of their religion, race, ethnicity or gender.
Learn more about the work of World Vision on our website: www.wvi.org/Sudan