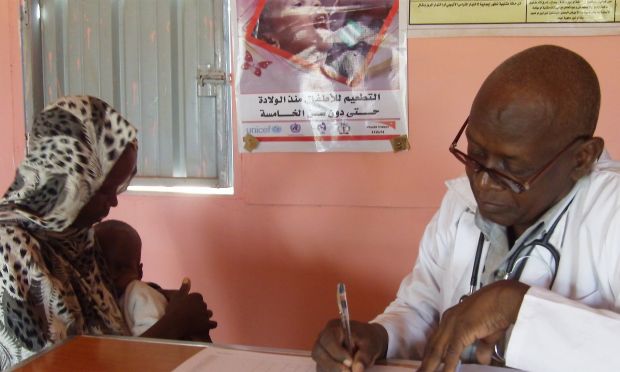 South Darfur State, June 2016- World Vision is committed to supporting vulnerable communities to improve their access to basic health care. During the second quarter of 2016, World Vision in partnership with the State Ministry of Health supported 12 Primary Health Care (PHC) clinics and one basic emergency Obstetric Care centre in South Darfur state.
Otash clinic is one of the clinics. Located in the heart of Otash IDP camp, it is a beehive of activities daily. The busy clinic run by World Vision in close collaboration with the State Ministry of Health mainly through the support of Office of Foreign Disaster Assistance (OFDA) is teeming with mothers and children. They come to the clinic to seek medical consultations after which they receive free treatment.
Medical Assistant in-charge, Mr. Abaker Mohammed says on average, the clinic receives at least 100 patients daily; a third of them are children. Common diseases treated at the clinic include diarrhoea, common colds, eye and skin infections and other respiratory infections. "The diseases treated in general are sanitation and hygiene related," says Mr. Mohamed.
Otash is the biggest clinic supporting the medical needs of an estimated 56, 530 IDPs. It has been their lifeline since 2004, offering both preventive and curative services.
Hawa, 23 years old, brought her baby, Abu, 20 months old, for medical care. "My baby has been having diarrhoea and cough," Hawa says. This concerns her a lot and it shows on her face. After physical examination, Hawa receives a prescription sheet to get treatment drugs for her baby. It's a big relief for Hawa, that the clinic is fully stocked with drugs and medical care is also free.
The Clinic also is equipped with an immunisation unit fully stocked with vaccines. The clinic does numerous sensitisations on the importance of childhood vaccination in the IDP camps. Clinic staff also conduct routine onsite (at the clinic) awareness sessions to disseminate such important messages. Additionally, World Vision has equipped community outreach workers to help disseminate the messages further down to community and household level.
Thanks to the awareness campaigns, most mothers are more informed and as a result, they are bringing their babies to the clinic for such lifesaving services. Samia Abakar is one example. The 29-year-old has just brought her baby Rayan, 18 months old, for the last dose of measles vaccine. Despite little Rayan being irritable minutes after the immunisation shot, Samia is glad that her little one is now protected against the deadly disease, which is one of the major causes of death among children under the age of five.
Just like the consultation room, the vaccination unit is a flurry of activity-on this particular day, Mr. Salih Mussa, a World Vision Vaccinator, has immunised 25 children.
The clinic also has a nutrition centre (supported by UNICEF and ECHO) that treats cases of severe and acute malnutrition for children under five years and pregnant and lactating mothers.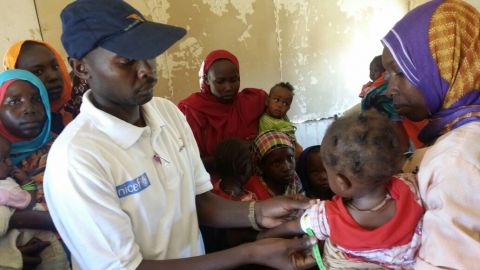 A team of nutritionists seconded from the Ministry of Health, are busy screening children for malnutrition. The children are first screened by the community outreach workers at the community level, then the nutrition supervisors cross check the measurements by conducting a second screening of the children.
Ramiz, 20 years old, brought her baby, 15 months old baby Ibrahim, weighing 4.1 kilograms. Little Ibrahim has severe acute malnutrition and is referred to the stabilisation centre for urgent treatment. The community outreach workers discovered Ibrahim as they conducted household visits and they immediately referred him to the nutrition centre. Ibrahim had been in the nutrition programme before, but the mother defaulted on treatment. Consequentially, his situation began to dramatically deteriorate. "Mothers defaulting is very common," one of the nutrition supervisors' remarks.
The mother also admitted that in the time she defaulted-she opted for a traditional healer. However, the health of her baby only worsened. Ibrahim's case will be closely monitored to ensure the mother does not default again.
World Vision is working with more than 70 community outreach workers who have been trained on a broad range of issues such as household nutrition, health, sanitation, hygiene, and water related through the 'social behaviour change communications package'.
Story by Lucy Murunga, Communications Manager WV Sudan