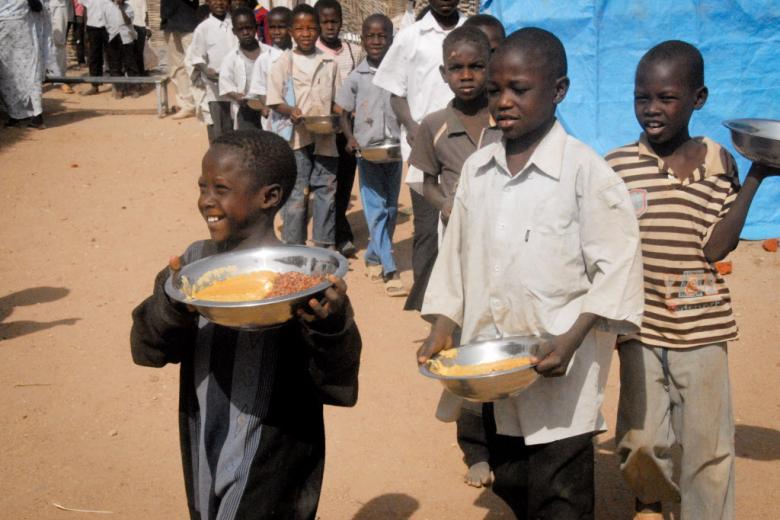 School feeding keeps kids in school
Wednesday, October 3, 2012
Education was not a priority for parents and children when arriving to the Internally Displaced Persons (IDPs) camps. Instead, families were worried about safety, shelter and food. People arrived with only a few clothes, a very small quantity of food and water. The supplies were only enough to last a couple of days, from the time they fled their village as a result of the conflict in the water-torn region of Darfur. Others arrived with nothing, they had no chance take things from their home that could help them on their journey.

Humanitarian organisations including World Vision started providing social services such as health and nutrition, water, sanitation and hygiene and education, aside from food assistance to the displaced people. 
In the IDP camps, children had nowhere to go, no play areas and no schools. They stayed around home all day, doing house chores or playing with peers. Aware of the problem, World Vision established child friendly spaces and semi-permanent and temporary schools inside the IDP camps to help children get an education.

Otash Girls' School and Otash Boys' School are among the schools built by World Vision in Otash IDPs camp. Otash Girls' School is semi-permanent school constructed with World Vision's food for education programme in 2011. Before it was upgraded to semi-permanent structure, the girls' school was a temporary structure when it was first constructed in 2004. 

"We are very happy with the new girls' school. We've enough desks," says eighth grader Muna Adam. 
Close to this girls' school, there is also another World Vision built boys' school which was constructed from bamboo trees in 2004. 

The IDPs are fully dependant on food aid. Even after the establishment of schools, parents were unable to cover the cost of school materials and other educational materials for their children. Few children attended school when it first opened. However, with further support from World Vision, more parents started sending their children for schooling and children also get encouraged for schooling. 

World Vision also started food for education programme to encourage children coming to school. This greatly contributed to rate of enrolment increase. Now, there are 950 girls attending in Otash Girls' School, Grades 1 to 8, and 1,399 boys in Otash Boys' School, Grades 1 to 8. 

Muna says, "The wet food we are getting in the morning at school has saved our time. Until last year, it was dry ration that we were getting from World Vision and that was wasting our school time as we had to go home for breakfast and come back to school after we had our breakfast."

Comparing the difference between the dry ration food and wet food, Headmaster of Otash Girls' School Abla Mohamad says, "The school time was wasted when the food for education project was in the form of dry ration. The students used to go home for breakfast, and they were not coming back to school on time after break. The food was also shared among other members of the family. The wet food has helped a lot to use the school time effectively, and children are also directly benefiting from the food served during break time in the morning."

Aziza Mohamd is the headmaster at the Otash Boys' School.

"For me, the factors for school enrolment increase are school feeding programme, educational material support and the availability of school in the area," she says. 

"The boys' school is temporary unlike the girls' school which was upgraded to semi-permanent structure last year. There are no enough desks in boys' school; most sit on the floor. Boys are not feeling good now. I wish the organisation does the same for boys' school in changing the structure of the school like the girls school," she adds.

Chairman of Parents' Teachers' Association Abdurrahman Mohamad confirms, "The boys' school requires modification like the girls to encourage boys continue their education."

The food for education programme of World Vision is supporting 32,798 students attending 40 schools across Sudan.
By Gebre Egziabher Hadera