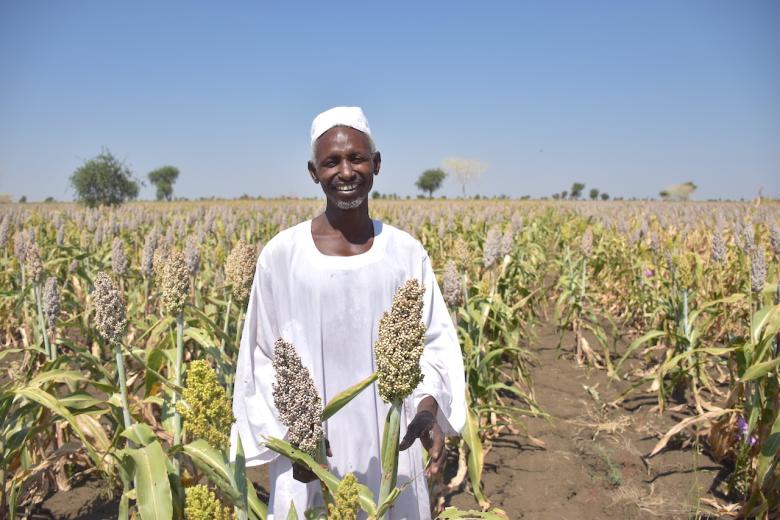 Sudan's farmers produce bumper harvests through EU-funded agriculture project
Wednesday, November 14, 2018
Abdul Jaleel Abdullah, 44, from Roseires Locality in Sudan's Blue Nile State grew sorghum on his five acres last August.  Supported by World Vision, he managed to prepare the land for farming within two days. It took him a week or more few years ago. A father of nine, Abdul Jaleel is extremely happy with the harvest as his farm's total production reached 60 sacks (at 90kg per sack).
"Compared to 2017, this year harvest is much better", Abdul Jaleel says. He harvested 45 sacks last year. "Since I joined the small-scale agriculture project in 2016, I have learnt how to use the right fertilizers, apply pesticides properly and more importantly, how certified seeds are necessary to improve the quality of production," he adds.
Abdul Jaleel is a happy farmer. From 45 sacks last year, he increased his harvest to 60 sacks this year. Each sack weighs 90kgs.
Abdul Jaleel expects to earn around 51,000 SDG (USD1,074) from the sales of his harvest. "This will not only help me pay the school fees for my children next school year, but I will also be able to use part of the money to prepare for the coming planting season," he concludes.
Farmers are cultivating sorghum which is the main staple in the country.
Improving sustainability and resilience
Another farmer who joined the project is 42-year-old Ibrahim Mohammed from the same locality. The father of eight children has produced 80 sacks this season.
"I believe the mechanized farming introduced to us by World Vision is the reason why production has increased," Ibrahim says, adding that the methods they have learned throughout the project life cycle have enhanced their farming practices.
"It is so convenient that we can plant timely," he shares, as he further explained that the highest production he scored before did not exceed 20 sacks. According to World Vision EU Project Coordinator Monir Elyas, the 2018 Farmers' Field Day celebrated by World Vision and partners in November 13th this year is another milestone because new partners have joined the project.
Abdul al Jaleel packs the sorghum he harvested to prepare for the market.
"We are pleased to have gained the support of the Blue Nile Micro-Finance Institution (BNMFI) and the Bank of Ibdaa," Monir says. The financial institution, he said, provided 357 farmers with loans so that they could finance their sorghum cultivation. A total of 1,079 small scale farmers and their families have benefited from this project funded by the European Union (EU).