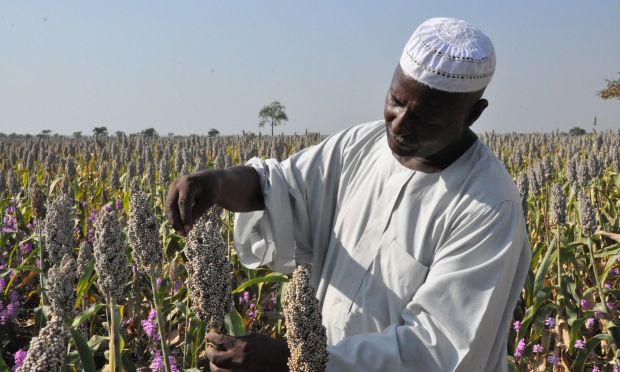 This November cropping season, Omar's farm is a sight to behold. The sorghum plantations (the staple crop of the region) stand tall and healthy in his five-feddan (17.5 hectares) piece of land.
The fifty-four-year-old from Roseiries locality is one of the 3,000 rural smallholder farmers benefitting from the small-scale agriculture project funded by the European Union.
To take full advantage of the project, the father of eight children, allocated five feddans of his farm toward the project. The project supported him with certified seeds and he also benefited from mechanised farming services.
"I am pleased because I estimate the yield of my field will reach 75 sacks (90 kilogram size) this season," says Omar, explaining that in the last five years, the yield has never exceeded 30 sacks (90-kilogram size).
World Vision is implementing the project in Tadamon and Roseiries localities in Blue Nile state, in partnership with local NGO Charity Organisation for Rehabilitation and Development (CORD) and the State Ministry of Agriculture. The focus is to boost food productivity of smallholder rural farmers as well as improve their household income.
One of the features of the project is mechanised farming to improve food production. Omar is eager to improve his skills in mechanised farming noting that, mechanised farming saves farmers a significant amount of time as well as efforts compared to manual farming.
All these skills are transferred through the farmers' field schools, another feature of the project, formed to bring farmers and experts together in order to transfer knowledge and skills.
Omar is optimistic that the project will assist him to increase the area he currently cultivates in the next season. Furthermore, he points out that he will continue to apply the on-farm techniques he has gained through the project even beyond November 2018 when the project ends.
Fatima's story
Since joining Small-scale Agricultural Productivity Project in November 2015, Fatima, 40-years-old from Tadamon locality, has experienced a mix of emotions ranging from hope to fear. She attributes her fears to the risk involved in participating in a farming practice totally new to her.
Fatima has practiced traditional farming methods with the help of rudimentary tools all her life. But things are changing in her village. "This is the first time, I have used mechanised farming.
A mother of nine children, Fatima has to dedicate all her efforts to realise good produce in order to feed her children. Daily, she makes the three-kilometres trip to her farm, to check how her sorghum is doing.
"It requires a lot of energy and time to carry out the cultivation single-handedly. However, the project has helped ease the burden and saved us time and effort by providing us with mechanised services," Fatima explains.
While she harvested 25 sacks (90 kilogram size) of sorghum last season, Fatima expects to harvest 80 sacks during the November harvesting period.
"I will have enough stock for my children," she says, pointing out that she will also sell a portion of the harvest to meet household expenses.
In 2016 agriculture season, target farmers in the two localities cultivated a total area of 4456 feddans (15,569 acres).
The Director of Programmes at Federal Humanitarian Aid Commission (HAC), the government regulatory body charged with monitoring the work of non-governmental organisations in the country, Adam Ibrahim, lauded the activities carried out by World Vision and partners to support smallholder farmers in Blue Nile.
Mr. Ibrahim was among the guests that graced the Farmer's Field day organised by World Vision in mid November.
"It is remarkable to observe the results of some of the best practices in agriculture and to know that new skills and techniques have been transferred to the local farmers," remarked Mr. Ibrahim.
Such a project Ibrahim noted not only meets local communities' aspirations to boost food productivity and support their households alleviate poverty but also fulfills the objectives set out by HAC to move from relief to development.
The project is promoting modern techniques of farming, supporting farmers with improved certified seeds and providing mechanised farming. In the course of the project, farmers will be supported to increase access to credit services and markets.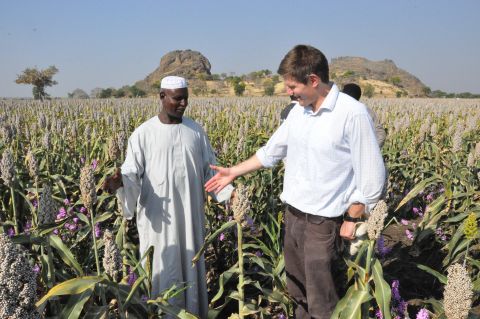 By the end of 2018, the projects aims to have adequately empowered smallholder farmers in improved modern agriculture techniques of farming so that they can sustain themselves.
About Farmers' Field Day 2016
World Vision organised an exposure field visit dubbed 'Farmers' Field Day' on 15 November and 16 November 2016 in Roseiries and Tadamon localities in Blue Nile State. The event brought together key stakeholders i.e. European Union, Government officials, Partners and media to interact with the farmers and get a firsthand experience of their involvement in the project. More than 600 people, a vast majority being farmers, participated in the annual event.
Story by Gamal Ghallab, Communications Officer, WV Sudan