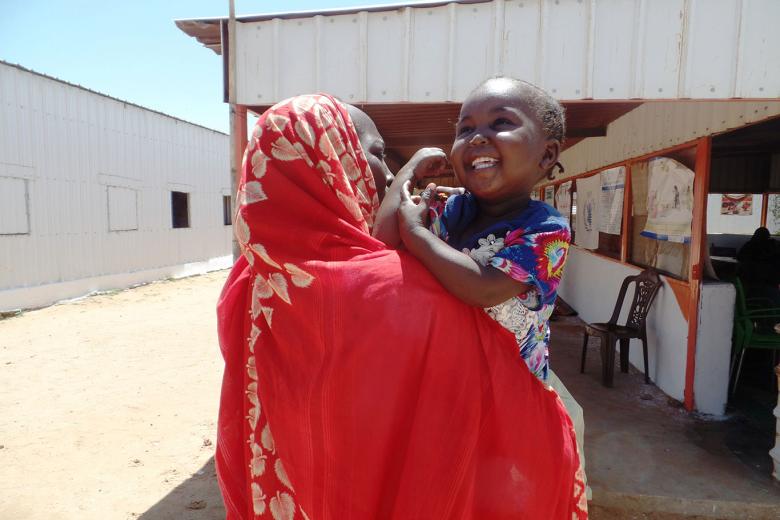 World Vision programme helps children win the battle against malnutrition
Wednesday, September 19, 2018
September 2018-When two-year-old, Taja Abdulmajeed was brought in to the Otash clinic where World Vision runs an outpatient therapeutic feeding programme, (OTP) she was unusually underweight for her age.
 Taja weighed just a little over six kilogrammes. Her Mid Upper Arm Circumference (MUAC) was 11 centimetres. She also had Oedema, a condition characterised by an excess of watery fluid connecting tissues of the body. Experts attribute this to low levels of protein in the blood.
The nurses in the OTP referred Taja to the Targeted Supplementary Feeding Programme (TSFP) section. This is where children under five with Severe Acute Malnutrition are rehabilitated.
Taja's mother, 25-year-old Halima explains that her daughter had been having bouts of diarrhoea when she was around 18 months. "Then health just began to decline rapidly," Halima recalls. Taja's diarrhoea was treated first before she was subject to an appetite test. 
Malnutrition is common among children under five years old.
Dr Takele Lakew, a health and nutrition advisor attributes this to poor sanitation and use of unsafe water among the population combined with lack of appropriate knowledge about the importance of the balanced diet among pregnant and lactating mothers.
"Diarrhoea is a great contributor of malnutrition, particularly among children living in camps for internally displaced persons ," Dr. Lakew says.
At the TSFP, Halima was given Ready to Use Therapeutic Food (RUTF), which she fed her child every day strictly according to the doctor's orders. RUTF is an energy-dense, micronutrient enhanced paste used to rehabilitate children with Severe Acute Malnutrition (SAM).
She continued to visit the Otash clinic every week for follow-ups. Two months after admission, Taja's weight had improved to 10.3 kilogrammes. 
Unlike before, little Taja spots a bright smile on her face, a positive sign that little Taja has won the battle against malnutrition and this brings pure joy into Halima.
Through the support of European Union Civil Protection and Humanitarian Aid (ECHO), World Vision runs nutrition centres in the Otash Camp for Internally Displaced Persons (IDPs) that manage and treat malnutrition in children under five years, as well as pregnant and nursing mothers.
Just like Taja, seven months-old Kawthar Mohammed had regular bouts of diarrhoea, resulting to a declining weight.
Brought into the same clinic by her mother, sometime in May, weighing 4.9 kilogrammes and looking visibly weak, Kwathar also was a case of severe acute malnutrition. 
"I was forced to stop going out for work so that I could look after my daughter," Kwathar's mother says. "She just who never stopped crying, no matter what I did," the mother of eight adds.
Awatif goes to the local market in Nyala town, the capital of South Darfur state, where she sells peanuts and tasali, a local type of popcorn. But circumstances forced her abandon that for a while.
She too was fed on RTUF. After slightly over two weeks of RTUF, Kathwar showed good signs of improvement. She weighed 5.7 kilogrammes.
"I think she is well now, she is looking healthy, and does not cry all the time, like before, her mother Awatif says.
Nutrition centres a lifeline for many children
 For mothers like Halima and Awatif who don't have a reliable means of earning income, Otash clinic is a lifeline for their sick children.
According to Ibrahim Abdullah, the medical assistant at Otash Centre (4) OTP site, "at least 30 children are admitted to the clinic with cases of either severe or moderate acute malnutrition.
World Vision runs 12 OTP and 7 TFSP centres in South Darfur state.

 

Besides managing cases of malnutrition, the Otash clinic also provides free medical consultation for children and other patients, free medicine such as antibiotics and vitamin supplements, lab test, and vaccination against life threatening illnesses like measles.
Should there be complications, the cases are referred to the state capital's Nyala Teaching Hospital for further investigation and treatment.
This project integrates health, nutrition, protection, Water, Sanitation and Hygiene (WASH) services targeting both the IDPs and members of the Host Community in Otash.
World Vision implements the project in partnership with National Humanitarian Aid organization (NaHA), a national NGO and the support from the Government of Sudan.
Story by Gamal Ghallab, communications officer, World Vision Sudan 
-ENDS-