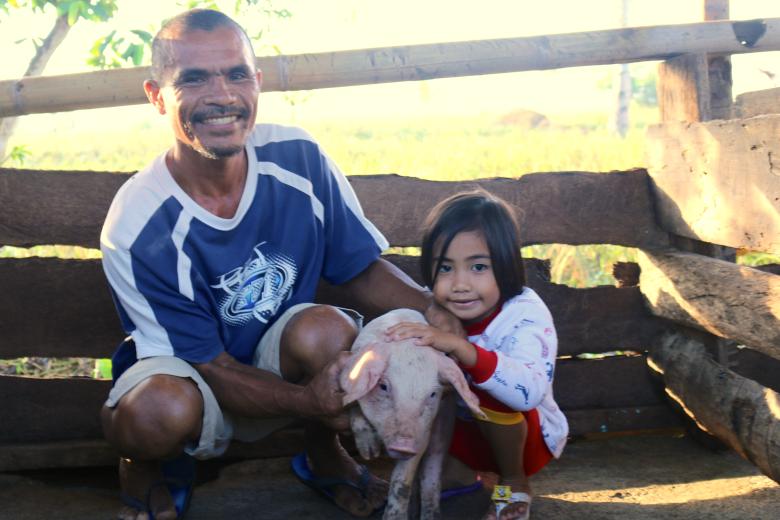 Haiyan survivors move on with new livelihood opportunities
Tuesday, November 4, 2014
by Leoniza O. Morales, Haiyan Response Communications
In Matag-ob, Leyte province in the Philippines, many of the residents rely on farming and livestock-raising. The town is located 37 kms from Ormoc City.
"It's still hard to find work. The land owners are still yet to recover from the effects of the typhoon," said Julius, a 51 year-old farm laborer in Balagtas village.

Aside from being farm laborers, Julius and his wife Julie, have been raising hogs since 1982.
"Our neighbours buy the piglets and feed, and we take care of them. When the pigs are sold, we equally divide the money."

During typhoon Haiyan, their house and the pig pen were destroyed, yet they still consider themselves lucky as the pregnant pig was safe.
"When the pig gives birth, we will have money for house repairs," Julius recalled telling his wife last November.
In June the pig was supposed to give birth.
"She wouldn't eat and move. The veterinarian said she had an infection. We couldn't believe it, she died with her babies. Our only hope was taken from us," Julie said in a soft voice.
An estimated 6 million people lost their livelihoods as a result of typhoon Haiyan.
Almost 11 months after typhoon Haiyan ravaged central Philippines, impoverished families are still struggling to make enough money to survive. Based on a report of the International Labour Organization, an estimated 6 million people lost their livelihoods, 1.9 million of them from the agriculture sector which suffered Php 20.3 billion (about USD$451 million) in damage.

The family received shelter materials and tool kits from World Vision. But not long after, another unexpected blessing arrived.
An assessment was conducted to identify the needs of the families in the area, existing capacity, and additional knowledge and skills needed to restore their livelihood. Based on the results of the community general assembly and focused group discussion, livelihood interventions were identified and criteria were agreed upon. Each village has organized a community recovery committee. Their main task is to evaluate and validate the final list of beneficiaries. Community consultation and participation are important component of the entire process.

Julius' family was among the qualified beneficiaries. 
On the piglet delivery day, the couple with their youngest daughter Mary Rose came to the village hall very early. "We were told the distribution would start at 6 am. We can't wait to finally have our own piglets," shared Julie her eyes twinkling. 
Mary Rose, 5, followed her parents as they moved the two new piglets into their pig pen. "I will take care of them," she sweetly said while holding one of the piglets.
World Vision also provided pig feed for three and a half months.
"We received what we need, what is left for us to do is nurture the piglets. This is the very first time we will care for our own pigs, not anymore from a neighbor," Julies said.
Training on livestock-raising and management were given to the families prior to the distribution.  "The knowledge they acquire is priceless. If the livestock are properly cared for, the families' efforts will be rewarded. They will have other source of income," Lasquites added.  
World Vision continues to provide livelihood assistance to 8,413 families from the towns of Matag-ob, Merida, VIllaba and Ormoc City in western part of Leyte province. This includes livestock, crops/seedlings, business start up kit and skills based training among others.