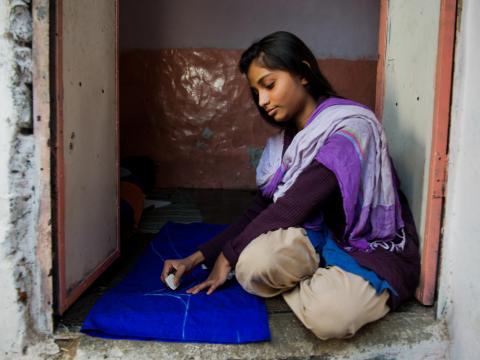 Ultra-Poor Graduation
Our intensive two-year programme called 'Ultra-poor Graduation' (UPG) equips the most vulnerable families to be self-reliant once World Vision has moved on to help others. We provide access to temporary food and cash assistance, savings for transformation, training, and marketing expertise to help families' kickstart a small business or access employment. Families also learn about health, nutrition, and hygiene practices to ensure that economic gains are translated into better care for their children. 
The Ultra-Poor Graduation Model identifies individuals living in extreme poverty and provides them with basic resources, financial education, technical training, life skill coaching, and social support so that they can "graduate" from the programme with food security and sustainable sources of income.
An integrated two to three year process, this model targets the most destitute and hungry families living well below the poverty line. It assures that the most vulnerable graduate out of extreme poverty towards self-reliance.
"Graduation" in this context refers to participants moving out of safety net programmes and "graduating" into income earning activities that let them sustain themselves without external subsidies. The idea here is to foster self-employment activities among the very poor, helping to shift them from insecure and fragile sources of income to more sustainable income generating activities.
Who is using the Ultra Poor Graduation Model?
Sri Lanka, India, Mongolia, Bangladesh, Armenia
Key contact: Colin Dyer - UPG Project Model Manager
Email: colin_dyer@wvi.org