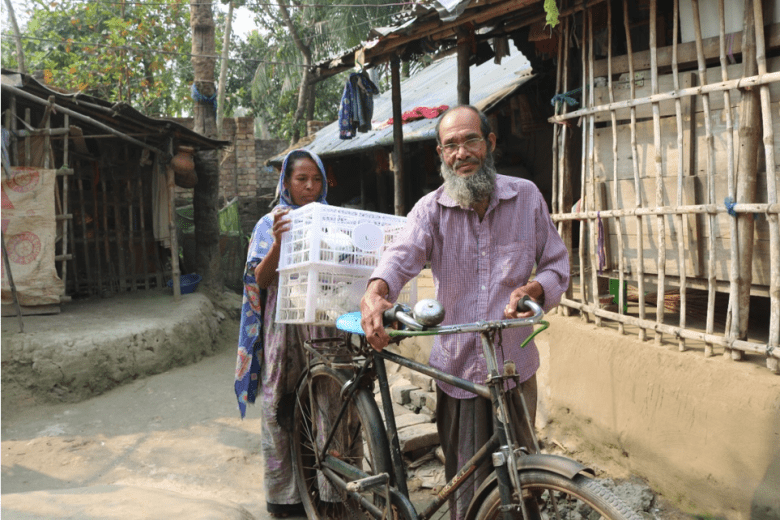 Lifting households out of poverty: USAID transforms lives in south west Bangladesh
Monday, October 11, 2021
In some parts of southwest Bangladesh, between 24 and 25 percent of households live below the poverty line of $1.90 a day. At this level of poverty, called "ultra-poor," events like natural disasters or an injury that requires urgent medical care can be catastrophic. This was the reality for Asura (50) and her husband Rashed (64) who live in Sheetalpur village. The family struggled to make ends meet and also repay a loan taken for their elder daughter's wedding.
But now, many "ultra-poor" households like Asura and Rashed's are radically transforming their lives, thanks to USAID's Nobo Jatra project, implemented by World Vision. As part of an"ultra-poor graduation" approach, Nobo Jatra has helped 21,000 women develop the business skills (including basic literacy and numeracy) and startup costs needed to help them launch small businesses. To begin, Asura was enrolled in a 9 month entrepreneurial literacy course where she learned basic math and business skills.
Nobo Jatra's ultimate goal is to reduce malnutrition, but to make that a reality, thoughtful and empowering approaches are taken that get at the root of poverty. During the entrepreneurial literacy training, Asura also learned about the importance of nutrition, positive hygiene practices such as maintaining a safe, clean latrine, hand washing and safe drinking water. Messages on child marriage, including the dangers, how to report cases or how to find authorities to intervene, were also interwoven into the training module. This hit home for Asura, who was married at 16 herself and had to marry her elder daughter off at a young age.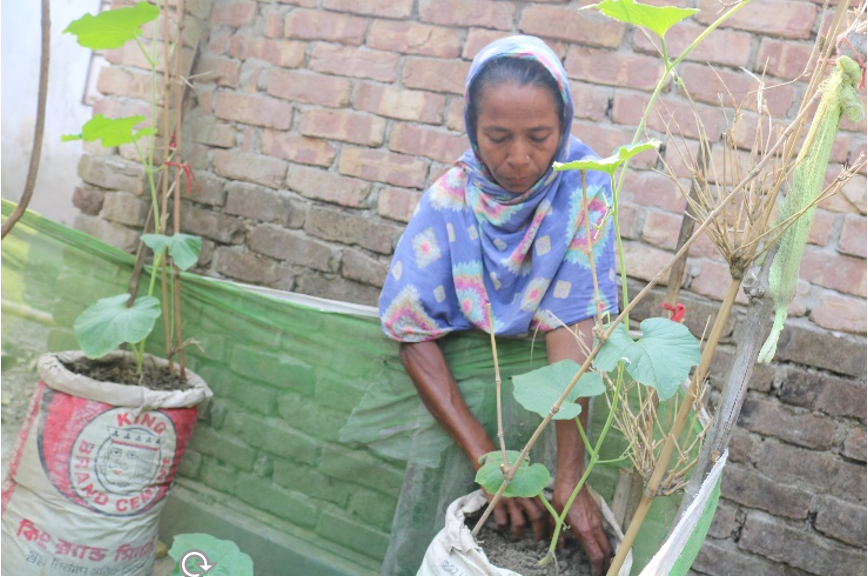 Asura used her training and startup money to buy 3 goats and 5 pigeons. Remarkably, Asura now has 4 goats and 73 pigeons – worth $340 in total! Asura has used her income from selling goats and pigeons to repair the roof on the family home and also purchase a bicycle for Rashed to use when transporting pigeons to sell at the market. Both Asura and Rashed are prioritizing the education of their youngest daughter Rebeka who is still living at home.
 "We pay for Rebeka's school stationary and also a tutor to come help with homework," says Asura.
Through the ultra-poor graduation approach, USAID has supported over 6,405 women, like Asura, to lift themselves out of ultra-poverty and establish sustainable, market driven incomes. Households have seen an increase of 42% in their monthly income – a considerable rise considering that participants are all women, often widows or those that are destitute, who are from the lowest subset of the poor, typically subsisting on below $1.90 per day.
Yet another turning point was when Asura joined a Village Savings and Lending group – which allowed her to access finances to diversify and expand her income earning opportunities. This also helps the family counter personal financial crises and unforeseen risks, thereby increasing chances of graduating out of ultra -poverty. Asura has saved 30 shares and plans to take a loan to purchase a cow.
"Now our dream is to have Rebeka complete high school and for Rashed and myself to set up a grocery shop in our village. That way we can have another regular source of income," says Asura.  
Translated, "Nobo Jatra" means new beginning. Now that Asura and Rashed have sources of income and knowledge on how to be healthier, the family has embarked on a new beginning of their own.