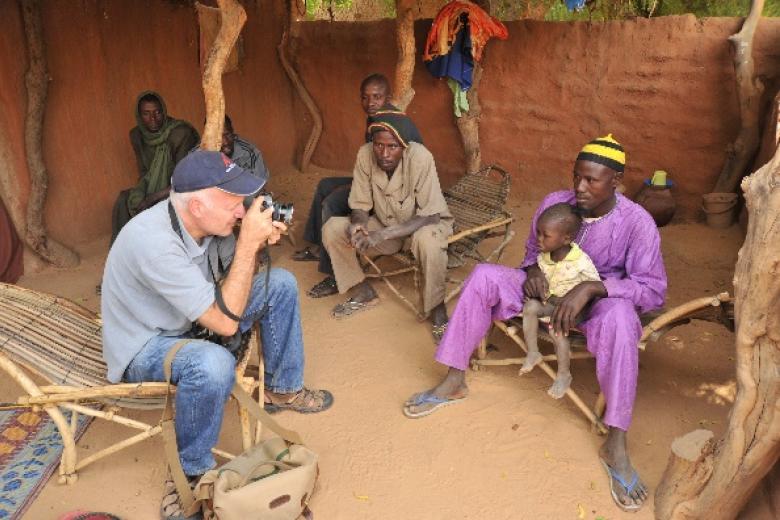 #REVISITED: We find out what happened to Aisha
Monday, December 15, 2014
To successfully advocate for the rights and needs of the vulnerable and disposed, one needs compassion, passion, and importantly, to show evidence. Photography is a powerful way of achieving that.
"Somebody needs to show what happening in these countries. I can give voice to the voiceless. If nobody reports the situation, things will become worse," says photojournalist Nick Danziger
In 2005, World Vision supported Danziger as he visited eight countries – including Niger – as part of a project documenting the impact of the Millennium Development goals. While in Niger, he spent time with three families, including Hassana and Husseina, twin babies living with their aunt.
Last week I had the privilege of accompanying Danziger to Tera, about 100 kilometres from Niger's capital Niamey, to find out what had happen to Hassana and Husseina and their mother Aisha.
In 2005, Nick had discovered the twin babies in Bankilare, a small town near Tera. At the time Nick, heard that their mother Aisha had died giving birth while their father Dauda was working in Ghana selling second hand clothes. In 2010, Nick was able to meet the twin's father and share photographs of the children Dauda had never met – tragically, Hassana and Husseina had died. Their aunt was unable to afford the milk powder needed to feed them.
This December, Danziger revisited Niger to try and learn more about a family he's been unable to shake from his mind. Like most stories, you need to go back to the beginning to better understand the end – so Nick and I travel to Bellekoira village where Aisha and her husband lived before she passed away. Tera.
"We visited Bellekoira and then retraced her steps to Tera hospital to try and find out what had happened to the twins' mother. I discovered that Aisha, a 14 year old pregnant girl, was admitted to Tera Hospital on 20 April, 2005, having travelled 72kms from Bankilarei Health Center. She was admitted at 2am. The hospital records show Aisha was in terrible agony because of eclampsia," says Danziger.
"Upon arriving at the hospital, Aisha was immediately taken to the operating theatre shaking violently from eclampsia. She gave birth to twins. One and possibly both had to be resuscitated. She later died on the operating table."
While in Niger, we also tracked down Dauda. Although he is now the father of four children and husband to two wives, life for him has not improved. After spending time with him and his six brothers, we learned he no longer travels abroad to work, but farms or looks for gold in the local mine.
"Life is very difficult, this year we had a very bad harvest due to the lack of water. The local river only lasted for two days. The family bought two metal detectors to look for gold, but we must pay back the machines or the lenders with take very thing we have," explained one of Dauda's brothers.
The story of Hassana and Husseina – and their parents Aisha and Dauda – is tragically common. However, it doesn't need to be. It's a story that can be changed when the personal and political will is here.
Even as we work to 'finish the job' of the Millenium Development Goals, we need to ensure that post-2015 development targets focus on the vulnerable and furthest from essential services – like Hassana and Husseina and their mother.
We can and must end preventable deaths of children.
As Nick revisits the families and communities – documenting how their lives have changed – over the coming months, we will be sharing his progress. Follow @WorldVisionUN and #REVISITED for updates.