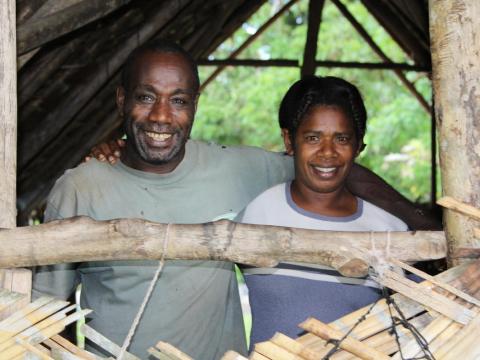 Our approaching to ending violence against women and girls
In Vanuatu, rates of violence against women and children are some of the highest in the world.
"Among women who have ever been married, lived with a man, or had an intimate sexual relationship with a partner, 3 in 5 (60%) experienced physical and/or sexual violence in their lifetime; more than 2 in 3 (68%) experienced emotional violence; more than 1 in 4 (28%) was subjected to several forms of control by their husband or partner; more than 2 in 3 (69%) experienced at least one form of coercive control. Most women who are subjected to violence by husbands/partners experience multiple forms of violence." (Vanuatu Women's Centre, 2011)
Experiencing multiple forms of violence means that women are experiencing physical, sexual, economic, emotional, and/or spiritual violence – the latter of which is less likely to be recognised as forms of violence by communities and their authority figures, and therefore less likely to be addressed.
World Vision Vanuatu works with entire communities to change the perception that violence is normal, transforming religious and cultural norms that are often used to justify violence. The whole-of-community approach works to target change at every level through:
In implementing these curricula, World Vision links communities with the formal service providers which are active in their area – working to change any existing negative perceptions of these providers, which are barriers to access. World Vision also provides referral information to all course participants. World Vision works to strengthen the relationships between communities and local service providers, facilitating community visits, involving providers as co-participants and/or co-providers in training, and promoting networks.
World Vision is supported by the governments of Australia and New Zealand.