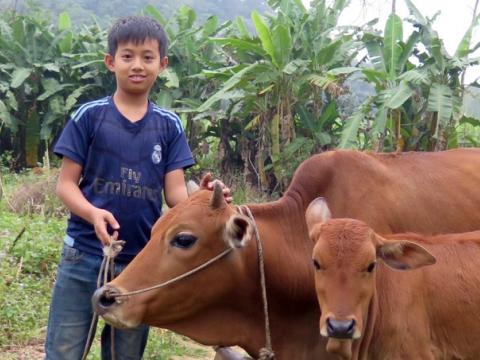 Grants and Special Projects
We aspire to the highest levels of best practice and accountability in all that we do. See how communities across Vietnam are benefitting from World Vision's partnerships.
-- Funded by the New Zealand Aid Programme's Partnership Fund, an economic empowerment project aims to improve the economic well-being of 1,200 poor ethnic minority households over a five-year period.  Read more...
-- The Korean International Cooperation Agency and the Korean Exchange Bank supported a project working on sustainable environmental programmes in Trieu Phong district through the promotion of environment-friendly models. Read Hoang Thi Gai's story
-- Human trafficking is a serious crime that affects men, women and children. It involves putting or keeping someone in an exploitative situation, usually for profit. Exploitation can involve situations including forced or debt-bonded labour, child labour, sexual exploitation, domestic servitude or armed conflict. Learn how the End Trafficking in Persons project, funded by Australian Department of Foreign Affairs and Trade (DFAT) - Australian NGO Cooperation Program (ANCP), supported individuals and communities in Vietnam and across the Mekong region. Read Nguyen Thi Lieu's story
-- Market-orientated livestock initiatives funded by World Vsion US increase incomes for poor households and communities, with the related goal of improving childhood nutrition. Read more...
-- Funded by the Australia Department of Foreign Affairs and Trade, a disaster management project reduces communities' vulnerability to natural disasters and climate change. Read more...