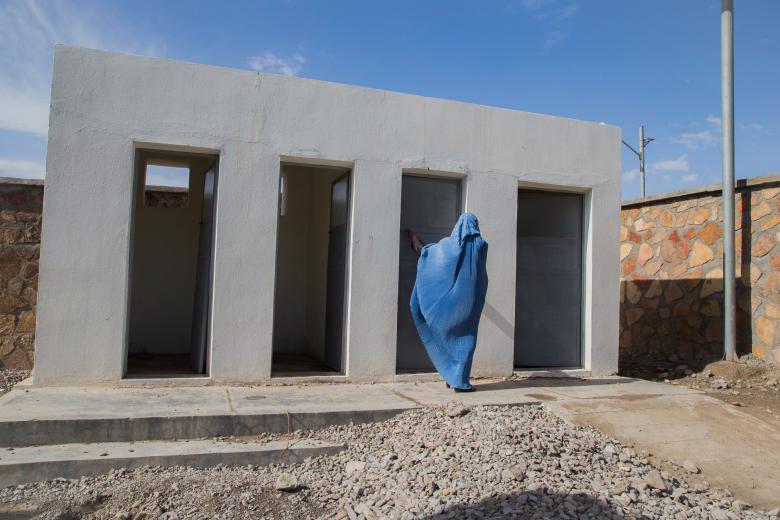 Fresh water and toilets for clinic
Monday, November 19, 2018
Women in blue Burqas walk into the compound of the Langar health clinic, many holding the hands of their children.  
 Inside of the compound, in addition to the old clinic building, is another relatively new structure with five grey doors and white walls. The traffic here is fairly heavy, as the building houses the clinic's toilets.
 Inside of the clinic the floor is clean and staff carefully examine patients one by one. Occasionally someone will get up to wash their hands or drink water from the tap in the waiting room.
 For most of its lifespan, Langar's only clinic lacked toilets and running water, causing numerous challenges for both staff and patients.
 A lack of toilet facilities
 The clinic has been operational for roughly 20 years and is the only facility to provide health care services to 30 communities in Langar (11,175 people). Staff receive an average of 120 patients daily, 76 per cent of them female.
 Without indoor plumbing it was no surprise that men and children practiced open defecation. According to Goldasta, 25, a midwife with the clinic for almost five years, "People used the grounds next-door as an open-air toilet." The odour and flies were especially bad during the summertime.
 Health facility records indicate that the major diseases in this community include diarrhoea, dysentery, pharyngitis, typhoid, hepatitis, otitis, arthritis, scabies and eczema. These are prevalent largely due to a lack of safe drinking water, poor hygiene and contact with animals and insects.
 A 2017 World Vision Afghanistan needs assessment of Langar village showed that the clinic had 10 pit latrines on the premises, all with dirt floors. Of the 10, only five were functional. None of the latrines were suitable for people with mobility issues and menstrual hygiene materials were not available for female patients.
 "The doctors in the clinic always talked about personal and environmental hygiene," says Gul Bibi, who brought her child to the clinic for vaccination, "and so I wondered why the clinic didn't have [sufficient toilets] or water for handwashing and drinking."
 On one of her antenatal care visits she wanted to use the toilet but she couldn't. "The clinic was so crowded," she says. "I had been waiting for a long time to be checked by the midwife." When she went out into the yard and saw a long queue of women and children waiting to use the latrines, Gul Bibi decided to skip her check-up with the midwife and went home instead.
No running water in taps
Prior to World Vision Afghanistan's involvement, Langar clinic did not have safe drinking water on site. Staff had to manually fetch water from a nearby spring to use for washing linen, floors and medical instruments. Clients took their drinking water from a blue bucket in the waiting room that staff had to make sure was consistently full. With the volume of patients, the bucket had to be filled 10 to 15 times a day.
"We had a lot of challenges in terms of water and sanitation," says Abdul Shakoor, a doctor at the clinic. Water flow was inconsistent at best, with water unavailable depending on the season, making it difficult for both clinic and client.
Goldasta, the midwife, believes that fewer people will come to a dirty clinic for fear of their medical conditions worsening. "They are more likely to try to treat themselves with antibiotics without a prescription, or use a homemade remedy resulting in misuse or delay in their treatment."
According to a 2018 UNICEF report, Afghanistan is the third riskiest country in the world to be born in. Millions of lives could be saved every year, the report noted, if mothers and babies had access to affordable, quality health care, good nutrition and clean water.
"We have always taught people about…hygiene, but the clinic [itself] wasn't clean because of the lack of water and toilets," says Goldasta. She remembers a time when one of her clients challenged her: "'You always talk about hygiene,' she said, 'but the clinic smells bad and there are flies everywhere.'"
 World Vision on the ground
Thanks to funds from World Vision US, World Vision Afghanistan was able to provide the clinic with toilets suitable for men, women and people with disabilities. As a result, people no longer use the open ground for defecation and women don't have to wait in lengthy queues. 
World Vision was also able to establish a water system inside the clinic compound, including two wells, one high volume water storage tank, a submersible solar water pump and solar panels that pump water from the wells to the tank. The system provides water for more than120 patients and visitors daily.
Now with running water in each clinic room, staff can wash their hands whenever they want.
With water from the tap, staff can wash the floors and toilets any time they get dirty. "We were always told to wash our hands after each time visiting a patient," says Goldasta, "but to be honest it wasn't possible. Now, with running water…we can [do it] anytime."
Through fairly simple measures, many lives can be saved. These include equipping health facilities with clean water, toilets and necessary medical supplies, along with educating people on hygiene related issues and sanitation. Access to clean water, basic sanitation and good hygiene are a human right. Everyone has a right to the benefits and dignity of safe toilets, especially children, who are often the victims of illness related to poor sanitation and dirty water.