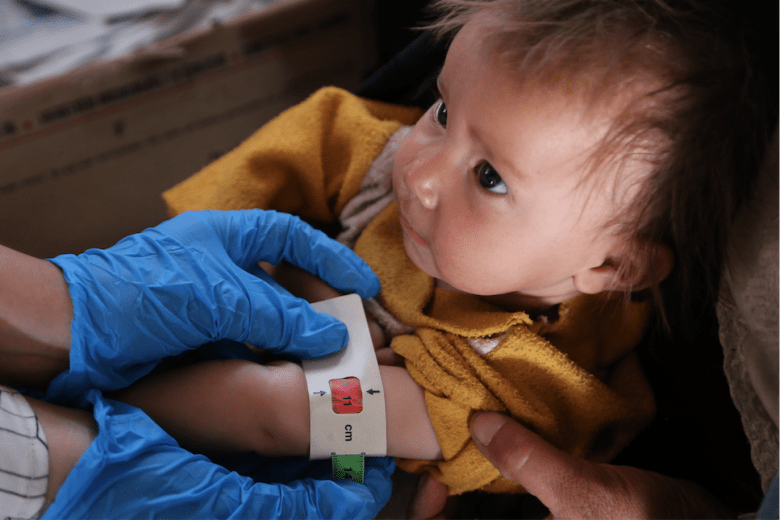 Hunted by Hunger
Sunday, August 12, 2018
Gulbibi, 20, is deep in thought as she gently rocks a cradle inside of the small tent she now calls home. Almost three months ago she and her family of five were forced to leave their home province due to hunger and drought. No amount of strong wind slamming against the patchwork fabric outside can penetrate the internal world that she has escaped to. "It was difficult to sleep during the night…" she says, looking into the cradle at her youngest girl, Nasima, one-and-a-half. The wind would howl, keeping the family awake, something they have all had to get used to.
Gulbibi's family lives in an area with a large population of Internally Displaced Peoples (IDP). Herat city is now home to 51,000 primarily drought-induced IDPs that have recently arrived from the Western provinces of Badghis and Ghor. Families live in informal sites on the outskirts of the city in makeshift shelters unequipped for temperatures exceeding 40 degrees Celsius.
Nasima was on the verge of death when Gulbibi, in an act of desperation, took her to the World Vision mobile health clinic that serves the IDP area. The little girl looked pale, in turns restless and lethargic, and suffered from malnutrition. At the mobile clinic she was given Ready to Use Therapeutic Food (RUTF) and Gulbibi was instructed on proper hygiene practices. Since her visit over a month ago, Nasima's weight has increased from 8 kilograms to 8.5. "I don't know her exact weight," Gulbibi says with a smile, "but I can feel she is getting heavier day by day."
Nasima holding a RUTF packet that she just received from a World Vision Mobile Health Team.
Back in Badghis
Life used to be good in Badghis. Gulbibi's husband, Mohammad Amin, worked for a landowner cultivating sesame, cumin, wheat and peas and was allowed to keep half of the output, whether money or crops. "When my children got sick," Gulbibi explains, "or when they needed school supplies, we just took some cumin, for example, to bazar and sold it for money to buy medicines and other things."
But insufficient rainfall along with lack of snow pack destroyed Mohammad's winter harvest and spring planting, forcing him to move with his family to the major city of Herat. The family also lost cows and sheep; the animals died from a lack of food and water.
According to a recent World Vision Multi-Sector Rapid Assessment, up to 70 per cent of livestock in some areas of Badghis Province have died or been sold off due to lack of fodder. The same report reveals that drinking water wells are dry, other sources severely depleted, and people have already been eating their seed stock for winter planting. By the time they left, Gulbibi's family had no reserves for next season.
Gulbibi and her child in a tent.
Here in Herat
In the city, Mohammad Amin seeks day labour, from porterage to construction work. If he is lucky he earns USD $2 in a day. He often returns home with empty hands. The couple's oldest son, Baryalay, 8, collects thorns and thistles which Gulbibi burns to make tea and bake home-made bread. "We borrowed USD $100 from our neighbours and bought wheat flour. If my husband doesn't earn, we usually eat bread and tea." Her youngest suffered the most from this diet. "Since I didn't eat enough, or well, my breast milk reduced and we couldn't find a way to feed Nasima nutritional foods."
According to Jim Alexander, World Vision Afghanistan Country Director, "Malnutrition rates are higher than have been seen in decades. Early childhood marriage rates, which were already alarming, have now nearly doubled (52 per cent of families surveyed) due to plummeting household assets. The time to act is now if we are to reduce the need for ongoing cyclical emergency response to current and increasing numbers of displaced families."
Considering the poor health, hygiene and nutrition status of IDP families and lack of any regular system to provide health and nutrition services to this population, World Vision Afghanistan established two mobile health teams to provide primary health care services in IDP settlements.
The World Vision Mobile Health team visits the IDP areas once a week and provides basic health services including growth monitoring and free medicine for families.
A midwife from a World Vision Mobile Health Team talking to a mother about the growth of her child. 
"In a month we had 45-50 cases of severe malnutrition," says Dr. Teimor, who works with the team. "Most of [these patients] start with diarrhoea and vomiting because of poor personal and environmental hygiene, and end up malnourished."
He adds that the treatment of malnutrition in IDP children will take more time compared to other children who live in better conditions. "Treating malnourished children with RUTF alone doesn't work. The treatment process for these children is lengthier when they lack access to other nutritional foods."
World Vision's focus is greater and deeper than simply disaster response. The organisation works directly in the hardest hit areas, mitigating conditions before they lead to displacement. In Badghis, World Vision Afghanistan is not only providing emergency response such as food distribution to affected families, but also works on long term community development such as establishing water networks in remote and inaccessible areas. A concerted effort is needed to work wherever Afghans are suffering, to heal the wounds of drought affected families and help them regain their lost hope.
The mobile health teams funded by World Vision United States under the Primary Health Care Project.  The project aims to improve access to quality of primary health care services for women and under-five children in the Herat province of Afghanistan.