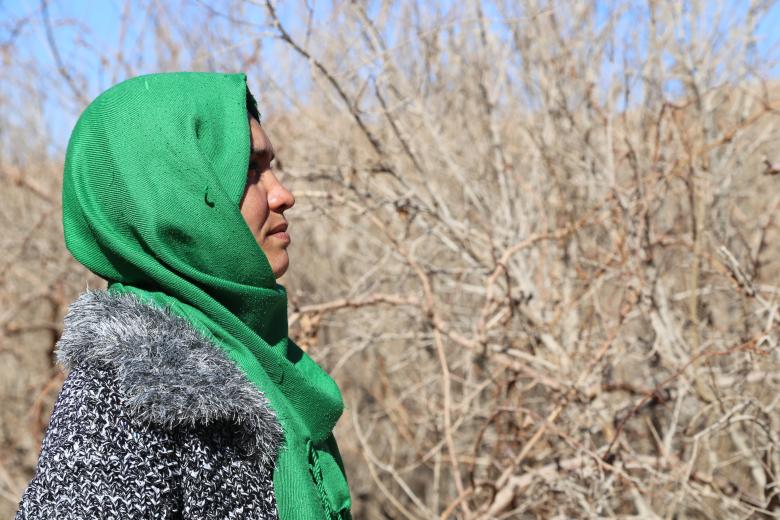 The journey of an afghan woman, from darkness to light
Monday, February 23, 2015
The effects of 27 years of war and instability have left women and children in Afghanistan particularly vulnerable. To this day, many of them are denied access to their basic rights such as education, employment and healthcare. With the support of World Vision, one group of women are trying to change things in their villages – change starting at the grassroots level.
World Vision is one of several organizations in Afghanistan working to empower women and girls to view nutrition and health service delivery as inalienable rights for all people, regardless of gender, and to empower them to challenge the status quo and to demand access to basic services.   
Khadija, 27, is one of World Vision's beneficiaries who is not only making changes in her own life, but is also bringing changes to her village as well.  She was only 16 years old when she was married to a man from a poor family. Although she was in class seven, she had to bury her dream of becoming a teacher as her ambitions no longer fit within the confines of her husband's family's mentality. At first, married life was good. It didn't take long, however, for reality to set in.
"He didn't have a job and he always found an excuse to punish me."
"It was during my first pregnancy that I came to understand my husband is an [opium] addict," remembers Khadija. "He didn't have a job and he always found an excuse to punish me.
We were so poor. I didn't have any friends or people to share my sorrows and problems with. Many times I complained about him to his family, but they always looked the other way when it came to their son's actions," she remembers.
Khadija had to tolerate her misery alone. Her mother was sick and Khadija was afraid if she told her what she was really going through, it might kill her.
Life was difficult. Khadija spent her days working in the homes of others, doing their cooking, their washing and their cleaning in an effort to provide money for the needs of her two children, as her husband was incapable of working due to his opium addiction.
"One day my husband forced me to find 5000 Afs ($100 USD) for him. I didn't have such an amount of money. I went to my neighbours and relatives to borrow from them, but no one would give me [any money], because my husband was an addict. It was raining, my husband threw me out of the home with my two children because I couldn't find money for him," she remembers.
"I was tired of this miserable life and wanted to leave it forever,"
That was the final straw. "I was tired of this miserable life and wanted to leave it forever," she remembers. "I decided to kill myself with electricity… but as I went to touch the power line my brother came and stopped me," she recalls, tears in her eyes.
Khadija decided to leave her husband's home and move in with her mother and brother.
She was struggling to forget those days when World Vision started the Maternal and Under five Nutrition Child Health (MUNCH) Project in her village. By joining the project and becoming a member of the Family Health Action Group (FHAG) group in her village, Khadija had found a new window of hope which gave her purpose and allowed her to start her life again.
Today, Khadija excels as an FHAG member who provides health education for residents in her village.
"She had very good potential skill in teaching," remembers Zakia, World Vision's Nutrition Assistant. "We realized this ability and tried to involve her not only in FHAG activities, but in all our activities regarding the MUNCH project.."
"I have participated in many trainings conducting by World Vision, such as time-targeted counselling (ttc), Infant Young Child Feeding (IYCF) and Positive Deviance Hearth (PDH). These trainings have increased my knowledge about health-related issues," she said.
Khadija excelled so much in the trainings, that World Vision staff asked her to become a facilitator, to train other FHAG members, a role for which she receives a small stipend. "I use the money I receive from the trainings [I provide] to support my two children and send them to school," she explained, noting that because of this income she no longer needs to work cleaning houses.
And, Khadija has revived her own dreams as well. Speaking to a World vision staff member she said: "I want to continue my studies. Being a teacher is my childhood dream and I want to make it come true… I don't know what would have happened to me if I did not have your support. Thank you."
Through the MUNCH Project, funded by the Department of Foreign Affairs Trade and Development (DFATD) - Canada, more than 622 Family Health Action Groups have been formed and trained. This project increases the knowledge of these women on health-related issues while also teaching them skills to improve their ability to communicate and thereby empowering them to be able to reach their communities effectively.  Each FHAG is comprised of 10-15 women who go door-to-door in their villages on a regular basis to provide health counselling to families.