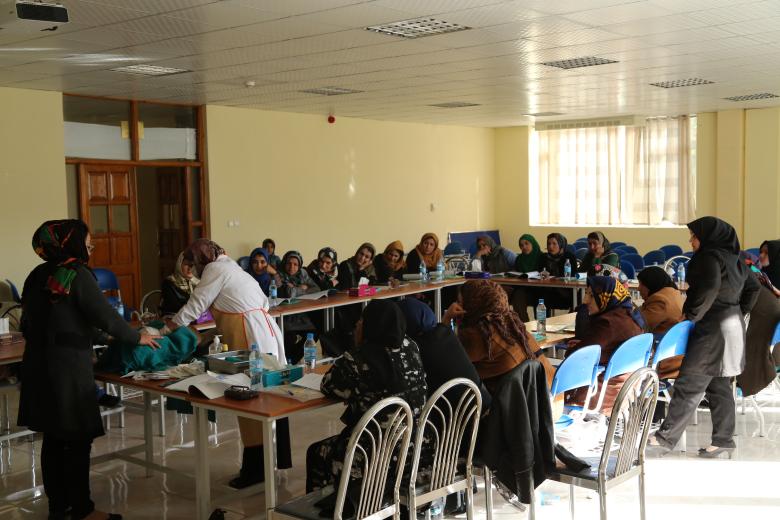 Keeping Afghan health workers current through ongoing training
Sunday, December 21, 2014
To ensure pregnant women, mothers and children receive quality health care, in health facilities, World Vision Afghanistan, with support from the Japan Platform in Afghanistan, funded refresher courses and additional trainings for healthcare professionals.
 "Tell the mother to come back after 10 days for another check-up," says Maria, a Post-Partum Family Planning (PPFP) trainer, following a training conducted by World Vision through financing from the Japan Platform Project. "But, explain to her she can come even sooner in case she any problems or concerns," she adds.
The refresher trainings were designed to update the knowledge and techniques of 460 health care workers (midwives, nurses and doctors) from different areas across the Herat province, especially those coming from remote areas.
Pari Gul is one of the more than 350 midwives who have been trained by World Vision. She graduated from the midwifery programme seven years ago.
Although she has a disability in one of her legs that makes it difficult for her to walk, she is one of the most successful and experienced midwives in Jendakhan village, a very remote and insecure area of Herat province, with nearly impassable roads.
Since she graduated, Pari Gul has participated in three refresher trainings conducted by World Vision to maintain and refine her knowledge and skills, including courses focused on Emergency Obstetric Care (EOC), Post-Partum Family Planning [PPFP] and Infection Prevention (IP).
The most recent training that was held was the Post-Partum Family Planning. This training offered new information to her and others as this new method of family planning is just recently being introduced to midwives and doctors in Afghanistan.
"Since I graduated from the midwifery program...
"Since I graduated from the midwifery program, many changes have emerged in terms of new medical tools, treatment techniques and even counselling methods," she says.
"I am working in a rural area, which is 27 km from Herat city. If [World Vision didn't provide] such trainings for health staff, [we] would not be able to adapt [our] knowledge with these new techniques," adds Pari Gul.
"When you are a health staff and a mother brings her sick child to you for treatment, all her hope and the hope of her family are on you, after Allah," she explains. "In this time, you should apply all your knowledge and experience to treat the mother or children.
But, what will happen if your information about illness isn't according to the standards?" she asks. "It is clear that as a health staff you can't offer quality health services to your people and you may [even] unintentionally harm the patient [if you don't have the most recent information]," added Pari Gul, with a power in her voice.
She is grateful for these trainings, where she was able learn new counselling methods. Now, she is able to convince people in her village to feed their babies with breast milk and shows them the correct method and positions for breastfeeding.
You are never done learning
No matter how much experience or the geographical location of the participants, everyone agrees that the trainings have increased their knowledge of the latest treatment methods and given them the opportunity to practice their new skills on models as well as at clinical sites.
Saadat is a professional nurse-midwife with more than 32 years of experience. She participated with her nursing students in the training and believes that such trainings allow participants to share their experiences so they can learn from each other.
"The training will make us aware of the new trends...
"The training will make us aware of the new trends, new methods of treatment and technological advancements in health care," says Saadat. "Such trainings increase our skills and knowledge," she added.
Shokria is another midwife trained in World Vision's midwifery programme. She works in the Pashton Zrghon district, another extremely insecure area.
"Before, sometimes we couldn't treat the problems of mothers or children because of our lack of knowledge and information. We had to refer the patient to the city. But, our area is insecure, [and often times] the patient couldn't transfer to the city immediately," she explains.
"Since I participated in the trainings conducted by World Vision, I learned new information and the number of cases I refer has been reduced," said Shokria, who plans to replicate the training with other health staff in her area.
World Vision Afghanistan's Refresher trainings allow health personnel to update and upgrade their knowledge and skills in order to be able to deliver comprehensive and integrated services and to develop self-help mechanisms at community and family levels. 
The contents of refresher courses were decided based on the results of a consultation with Institute of Health Science (HIS) and Department of Public Health. As a result six trainings were prepared.
The refresher trainings included:
 

Training for Emergency Obstetric Care

Training for Effective Teaching Skills

Training for Post-Partum Family Planning

Training for Infection Prevention

Training for Inter Personnel Communication

Training for Health Management Information System