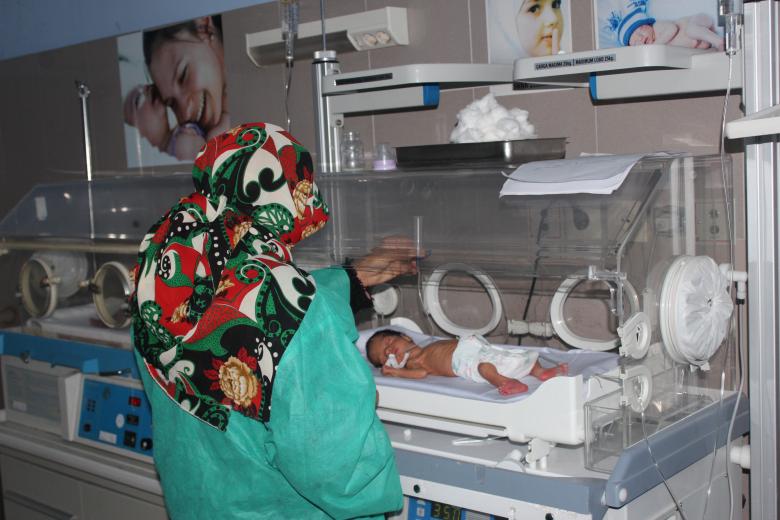 A mother's dreams
Friday, August 15, 2014
The story of one young mother who has just given birth for the 9th time, the first eight died. This baby, born in a hospital outfitted by World Vision with a Neonatal unit is her only hope.
 A mother spends nine months pregnant, carrying her baby. Her hopes and dreams along with the little life inside of her grow with each passing day.  She imagines her baby's face and spends long hours trying to identify the perfect name for him or her. But, what happens if the baby dies or is not healthy? When a mother loses a baby, grief takes over as her dreams crumble to the ground. Nothing will bring her joy.
Zia Gul, 26, is one of those mothers who has passed through darkness of losing a baby.  Over the past 10 years, she has lost eight babies, all for unknown reasons. With them, she lost her joy. Her last hope is a tiny1,600 gram (3.5 pound) baby currently in an incubator in the neonatal unit of Rezaee hospital.
"I [was] married 10 years ago while I was a small girl and was playing with my ragged doll," remembers Zia Gul with a smile on her lips and shame in her eyes. Young women who are married even younger often feel a sense of shame when talking about their marital lives.
Pregnancy at an early age is risky. Girls who get pregnant in their teens face a much higher risk of maternal morbidity and mortality. Zia Gul lives in a very remote district, located 120 Km from Herat city. Zia Gul has been pregnant nine times. She lost eight of her babies, each during the ninth month of pregnancy.
"Five of my children were born at home as I didn't have information about the importance of delivering at a clinic.  All of them were born dead," she says.  "During my other pregnancies, I was supported by the community health worker  and midwife. Each time the community health worker came to our home, [they] advised me about dangerous signs during pregnancy and about the importance of eating different types of foods. Not only did they teach me, they also taught my mother-in-law and my husband," she says.
"[With this pregnancy], one day when I was eight months pregnant, I found I was bleeding. My sister took me immediately to clinic and, after checking, the midwife transferred me to the city for an ultrasound and more examinations," Recounts Zia Gul.
There are a number of potential causes for stillbirths: "Zia Gul may have lost her babies due to some infection," says, Dr.Wahabzada a doctor in Razaee hospital. "We don't have an advanced examination systems to find the case of stillbirth but we are suspect to infection," he says, noting that malaria is another main factor in stillbirths.
"I was worried about the prematurity of my baby."
"At the hospital, the doctors admitted me and did many examinations because I had severe bleeding. They decided to do caesarean section (CS) operation.
At first, I was worried about the prematurity of my baby. [I was] afraid to lose this baby also. But, doctors and midwives convinced me and explained about the equipped neonatal unit in the hospital. Before I got the caesarean section, I visited this unit and spoke with mothers who had premature babies in the incubators," explained Zia Gul.
Delivery is a complex process and there are many risks for both the mother and the baby. Being born prematurely, having a difficult delivery or birth defects can make this process even more challenging. Fortunately, for babies in Razaee hospital, a special newborn care centre is available. The Neonatal unit was established by World Vision in 2006.
The unit in Razaee hospital is one of the largest Neonatal Intensive Care Units (NICU) in Herat city and is capable of the highest level of care for high-risk newborns. It is organized to provide highly-skilled, life-saving interventions to critically-ill newborns.
"Without delay, my husband accepted the operation and I got a caesarean section," says Zia Gul. "It's been nearly 20 days that I am here and my baby is in the Neonatal Unit," she added.
   "I haven't decided on a name for my baby," says Zia Gul. "But, as my sister has supported me in all these days, I will ask her to put a name for my baby," she says.
"A baby is the best gift to all parents. With the arrival of a newborn, parents are overcome with happiness and seem to have the greatest gift they could ever have. Nothing in this world can exist which can make parents happier than having a baby," said Rahima , 25, Zia Gul' s sister.
"Doctors say that the baby's condition is getting better day-by-day but that I should be patient and take care of my baby very good," said Zia Gul, with a shine in her eyes and a hopeful sound in her voice.
More than 2,000 babies are admitted into the Neonatology Unit in Razaee Hospital each year, and more than 1,200 babies have been successfully treated. In addition to treating premature and ill babies, healthy newborns also benefit from check-ups provided by this unit such as eye care, vaccination and checking the umbilical cord. More than 14,500 babies will be vaccinated each year through this neonatal unit—helping to babies not only survive birth but also their first five years of life.