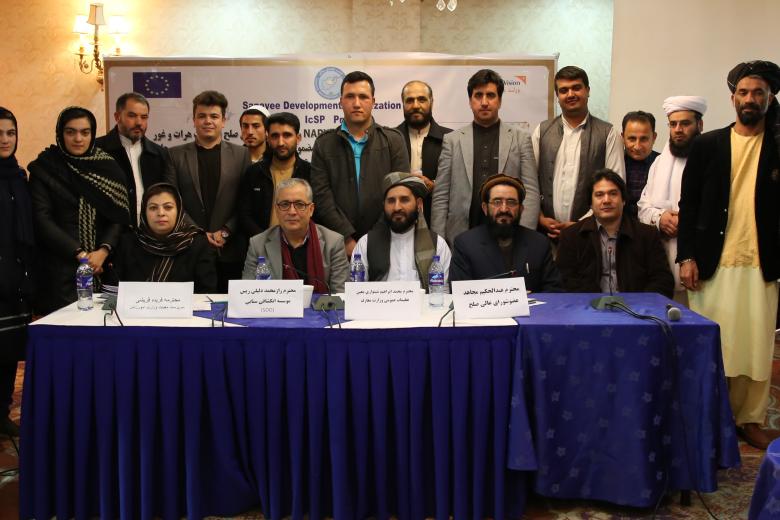 Press Release: Advocacy for social peacebuilding
Tuesday, January 22, 2019
KABUL, Afghanistan, 22 January 2019 – Today World Vision and Sanayee Development Organisation (SDO) conducted an advocacy event and ran a panel discussion on social peacebuilding and peace education at the national level. The main aim of the event was to advocate to integrate peace topics into the Afghanistan education system, share the achievements of World Vision peacebuilding committees, and the role of women in bringing about social peace in their communities.
Mr Raz Mohammad Dalili, the Head of SDO said, "Our society is sick. We need treatment. The treatment is social peace; a kind of peace that should be started from ourselves and our families. When we were in school, we were taught one gun plus one gun is equal to two guns. We were taught about violence and conflict in school. Now it is time to teach our children about love, humanitarianism and how to solve a conflict peacefully." He adds that peace is an art, a method and science rather than only a topic to talk about.
Under the peacebuidling project, funded by the European Union, World Vision and SDO has piloted the integration of peace subjects in five schools in Herat and Badghis provinces, benefiting 500 female and male students from grade 10 to 12.
Miss Sewita Anwari, a teacher who teaches the peace subject in one of the Herat schools says "Since we have been teaching the peace subject in our school, the number of conflicts among students has been reduced by 60%. We don't have to spend money on repairing broken chairs since children feel responsible about school equipment and don't damage the school property if there is a conflict between them. Our students have learned how to resolve a conflict in a friendly manner."
In addition to establishing peace committees in schools, World Vision and SDO have formed four peacebuilding committees comprising of 64 female and male community members in two provinces. The members have been trained on modern methods for conflict resolution and prevention.
Speaking at the event, the First Lady's representative, Firoza Moshtari expressed appreciation for the work of SDO and World Vision on social peacebuilding and said, "Social peacebuilding is one of the main objectives of the First Lady's office. We have established social peacebuilding committees in 34 provinces and I will be happy to connect World Vision peace committees with them." Miss Moshatari added that Afghan women are the most vulnerable group in Afghan society, "they are sister, daughter, wife and mother. Any decisions we make today will directly impact their well-being."
At the end of the event participants requested the panel members from the Ministry of Education, Ministry of Women's Affairs, the First Lady's office and Parliament Members to pay more attention to social peacebuilding and integration of it into the country's education system.
The World Vision peacebuilding project aims to promote peace building and support women's active and meaningful participation in local, provincial and national peace processes as well as their representation in formal and informal decision-making.