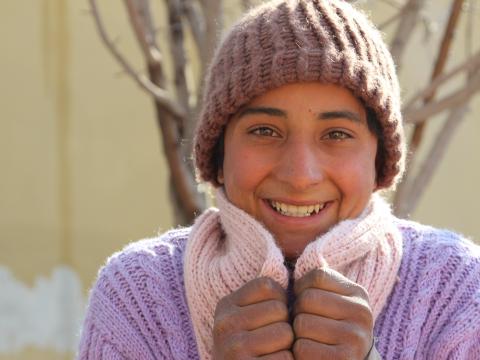 Warm like a mother's embrace
Monday, January 30, 2017
Car horns blare, people walk together, chatting, a vendor calls children to buy snacks, the school bell is ringing. But the young boy hears none of this as he is too busy scavenging the trash with his small hands, hoping to find something valuable such as plastic, iron or paper. Something to sell, or something to eat such as dried bread, leftover food or a piece of fruit.
He finds a white glass container with a small amount of fruit juice inside, maybe three or four drops; he peers into the container, concentrating, and then puts it to his mouth, waiting for the drops to pass the length of the glass and fall onto his tongue. He savours those few drops as if they were the most delicious thing that he had tasted that day, or week, or month. People continue to pass by; none of them notice his small victory.
The temperature is minus 9° C and steam comes out of his mouth when he breathes. His cheeks are chapped red and his fingers are turning blue, but he doesn't pay attention to the cold as he concentrates on finding items to help his family survive.
An incredible number of Afghan children walk the streets to beg, sell paltry items, to polish shoes or scavenge from garbage from sunrise to sunset. In excess of 8,000 to 10,000 children in Herat forego the simple pleasures of childhood to work on the street for money to survive; they don't grow up in the schools, they grow up on the streets.
For the last three months, Mirwais, 13, has sold tomatoes from a small cart from 7 am to 7 pm. He used to collect garbage, earning 70-80 Afs [$1-1.50 USD] per day.
"When I was collecting garbage on the street a man asked me if I would like to work for him. I agreed and he gave me a cart. He usually gives me tomatoes to sell for around 50 Afs [$0.50 USD] per day," Mirwais explains, "which is better than walking the streets looking for garbage."
Mirwais is the oldest child in his family. His father is a porter but old age and sickness have made it difficult for him to work consistently. His mother used to shell pistachios but hasn't been able to work since Mirwais's younger sister has fallen ill.
World Vision Afghanistan at Work
 World Vision Afghanistan (WVA) has made a concerted effort to reach children like Mirwais, who, for the last two years, has received support through WVA's Street Children Centre (SCC). He has attended almost every day of those two years, taking advantage of the availability of psychosocial, educational and health services.
The Centre has helped Mirwais to enroll in the government school and also provides supplies for children at the Centre in order to encourage them to go to school. Only 2.2 per cent of Afghan children have access to learning materials at home. 
"Before I didn't go to school," he says, "but since coming to the Centre I have been attending public school."
"Before I didn't go to school," he says, "but since coming to the Centre I have been attending public school." Now it is winter and Mirwais is working full time but when school starts his schedule will change. "My supervisor agreed to allow me to work part-time for him during classes. I told him that I don't want to miss school," he explains. 
What little Mirwais and his father manage to earn from day labour and other efforts goes first towards food, so affording winter supplies like warm clothes is very difficult. He recalls an incident where a classmate looked at his ragged clothes and made fun of him for not being able to afford new ones. "He called me a street child in front of the other students. I felt embarrassed and could not respond. He was right. The next day he came to me to apologise. His father had been in a car accident and he thought it might be because he had made fun of me."
In 2015 the World Bank estimated that 36 per cent of Afghans lived under the poverty line. These are people who can't meet the basic needs of their families such as food, clothing, sanitation, education or healthcare.
Based on a recent survey conducted by the Afghanistan National Disaster Management Authority (ANDMA), the number of families vulnerable to harsh weather conditions this winter has increased by 50 per cent in western Herat province.
In response, the people of Japan recently donated 1,427 hand-knitted sweaters, 27 vests and 2,257 winter caps, among other items, for the most vulnerable street children with the most urgent needs.
Mirwais was thrilled to receive a sweater, a hat and a muffler. "They keep me warm," he says. "When I am outside I will use them. This is the first time that I have worn new clothes!"
"The families of street children can't afford to buy warm clothes for their children."
 According to Mr. Poya, a World Vision counselor with the SCC, "The families of street children can't afford to buy warm clothes for their children. All their effort goes toward feeding their children rather than buying clothes for them. For all of these children it was their first time wearing new clothes. [The kinds of things] that they have only ever seen on rich children they can now wear too."
Much of what seems common to most people can, for street children, appear strange and new. When Mirwais first received his muffler he had no idea how to use it. But he says that he wasn't embarrassed because none of the other children in the Centre knew how to wear a muffler either! He has since learned and is eager to show off his new knowledge.
Mirwais is very thankful to the Japanese people who knitted the warm clothes he wears with pride. "Please tell them that I am warm and I like my clothes so much! I wish my mother could knit such warm clothes. I would never be worried about winter again."  
Sabera, 12, is another street child who received the knitted clothes through the Centre. She is the youngest child in her family and helps her mother gather wool to weave at home. Her father is a day labourer. Some days he can earn money and other days he can't. Sabera has six brothers and sisters, all of whom help the family by working on the street.
Sabera is emotional and looks at the floor when she recalls how the family acquired all of their clothes second-hand from neighbours who were better-off, something she no longer has to worry about due to the generous donations. "Please thank the Japanese people and tell them I will finish my studies. I will be a teacher so that I can help poor people such as us," she says.  
And from all of us here at World Vision Afghanistan and the Street Children Centre, thank you so much to our dear friends in Japan for your recent generous gift to the street children of Herat. Your support means the world, not only to these children but also to their families as this winter they no longer have to worry about providing warm clothes for their young ones. Your assistance is important to WVA but even more to street children. You are helping to make the future of Afghanistan brighter. Many blessings from all of us.