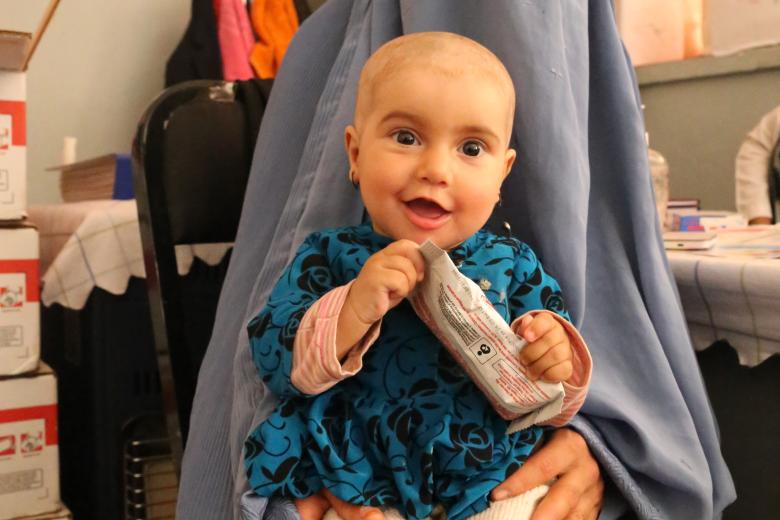 A window of hope for Afghan's next generation
Wednesday, May 13, 2015
To address sever acute malnutrition, World Vision has established a number of Out-Patient Therapeutic Program (OTP) facilities in rural areas of Afghanistan. Of  the 1,048 malnourished children treated during the first nine months, 82 per cent completely recovered from malnourishment. The remaining children are either continuing the treatment process or have been referred out to an advanced centre.
A large group of the mothers and children fills the clinic space. Mothers, covering themselves with Burqas, talk amongst themselves in front of the nutrition room established by World Vision in one of vulnerable communities of Afghanistan.
"How many times have you come here," Maryam, a nervous first-time mother, holding a 3-year-old child, who looks anaemic, asks the woman standing next to her.
"This is my fourth time," Shaysta answers.
"I heard the nurse here, measure the height and weight of [the] babies..."
"I heard the nurse here, measure the height and weight of [the] babies and if they are weak, the nurse asks the mother about the baby's food and gives the baby some reinforcement food. Is that true?" asked Maryam, shyly.
"Yes, it is true," affirms Shaysta . "My child gained half kilo after three weeks," she explains. "And, they taught me how to feed my baby with different foods," she affirms, as the nutrition room's door opens and a mother with her child exit.  Now, it is another mother's turn.
The nutrition room is clean and organized. It was established and equipped through financial support from World Vision.
"Before we didn't have such room here," remembers Ziagul, a World Vision Nutrition Nurse. "All cases of malnutrition were referred to the paediatric hospital for treatment. Now, we only send children with medical complications to the advance centre. The rest of the children are treated here," she explains.
Lack of access to food, poor care and feeding practices and illness are the major causes of under-nutrition in Afghanistan.
The 2013 National Nutrition Survey revealed that the malnutrition rate (severe and moderate acute malnutrition) among children between 0 and 59 months of age is 9.5 per cent (affecting 2,945,000 children) while 40.9 per cent suffer from chronic malnutrition (stunting) in Afghanistan.
World Vision in Afghanistan is committed to helping 790,000 children under the age of  5 who are facing malnourishment in the three targeted provinces where the programme is being implemented.
Since July 2014, five Out-Patient Therapeutic Programme (OTP) facilities have been established in Heart through the Maternal and Under-5 Nutrition and Child Health Project (MUNCH ), funded by the Department of Foreign Affairs Trade and Development (DFATD) in Canada.
The project uses the Community-based Management of Acute Malnutrition model to address Sever Acute Malnutrition (SAM) through the provision of supplies, including Ready-to-Use Therapeutic Food (RUTF) stocked in OTPs.
 

How does the project work?

The project team identifies children between the ages of 6 and 59 months in targeted and vulnerable areas to perform growth monitoring screening. Children are then grouped into three categories: normal weight, mild and severe malnutrition.

Those who suffer from mild malnutrition are included in Positive Deviance Hearth (PDH) sessions, a 12-day nutrition class that teaches mothers how they can cook nutritious food using different food groups.

The children who are suffering from severe malnutrition and are at risk of medical complications are referred to in-patient stabilization centres for more intensive treatment where they will be referred to nearest World Vision OTP facilities to receive RUTF and medical consultations once a week.

Farida, 30, is mother of two children: a 9-year-old son, Mustafa and 3-year-old daughter, Zahra. She is from a poor family. Her husband is addicted to opium ad is unable to find stable employment due to a disability in one of his legs.

Instead of playing with other kids his age children or going to school, Mustafa is at home, suffering from severe malnutrition.
"We found Mustafa while we were implementing growth monitoring screening in Farida's village..."
"We found Mustafa while we were implementing growth monitoring screening in Farida's village. He weighed only 6.5 Kilos. He couldn't walk, speak or sit. We immediately referred him to our OTP," said Zakia, a World Vision nutrition assistant.
Video of Mustafa, 9, when he had only 6.5kg
"It is three weeks that I am coming here, Mustafa [has gained almost three kilos]. [Today], he weighs 9.2 kg. He can laugh, understand my words and move his hands and legs with power," said Farida, with a happiness in her voice and eyes.
 Video of Mustafa when he has 9.2 kg weight (after coming to OTP )
 "Although Mustafa will never completely recover from the mental retardation [that occurred as a result his malnourishment], through our food assistant and counselling we can help him to grow up and be independent in future," explained Dr. Qadria, World Vision CMAM specialist.
 "I feel so sorry for Mustafa," 
 "I feel so sorry for Mustafa," said Farida. "If I had had today's knowledge about importance of different food for children, my child would never have suffered from this illness."
 "Now, I know how to take care of my daughter's nutrition despite the fact that it was an expensive experience and lesson that I gained from Mustafa's feeding," she added.
 Maryam is another mother waiting her child to be checked by a World Vision nutrition nurse. Her home is located very far from the clinic, two hours by car, but the positive impact she has observed from the nutrition room on her child makes her forget about the distance. She has a 20-month-old son who three months ago [before she came to the nutrition room], was so weak he couldn't stand on his legs.
 "I've been coming here for almost three months. Before [coming here], my child, Ehsan, had a lack of appetite and was weak and lethargic. Since I have come here, he can crawl and with my help can stand on his feet. He likes to eat the food (RUTF) that I receive from here. Sometime I have to come twice in a week to take more," admitted Maryam.
 Once a weak the nutrition nurse cooks food, such as vegetable soup, porridge and spaghetti for registered children. All food supplies are provided by the MUNCH project, a large portion of the vegetables come from the garden established on the side of the clinic by World Vision.
 "We were conflicted by war and are illiterate. [We are] poor and living in mountains. If we didn't have your assistance, I don't know what would happened to our children. We are old and our life is getting nearing the end, but these children are innocent and if no one dares to care about them, Afghanistan will be destroyed," added a grandmother who had brought her grandson for check-up.