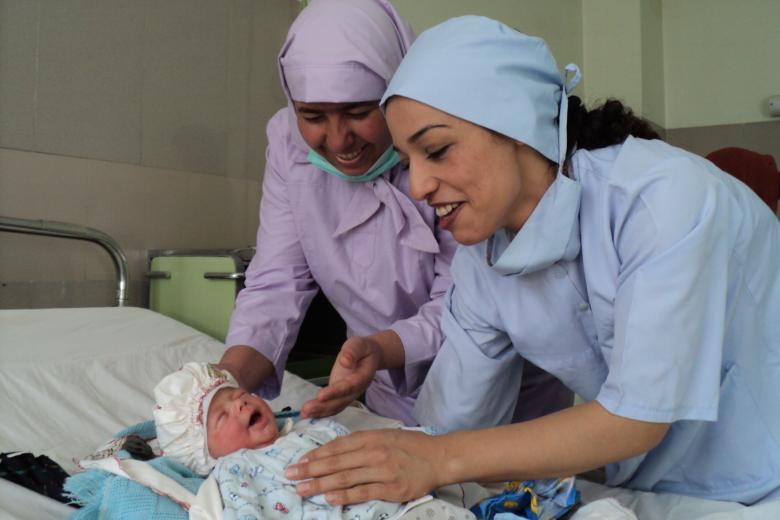 Worst place to be a mother – best place to be a midwife
Tuesday, January 17, 2012
When 32-year-old Shukria gave birth to her first child at just 15 years of age she never dreamt she would become a midwife and that her daughter would follow in her footsteps.
But memories of a close family member who died in childbirth when an unskilled traditional birth attendant mistakenly removed her womb instead of her placenta, inspired Shukria to become a midwife and save lives.
Sadly, the story of this relative is all too common across Afghanistan. In Ghor and Badghis provinces in western Afghanistan and Herat district in the northwest, a woman dies every 43 births in pregnancy, labour or after childbirth. That's 1,244 women a year.  A June 2011 UNICEF report declared Afghanistan 'the worst place in the world to be a mother'[1]. 
"So many women die needlessly through lack of any basic care during their pregnancy," explains Dr. Sarah Pickworth, until recently World Vision's Public Health Specialist in Afghanistan.
"Poor diets and working extremely hard physically in the fields right up to birth leave women in a poor state to go through childbirth which is often only assisted by an unskilled neighbour or their mother-in-law at home. Many also die from dangerous cultural practices during childbirth, often bleeding to death before they can get permission to access health care. Women still need to get the permission from their husband or mother-in-law before they can go for help. If there is no female health worker, rather than face the shame of seeing a male health worker her family will not take her to get help," explains Pickworth.
 Prior to World Vision starting the Community Midwife Programme (CME) in Ghor province there were no midwives among a population of more than 800,000 people.  Today, with 38 midwives currently deployed in Ghor province, 85% of health facilities are staffed by a midwife. 
Shukria and hundreds of other World Vision-trained midwives in western Afghanistan are making a difference.
They are teaching mothers that instead of feeding their newborns oil from a sheep or sugared water, their own milk is best for their babies because it contains all the nutrients and antibodies they need to nourish and protect them in their first few months of life.
"We are encouraging mothers to space their deliveries – if mothers do not do family planning they have many children and become anaemic and are more likely to die during childbirth. Also, because most people are very poor, if a mother has fewer children she can educate the children better, and the children do better," says Shukria.
"Work through midwives and community outreach teams comprising a man and a woman, raises awareness amongst mothers and fathers and tackles the barriers which prevent women accessing care. Early referral for complications and encouraging women to deliver in health facilities saves lives. With midwives seeing newborns early in their first week of life, the most vulnerable time when a baby is most likely to die, babies who are sick are picked up quickly and treatment is more likely to be successful," explains Dr. Sarah Pickworth.
Apart from delivering babies and educating women about birth spacing, Shukria is also training mothers how to wash, clean and cook new varieties of vegetables to nourish themselves and their children.
"Fifteen children with severe malnutrition were referred by a community health promoter to me," remembers Shukria. "I checked the weight and height and referred five of the children to the hospital with severe malnutrition – one later died. The other children improved after working with their families and advising them about foods and how to feed their children," she says.
By introducing hygiene practices like hand washing after using the latrine, separating water used for humans and livestock and encouraging immunisation, hospital and community-based midwives and community health promoters trained by World Vision are also striving to reduce the terrible odds of child survival.
An estimated 315,826[2] children will die before their fifth birthday in 2011 with 120,000 (38%) not surviving their first four weeks[3]. These deaths are caused by preventable pregnancy-related complications, preventable illness in children, including diarrhea and pneumonia, neonatal complications and malnutrition, which together account for more than 60% of child deaths.
Juma, aged 19, is a midwife trainee who works in Chagcharan in Ghor province in one of the poorest, most isolated parts of the country. "I am seeing the numbers of malnourished children decrease. In the past mothers lacked awareness of malnutrition and the reasons for malnutrition," she says, explaining the impact midwives are having in the community.
But the hospital and community-trained midwives in Herat and community midwives in Ghor province are just one important link in a developing health chain that is quickly gaining the support of community leaders.
In Ghor province, where many communities are cut off from health facilities during the winter months, World Vision is training couples selected with their community Shura (elders) to develop and train mother and father groups in health promotion and set up a community growth monitoring programme where the mother and father leaders of the groups are taught to check the growth of children and refer those at risk for further assessment to midwives or health facilities.
Meanwhile in Herat, health projects are also gaining the favour of community leaders. "You (World Vision) are saving our lives . . . we wanted to tell you how much the Child Survival Project has helped us keep mothers and children from dying and keep them healthy. This is so important to us that we will continue to do our volunteer work as long as we live[4]."
Over the past year with the help of a local aid agency, nearly 300 people have been trained in basic health, monitoring the nutrition of more than 20,000 mothers and children each month. More than 90,000 mothers and fathers currently attend these health groups across five districts.
Initiatives like these demonstrate that change is possible. But while the government is establishing more health centres and there are more doctors and midwives than a decade ago, so much more needs to be done.
In Ghor province alone, there are just seven professional and trainee midwives per 100,000 women. Existing programmes must be scaled up if Afghanistan is to halve the maternal mortality rate by 2015, as set out in Millennium Development Goal number five.
World Vision, together with local and international partners, is committed to improving mother and child health in Afghanistan so that children not only survive the first five years of life, but also enjoy good health.
-Ends-
Further information
In Ghor province, World Vision is running a large scale project over 5 districts aiming to improve health and nutrition in mothers and children under 5 years, integrated with a food distribution programme, improving household food security and a livelihoods component that aims to improve farming methods to enable people to improve their food production and income.
[1] http://www.savethechildren.org/site/c.8rKLIXMGIpI4E/b.6743707/k.219/State_of_the_Worlds_Mothers_2011.htm
[2] All estimates are calculated using data sourced from CIA September 2011 and UNICEF's Best Estimate Provincial Fact Sheet 2009 (includes UNFPA/UNSD)
[3] according to UNDP progress on Afghanistan's Millennium Development Goals
[4] According to doc: World Vision Afghanistan BHAMC Child Survival Project Midterm Evaluation Report. DRAFT December 15, 2010. Annex 1: Positive Experience in Child Survival Project Motivates Community Volunteers to Commit to Long Term Service