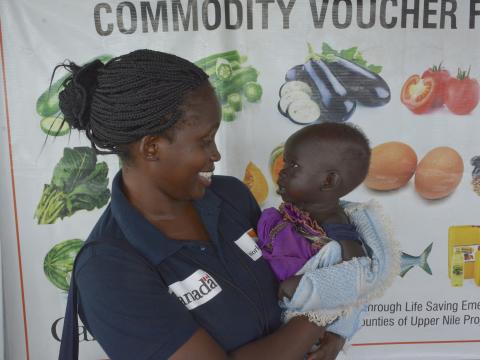 After running from war, families rise up against hunger and malnutrition in South Sudan's Dengthoma Camp
Tuesday, September 25, 2018
By Lisi Emmanuel Alex, Communications Officer
The 2013 conflict had a devastating and lasting effect on the people of South Sudan. When the war started in many towns people had to flee from their home areas to other locations that experience relative calm. Communities from Baliet and Akoka had to walk for several weeks and cross the River Nile to reach Melut County for safety.
A large number of children, elderly, pregnant and lactating mothers became malnourished due to the long walk, limited food and various illnesses that they couldn't afford to treat.
In May 2017, World Vision established Dengthoma Outpatient Therapeutic Program; a facility within Melut  internally displaced persons' camp to treat cases of malnutrition after finding out that many children were severely malnourished. World Vision managed to treat a total of 922 under-fives at its malnutrition treatment centre.
23-year old mother of three, Nyan Nueue, attends the nutrition training with daughter Akur. 
Angar, a 46 year old mother of six, recently had her youngest child admitted to Dengthoma Outpatient Therapeutic program, the child was suffering from diarrhea and fever. By the time she brought her baby to the facility, the baby was in bad condition weighing less than six kg.  World Vision put the baby in the treatment program and in less than a month, nine month old baby girl Abuk's condition greatly improved.
"We started providing malnourished children with Ready to Use Therapeutic Foods from UNICEF and we have realized a tremendous change among the children.  We also established a referral pathway to other agencies for further treatment."  Said Valary Omondi, World Vision Nutrition Program Co-ordinator.
To create a wider range of awareness within the community to prevent malnutrition, World Vision also instituted a Maternal Infant and Young Child Nutrition program and established mother support groups. Their role is to educate mothers and caregivers, whose children have been discharged from the malnutrition treatment centre, on optimal child feeding practises such as Exclusive Breast Feeding for six months and complementary feeding thereafter for at least two years or more.
The mothers are also taught about Water Sanitation and Hygiene, Food security, Good Health, behaviour change and aspects of Gender Based Violence prevention.
Angar dwells from one of the oldest and beautiful towns of Malakal the capital of Upper Nile State which is now a ghost town. Malakal is one of the most devastated towns in the country where the adversaries have exchanged barrels of guns for several times ruining the existing infrastructures. "We left everything behind and had nothing completely to eat because I and my husband were carrying our children." Angar recalls.
She further explained that "Here in Dengthoma internally displaced persons camp, I can prepare breakfast for my children but if I realize the food is getting finished, I can skip breakfast and cook lunch and dinner. Sometimes I can prepare breakfast and dinner that why my children are all thin."
The mothers also learn and found support from each other in the nutrition program's activities.
Valary Omondi World Vision nutrition program coordinator shares that the main cause of malnutrition in the camp is inadequate dietary intake in the households. The people only feed on the monthly food distributed to them by World Vision. The main foods distributed are pulses, vegetable oil, and sorghum (sorghum is cereal widely consumed in South Sudan as staple food) thus their diet is deficient of vegetable and fruits.
The host community has access to the markets but the purchasing power is very low due to the high inflation caused by the conflict, limited supply of food from the neighboring countries and insecurity in the farming areas.
World Vision introduced nutrition voucher program to help caretakers of malnourished children to buy extra nutritious food for the children. Each voucher is 4200 South Sudanese Pounds (21 USD) and it is given once to every beneficiary. This pilot project is supported by Global Affairs Canada through Nutrition Vouchers in Melut County for a period of one month.
A total of 1,063 households with under-fives and pregnant and lactating women admitted in the program were reached. Through the nutrition voucher, there was an overall improvement within the malnourished during the month of April 2018.
"The beneficiaries had access to various nutritious foods from the selected vendors to complement the therapeutic and supplementary feeds", Valary added.
Another mother of five who benefited from the voucher is Akul, 32 years old. She said "When I bought the required food using the voucher, my children's health improved especially Ayuol my 2 years old baby girl who was admitted to World Vision's (therapeutic center)," Before Ayuol had pale skin and she couldn't play but right now she is better than the past four months, Akul added.
Mothers in Dengthoma camp learn together about the importance of exclusive breastfeeding, proper nutrition and many other health and nutrition awareness lessons from World Vision's team and volunteers.
In addition to the nutrition vouchers, World Vision also introduced vegetable gardening because most of the people don't have money to buy complementary food for the malnourished children making it difficult to improve children's diet.
"We also trained mothers at our facility on how to grow vegetables within their small compounds so that they can produce a variety of food for the family," Valary says.
Achol, one of the mothers who grow vegetables in her garden after receiving seeds and training from World Vision while nursing her malnourished baby Jok, says "We are excited to farm and enjoy the produce; we are even selling excess produce in the local market to generate some income for family sustainability"  
Dengthoma camps 1 & 2 have a total population of 20,153 individuals, of which 6,758 are children under 5.