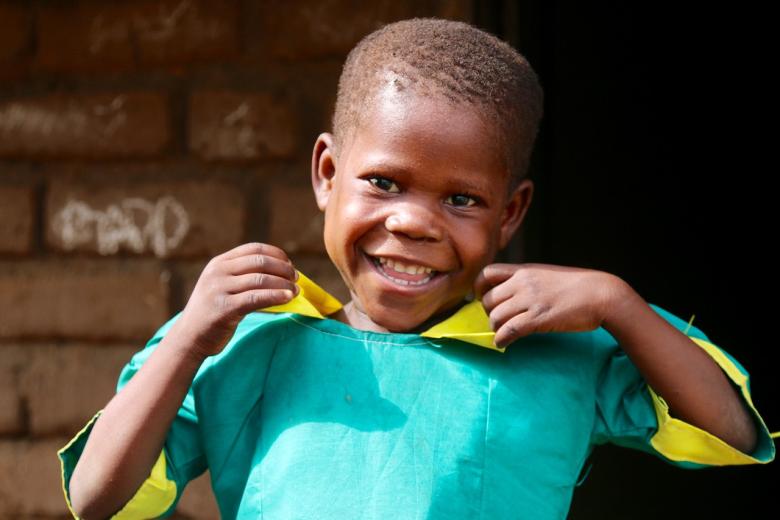 Before and After: A family moving forward despite Malawi's drought
Tuesday, October 11, 2016
Fanny Chilumpha, 49, cannot stop smiling. Her youngest daughter, Gertrude, has just started Grade 1. For her, this is a great turn around.
BEFORE: PAID IN MANGOES
Just 10 months ago, Fanny and her five children were symbols of hunger, poverty and desperation in a rural and remote community, short of opportunities. 
In mid-2015, Fanny, a single mother, was living a life of hell (read the full story here). 
Her four children had dropped out of school as a result of a drought. The food crisis that swept across her community, taking with it all the hopes and dreams families harboured, was on her doorstep.
In an attempt to scrape by, Fanny and her children worked bent over in the hot sun, pulling weeds, planting seeds and watering plants in other people's gardens. For their labour, Fanny and her children were paid in mangoes. 
She says that juggling for food in those desperate times made it very difficult to provide for her children's school needs and led to the decisive point where they dropped out. 
She further adds that watching her children feed on mangoes for breakfast, lunch and supper was a nightmare she never dreamed of.
SOME HELP: FOOD FOR ASSETS
Thanks to the partnership of the aid organisations: World Vision and World Food Programme (WFP), Fanny and her children were offered a lifeline.
Fanny was registered in a Food For Asset programme, being implemented by World Vision, with support from WFP, where they have been: planting trees and creating fish dams, among other things.
In return, every month, since December, they have been receiving:
50 kg bag of maize
5 kgs of beans  
2 litres of vegetable oil 
A total of 3,200 households benefitted from the relief project.
NOW: FAST FORWARD TO SEPTEMBER 2016 
Fanny and her children are still in need but with some hope. 
While Fanny's children returned to school, Fanny moved a step forward.
She started a smallscale business, cooking and selling banana fritters by the road close to their home.
"I never stopped going for piece work," she starts, with a very big smile over her face. "So as I was going, this time around I wanted money to buy the children exercise books," she says. 
But when she got the money and bought the first set of books for all her children, Fanny remembered that they would soon come back asking for more when these ran out. She decided to venture into a small business that would generate some money.
"With the money I bought a packet of sugar, salt and bananas," she says. And she further took out one kilogram of maize flour from the maize that she had received from World Vision.
Slowly but surely, her sales picked up. 
On the first day, she managed to sell all her fritters.
The following day, she did not use her family's maize flour. Instead, she purchased flour from the market and cooked some more fritters which she took to the road side for sale.
Just like the first day, the second one was equally a hit and she sold for 300 kwacha.
"So, every morning I have been cooking my fritters and taken some to the forest conservation site where I start selling before heading for the roadside," says Fanny, who also adds that her older daughter, now in Grade 4, has also been taking the fritters to school and sells during breaks.
"I told myself that we can do better with our situation and maybe help the children"
As a proof of the gains she was making from the small business, Fanny counts one of her greatest joys as the day she bought her children pairs of plastic shoes. 
"I told myself that we can do better with our situation and maybe help the children," she narrates. "You see, in a village like this I do not dream of having a lot of money," she says. "I just want my children to eat good food and go to school," she adds.
Since the project started last year, 10,800 children have benefiting from the food for asset interventions in Malawi.