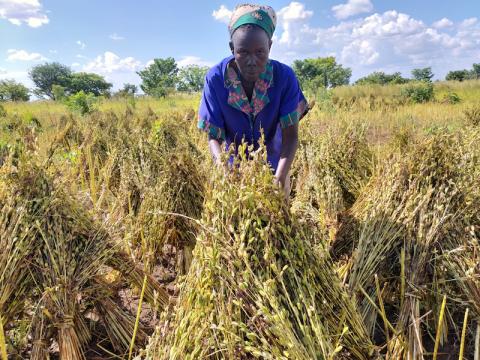 Empowering people to help themselves and lead transformation of their own communities
Thursday, November 8, 2018
By Kenneth Munyengerwi, Project Director, BRACE II
"When I got divorced with my husband life became very difficult. I could not afford to support my child. I needed money for food and pay for my child's school fees. I have a piece of land but I have no idea to how to make use of it to support my family. I have no money for seeds.", says Rebecca Ojia from Ganzi Boma in Magwi, South Sudan.
She adds, "For the five years that I separated with my husband, life had not been easy. I survived working for other families to support mine."  Rebecca's story was the story of many struggling women in South Sudan.
Funded by the Department for International Development (DFID), World Vision's Building Resilience through Asset Creation and Enhancement (BRACE) II Cash for Asset Project revived hope for Rebecca by providing her with livelihood. She is now able to take care of her family needs. When Rebecca was registered for the project she joined a group named Amasivule. She said she thought she could not manage to work on additional land as encouraged by the project.
Rebecca said the project saved her life as well as her family's. Instead of working for others, she is now cultivating crops in her own farm and selling them.
Through support of her neighbors, she took the challenge. Some group members helped her clear the land and prepare for cultivation and planting. The project provided her with the package which included 7kgs of groundnuts, sorghum, maize and vegetable seeds.
"I can hardly believe it. These people from the project saved my life," she says with a smile, adding, "After working in the group farm for 15 days we were given the first payment of SSP 5600 (US$40.50). I paid for my child's school fees, purchased more seed for my additional land and some food for the family."
The 3-year project seeks to build community resilience through asset creation with the aim of improving the food and nutrition security of 9,150 households in Gogrial West, Aweil North and Magwi counties in South Sudan. It is being implemented by World Vision in Gogrial West), Support for Peace and Education Development Programme in Magwi and Smile Again Africa Development Organisation in Awiel North.
The project encourages people in the communities to help each other in improving their lives.
It is an opportunity for the communities to identify shocks that affect their lives and livelihoods and together we find ways to build their resilience, then mitigate and manage them. At least 60% of the participants are women and being the ones who face the burden when children are hungry at home this is an opportunity for them   to improve their household food and nutrition security.
Communities work towards creating assets that will help them transform their lives and livelihoods. They get a monthly household payment of $40.50 as a bridging cash transfer prior to production for the first eight months. The households produce agriculture crops and vegetables production and participate in community initiatives such as building feeder roads, multi-purpose ponds, dykes, shallow wells and fruit tree planting are created.
From her farm, Rebecca expects to harvest 100kgs of groundnuts, 150kgs of sesame and more than 100kgs of Maize.  Rebecca could not hide her joy about the BRACE II project. "The project made it all possible for me, because it is the foundation that made me and my family to acquire these resources," she says smiling as she pointed at her growing poultry.