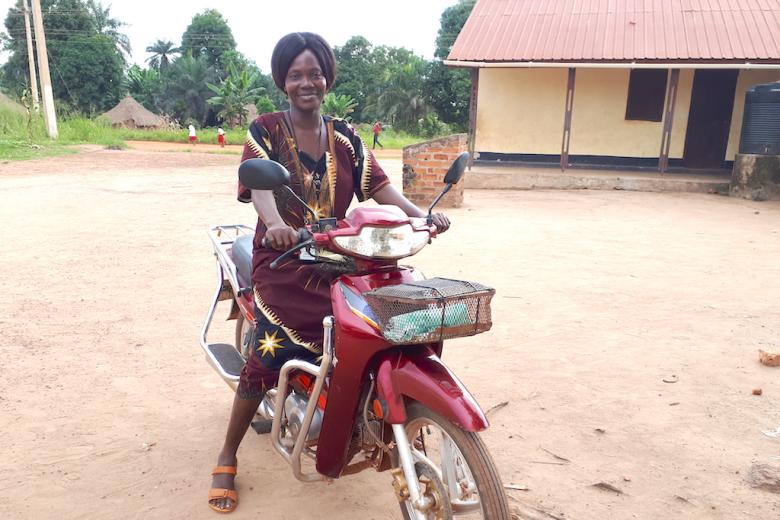 Gender and protection advocate from South Sudan nominee for Bond's humanitarian award
Thursday, November 15, 2018
World Vision's Social Reintegration Coordinator in South Sudan Christine Ngbaazande, based in Yambio, Western Equatoria was nominated for the prestigious Bond's Humanitarian Award that recognizes "unsung superheroes in the humanitarian field". Bond is a network of over 400 organizations in the United Kingdom (UK) working in international development.
Christine has worked with World Vision since 2016 has inspired activism for the rights and respect of women and girls in Yambio. "I give thanks to God and everyone in World Vision who have supported the effort to end stigma against survivors of sexual violence and respect the human rights of women. "
"Today, I have the ability to talk with anyone - women, church leaders, even the government officials. I can advocate on behalf of all the marginalized women and children to help realize their human rights and care for survivors. I am honoured to be recognized for this work", she adds.
Christine began working with women to break stigma experienced by survivors of sexual violence and children born of rape. She also helps train faith leaders, women's groups and youth leaders to become local advocates for social acceptance, encouragement for survivors to seek assistance and greater respect for the rights of women and girls.
Together with over 50 local advocates she has trained, they were able to change attitudes and behaviours, increasing social acceptance of survivors of sexual violence. The faith leaders who partnered with her has the highest praise for Christine and her team in their tireless efforts to support the most vulnerable and in holding leaders to account for what they had promised to do.
"Christine joined World Vision as one of our first national female project leaders. She has demonstrated an incredible dedication to her community to help survivors of sexual violence access life-saving services, start discussions with church leaders and their congregations on ending gender-based violence which is pervasive in South Sudan, and a bravery to stand up for the rights and respect of women and girls", says Lyndsay Hockin, World Vision's Senior Protection and Gender Advisor.
Today, Christine tackles other hard issues in Yambio. In February 2018, the process of demobilizing 752 child soldiers began. These children were feared by their community for their past acts, while the girls were also heavily stigmatized as both child soldiers and survivors of sexual violence. Christine has inspired her local advocates to act – in this case, reacceptance of girls and boys, formerly child soldiers and also survivors of sexual violence.
As a result of her efforts, the community are coming back together after a heart-breaking civil war, supporting these boys and girls to become children again and find forgiveness. Christine continues to make a lasting impact on her community – through her work directly to change attitudes and help communities accept those who have experienced extreme trauma. It is challenging for women in South Sudan to work independently and adopt leadership positions, yet Christine breaks the stereotype.
She is one of the few women who drive alone.  Seeing Christine driving her motorbike to support the local advocates is inspiring for young girls. A 'mother on the go,' she worked until the day before giving birth to her newest baby and returned immediately to work as she takes breastfeeding breaks.
Hockin adds, "We are so proud of the positive changes in community attitudes that have resulted from Christine's leadership on this very difficult issue, the work of the entire World Vision team in Yambio, and their continuing effort to support the voices of survivors, marginalized women and the most vulnerable children to end gender-based violence."