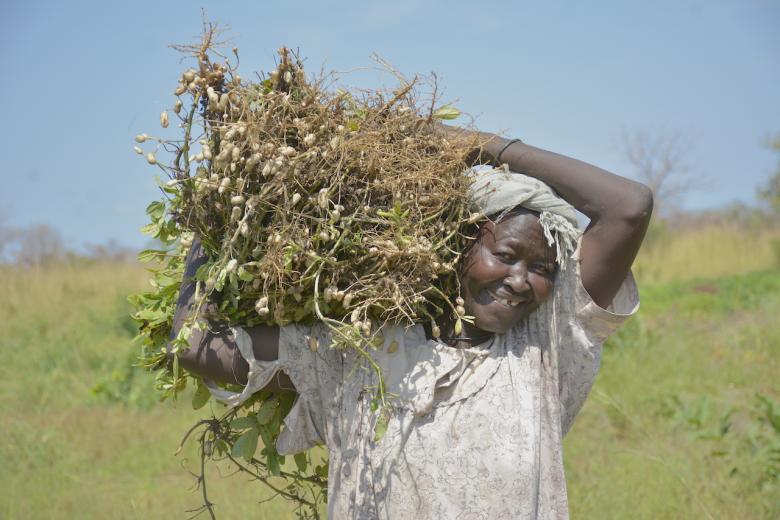 How South Sudan's farmers help reduce hunger in communities
Thursday, October 25, 2018
By Lisi Emmanuel Alex, Communications Officer
World Vision, in partnership with Food and Agriculture Organisation (FAO), provided the communities with modern farming skills, tools, gumboots and seeds for cereals and vegetables so that the communities are able to produce their own food.
In 2017, World Vision projects under the Food Security and Livelihood Program helped a total of 822,752 people. The farmers were trained in groups in demonstration farms so that they can replicate the skills in their own farms. The aim is to move the farmers from the traditional farming to modern methods in addition to better preservation and marketing strategies.
The overall outcome is an increased food supply in the household and selling of the surplus to meet other domestic demands such as medical support, school fees and clothes. Malnutrition also reduced within the communities who engaged in farming because they are able to provide nutritious food for their children from their own farm produce.
The Gorom farming group harvests peanuts in their demonstration farm. The group is composed of seven men and 18 women growing cassava, sorghum, sweet potatoes and beans in addition to the peanuts they have harvested.
Joyce Poni, 42 years old, says "World Vision has given us skills that are helping us and we will adopt them and pass to our children. I would like World Vision to come back in the next two to three years to check whether we are implementing the skills in our farms or not."
Since the start of the conflict in 2013, there has been an immense increase in the level of vulnerability among the South Sudanese communities. This has been mainly because there was no chance to farm for fear of attacks while in the field resulting to limited food and high malnutrition level among the children, pregnant and lactating mothers and the elderly.
World Vision is helping ensure that vulnerable communities in South Sudan have adequate food to provide for the children. Since farming has become the most effective viable way to help vulnerable families especially the remotest vulnerable people of the country.
Cecilia, 45 years old, carries the peanuts from the field to the preservation area where they can dry safely.
The United Nations' Sustainable Development Goal 2 targets Zero Hunger: "End hunger, achieve food security and improved nutrition and promote sustainable agriculture. Goal 2 seeks sustainable solutions to end hunger in all its forms by 2030 and to achieve food security. The aim is to ensure that everyone everywhere has enough good-quality food to lead a healthy life."
The goal further states that "By 2030, end all forms of malnutrition, including achieving, by 2025, the internationally agreed targets on stunting and wasting in children under five years of age, and address the nutritional needs of adolescent girls, pregnant and lactating women and older persons".
"Food is key to any healthy living and that is transformed into good child growth, good performance in school good development of child's brain, "says Gloria Luka Joseph, World Vision's Nutrition Coordinator.
The group weeding their cassava garden. This year, FAO provided them with farm tools in support of this program.