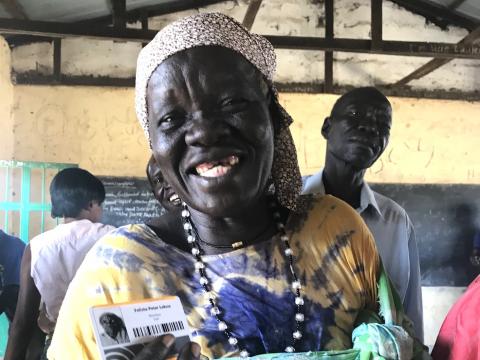 LMMS and e-voucher program bring the food market closer to the people
Monday, January 28, 2019
Traditional market joined forces with modern technology as World Vision launched its e-vouchers project using the Last Mile Mobile Solutions (LMMS) platform in Juba, South Sudan. Funded by Aktion Deutschland Helft (ADH), through unconditional cash transfers, the project will help address the immediate food needs of 2,000 vulnerable households while assisting them build resilience through livelihood activities from medium to longer term.
South Sudan's food insecurity impacts an estimated 6.1 million people or half of its total population. World Vision's food security projects are assisting over one million people but obviously more needs to be done. hence long term solutions are urgently needed to address the chronic food insecurity in most parts of South Sudan.
Felista orders her food supply from trader Catherine Alexander who also shared her excitement of using the LMMS technology as a new way to sell goods.
WATCH: How the cash program helped change George Loro's life 
One of the traders, Catherine Alexander, 39, is among the traders chosen to provide food supply. "I am excited to be a part of this project. Beside serving these needy people by making food accessible to them, this also gives me good income than staying in my shop at the public market and waiting for people to come and buy", she says.
The LMMS tablet is pre-loaded with a US$45 electronic voucher which households will use to access available food for their households. As the people choose what they want to buy from the trader's tablet, the transaction is recorded and transmitted back to the e-voucher system in the server. World Vision will then access and download reports for payment of traders.
The system also helps the team analyze the people's commodity preferences and buying frequency, among other information. This is key for decision making, further improving the project for the people's benefit.
Leila Michael, 50, a member of mother-to-mother support group talks to the women about issues affecting them while waiting for their turn.
"We are pleased to launch the e-vouchers system in Juba. It is exciting to use this technology in our Food & Nutrition Vouchers Project which is more secure for fragile contexts like South Sudan. It helps us serve the communities better. They do not receive direct cash but have their money is loaded in the LMMS card which they can use to shop from accredited vendors", shares Gift Sibanda, Juba Operations Programme Manager.
WATCH: A deaf-mute, Roda is not daunted by her disability; gives a challenge to all mothers
Lekna Felista, 63, has completed her purchase for the day and ready to go home with a bagful of food. A grandmother of 10, Felista said she was very happy. "The support I got to be able to buy food at fair prices will ensure that my family will have enough healthy food to eat for the month", she explains. The rainy season when farmers can plant is still few months away. Felista is relieved she does not have to worry of food on the family table.
Nadia and youngest son Gazati with the LMMS card. Nadia said she is happy to be able to buy food conveniently for her four children.
"The beneficiaries of the project will be trained on improved farming skills and other livelihood opportunities. They will be provided with seeds that they can plant when the rains come around April to May", adds Sibanda.
READ: Rising from the stigma of disability with help from the cash program
Felista adds, "I love farming. All my life was spent in the farm and our lives depend on it. I am glad we are getting supported." Her family is among the 195,000 internally-displaced people in South Sudan who left their own villages and sought refuge in various safe places in the country. For the first time in her life, Felista is using modern technology to buy her family's food.
Gift Sibanda (middle) discusses with Felista and the e-vouchers program support staff about the value of the program to mothers and women like her.
Mother of four Nadia Rizik, 28, came with her youngest child 4-months old Gazati. Women in the queue allowed her to go ahead and buy so she can go home. As she waited for her turn, she also listened to Liela Michael, 50, one of the mother-to-mother support group members as she talked to women about issues affecting them at home and in the community, such as early child marriage, gender-based violence and proper parental care.
Sibanda concludes: "We are as excited as Felista and the other mothers who came today as they use their LMMS cards to shop almost the same way you and l would do when going to a supermarket for shopping. This gives them the dignity to choose and the control over what they buy for their families."