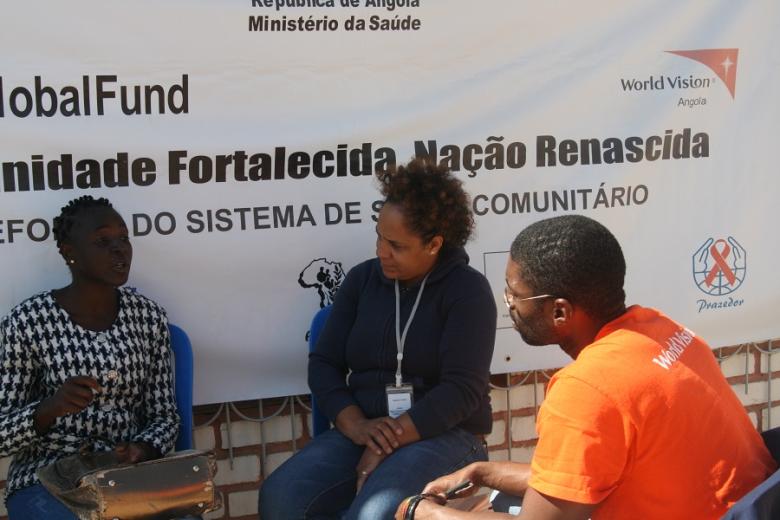 Mother living with HIV forms support group
Wednesday, March 14, 2018
By Célio Njinga, HSS Program Manager
Twenty-eight-year-old Mizé, of Lubango in southern Angola is helping transform the lives of other women living with HIV.
Diagnosed with HIV at a tender age, Mizé did not despair but took her status within her strides culminating in her key role in the formation of a support group whose meetings are attended by 15 to 20 women at a time.
 Support meetings and counselling are some of the key activities of PRAZEDOR to improve treatment of HIV/AIDS and Tuberculosis, an initiative financed by The Global Fund, in partnership with World Vision. PRAZEDOR is the organization running the support group meetings.
The project also aims to reduce the prevalence of Malaria in the nine provinces of Angola, reaching a total of at least 20.000 beneficiaries.
Lubango is a city known for its rich culture and is home to prominent scholars. However, social mobility is very limited and only a small group of people can access higher education. Living in this city Mizé had big dreams for her future and studied to become a health technician, and started working in the central hospital of Lubango. She gave birth to her first daughter at the age of 18.  Following the birth of her second daughter, her relationship with her husband took a bad turn. As a result, Mizé suffered from depression and consequently dropped out of College.
 As her health deteriorated, she was diagnosed with HIV and her husband left her.  Initially she found it hard to tell her daughter about her condition due to the stigma associated with HIV back then. 
Once she gathered the strength to accept and share details of her status Mizé began attending support group meetings at the hospital where she worked. Meeting other people living with HIV helped her to accept her status and fight stigma.
Mizé got to know Nadine, the local coordinator of PRAZEDOR. With Nadine's help Mizé then started to organize her own meetings dedicated to educating women living with HIV/AIDS, that there is still hope.
She found out about legislation that guarantees a quota of the national budget to people living with HIV and secured funds to continue with college education. Mizé went back to college.
 "My two young girls represent the future of activism as they already know what they hope to achieve in life and I am here to guide them throughout the way," says Mizé.
Now in her second year at the health polytechnic school, Mizé's time is dominated by her   studies, caring for her daughters, working at the hospital and HIV support group meetings.
 Learn more about how the work World Vision is doing is improving the Health and Nutrition of children in Angola.