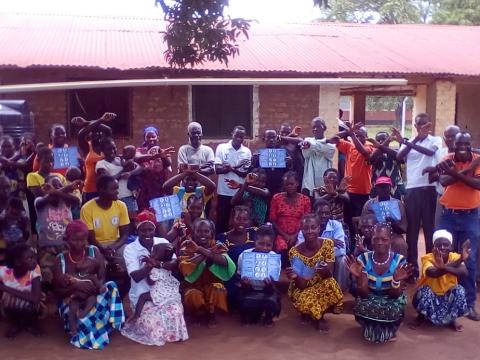 Preventing the Ebola in South Sudan; over 10,000 people reached with awareness campaign
Tuesday, November 6, 2018
As the new outbreak of the Ebola virus disease was declared in the neighbouring Democratic Republic of Congo (DRC), South Sudan's Ministry of Health and the World Health Organization, along with the humanitarian community, set-up a campaign to ensure that people living close to the border between these two countries are forewarned.
South Sudan's Minister of Health Dr Riek Gai Kok has commissioned World Vision to lead the coordination of the Ebola Preparedness Response. World Vision's Health and Nutrition Technical Advisor Dr. Henry Ilunga says, ""World Vision, as a member of South Sudan's Health Cluster Strategic Group is currently involved in the Ebola preparedness and readiness led by the Ministry of Health at national level through the Ebola National Taskforce."
Staff prepare for screening at Nabiapai-Ezo site. As people's movement increase in the border, so are the challenges, including staffing, to ensure everyone go through the screening process.
At present, over 10,000 people were already reached with the massive awareness campaign through the health facilities, partner engagements and communities in the identified areas in the border where World Vision has programming work.
Dr. Ilunga adds that, "World Vision has set four points of entry where travelers crossing the border between South Sudan and the DRC are screened. We are also in the process of setting up four Ebola isolation facilities.  Our activities are focused on screening, community mobilization, surveillance and referral of suspected cases to Ebola Treatment Centers and units."
Mary Martin, 30, a mother of four children comes from Gangura town which is 26km from the Nabiapai town in the DRC border. Having recently delivered 3-weeks old Betty Martin, both mother and baby went through the screening and were found free of the Ebola virus. Mary says, "I appreciate the information about the Ebola. I did not know before how infectious it is and what are the signs and symptoms."
Mary and Betty, her 3-weeks old baby went through the screening and were both cleared. Mary is thankful of the information she learned about the Ebola and committed to share it with family and neighbors.
She added she will share what she learned with her family and neighbors saying, "I will encourage them to practice good hygiene, wash hands all the time, avoid eating bush meat, touching or washing dead bodies and eating fruits and vegetables that were already bitten by animals."
Mary was provided with brochures with illustrations about the signs and symptoms of the Ebola virus so she can share with people in her community. Despite access and insecurity, over 1,600 people were screened at several entry points near the border. The response staff has reported the increasing number of people moving from DRC and logistical challenges also increase.
Close to 2,000 people have been screened and over 10,000 were reached with awareness campaign.
Iden Jennifer, World Vision's Maternal & Neonatal Child Health Zonal Coordinator who helps oversee health initiatives in Western Equatoria has been supporting the integration of Ebola messaging into the team's activities in over 64 health facilities. "As a South Sudanese health care worker helping my own people, I feel empowered as I am aware how deadly the Ebola virus is. Awareness-raising to educate the people of this virus is very critical at this time."
Dr. Ilunga expressed his appeal for the campaign, "The big challenge we face in the Ebola preparedness is funding. Our appeal to donors and funding agencies is to join this effort with your financial support. South Sudan is facing serious health, WASH and nutrition challenges, an Ebola outbreak will be catastrophic.  We are thankful to World Vision Korea, World Vision Australia, World Vision US and UNICEF for the support in this campaign. For us to successfully get the country prepared and ready, we need more."
The campaign led by the staff also encouraged community members to help spread the information on hhealth and hygiene practices that will help prevent the outbreak in the country.
As of the September 2018 by WHO, 142 Ebola cases in the province of North Kivu sub-region of the DRC were reported with 111 confirmed through laboratory tests, 11 of them health care workers responding to the outbreak. At least 97 deaths were reported. North Kivu is among the most populated provinces of DRC with an estimated eight million people. Its four provinces namely Ituri, South Kivu, Maniema and Tshopo share border with South Sudan, Uganda and Rwanda.
The sub-region's worsening insecurity has forced over a million internally displaced people in other parts of the country and many as refugees in the neighboring countries including Burundi, South Sudan and Tanzania. The risk is considered high in South Sudan's areas particularly in Western Equatoria State that shares border with DRC.