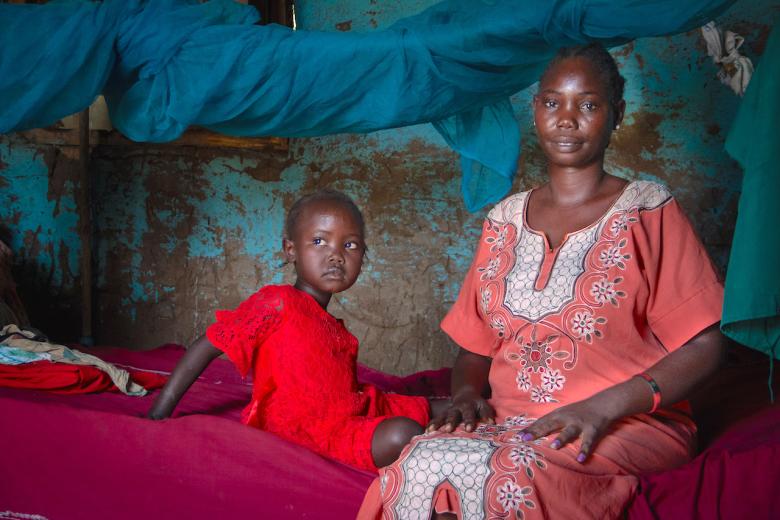 A single mother's resilience and entrepreneurial skills get a boost from cash program
Thursday, October 11, 2018
Lisi Emmanuel Alex, Communications Officer
It was late in the afternoon when Roda Nema was out picking cassava leaves for dinner. Meanwhile, she was nursing her three-year-old daughter, Hadiya.
A single mother of two, Roda struggled to provide food on the table for her own children and for the children of her late sister. But that wasn't the only setback for her. As a mom who has been deaf all her life, her opportunities to go into business were limited, including her own financial resources.
"It was when I joined World Vision's Urban Cash Training program that my life started to improve," says Roda Nema. "The program helped provide people like me who struggled with disabilities, with business skills, child protection, nutrition, hygiene and agriculture."
Cassave leaves that Roda plans to cook for dinner. The leaves are widely consumed in South Sudan. Photo by Eugene Combo/World Vision
During the first phase of the project, World Vision assisted 42,000 people and conducted skills training for 63 people in Buluk Center. The project created opportunities for people with disabilities to become more economically self-reliant as small-scale entrepreneurs.
"After I finished the training, I then became interested to start a small business," Roda recalls. "I used my first profit to buy food for my children and I started to save a portion of that too."
After graduating from the training, Roda started to sell drinking water, local juice made from hibiscus and biscuits in the busy streets of Juba. Today, Roda now earns 1500 to 2000 South Sudanese pounds (US $7.50 to US $10).
Hadiya and Roda say "I love you" in sign language. Photo by Christopher Lete/World Vision
Her business venture also helped put her 14-year-old daughter, Sarah, through school. "My daughter is in primary seven and my only hope is for her to finish," she explains. "I want her to be able to choose the kind of career she wants to pursue."
World Vision Social Worker Stella Kaku shared that serving people with disabilities allows her to see renewed hope. "They are able to realize that they can work like anybody to earn a living," Stella says. "I would love to see this project continue and create impact in more lives."
Among the 82 people with disabilities who joining the training program, most of them have already started different kinds of businesses in Juba.
World Vision's cash transfer program in South Sudan has assisted 197,265 people in Juba, Upper Nile, Warrap and Western Equatoria States.