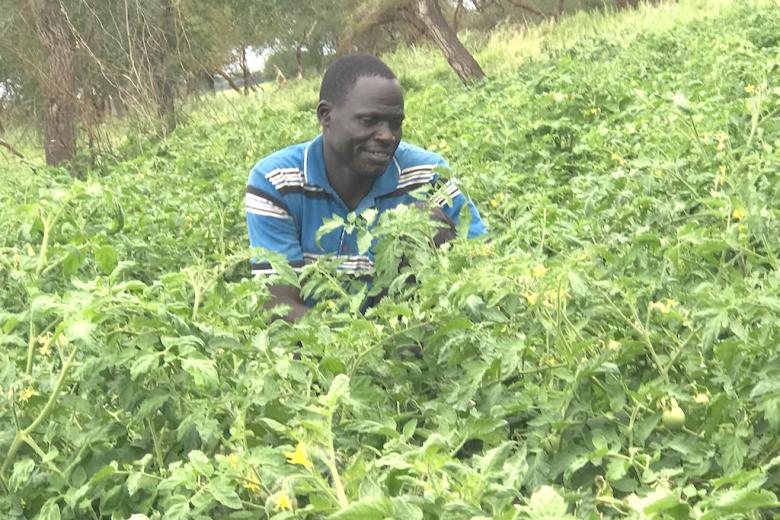 South Sudanese farmers up with hoes to fight hunger and launch a green revolution
Wednesday, September 12, 2018
In 1994, Abdul Kareem decided to look for fertile areas where he can farm. From Sudan, his venture took him to Melut County, which eventually became part of South Sudan when it declared independence in July, 2011. He found the place suitable as it is a stone's throw away from Kor Adar, or the River Kor.
Growing up from a family of farmers, he loved growing an assortment of vegetables including tomatoes, squash and okra. Abdullah settled with his family in the area and started his green revolution that gradually inspired farmers from neighboring villages to learn from him. To deliver water from the river, he used a hose made of tarpaulin and bought an old motorized pump fueled by gasoline for SSP120,000 (around USD500).
His gardens flourished despite the challenges with supply of seeds, water supply and distance to the market. Water pumped from the river often spill along the way and took more effort to get to the gardens. But Abdullah is a persistent guy. His income was hardly enough for his upkeep of the farm but he tried to explore for resources. He just knew this is the life for him.
World Vision met Abdullah when his farm had started to dry up because his old water pump had broken down for about 15 days and he was unable to irrigate his onions. He said he had tried to source for spare pump locally both in Paloich and Malakal towns but could not get except in Sudan was then inaccessible due to closure of border.
Abdul shows how he operates the water pump that provides irrigation to the vegetable farms.
By then Abdul and his partners had lost hope and the others to leave farming. Abdul received a set of new water pump with delivery pipes. This finally brought back life to the tomatoes and onions. "It is difficult for them to source good seeds from nearby towns. They either have to come from Juba or from Uganda or Sudan", Moses Tiobe, World Vision's Food Security & Livelihoods Officer explains.
Proudly, Abdul showed the lush vegetables and the large watermelons that were ready for harvest. Some of the farmers were away during the visit but Abdullah shared their collective efforts to make the project a success. Many of the traders from the nearby towns now go to the farm when the harvest is being done.
"From 20 boxes before, we now harvest over 50 boxes for different varieties of high-yield vegetables. During the last harvest, we produced 120 bags of onions, each bag weighing 100kgs, which is high demand in the market.  We also employ around 25 people in the community who assist us in the weeding, planting, harvesting and other farm work", Abdul shares with a smile at their accomplishment.
These are the new and more efficient pipes that bring water to the vegetables. Abdul replaced the old ones he made himself. 
Apart from the products that provide families with healthy meals, the arms became sources of employment. Being the model farm, Abdullah and his team used it to train other members in improving their farmers, Tiobe added that they are now planning for expansion to cope with the growing demand and the rainy season.
He says, "The most challenging months are April to May when the water level goes down and pumps need to be moved to the river to bring in water to the farms." But he commended the hard work and resourcefulness of the farmers to better their families' and communities' future.
"My dream is to keep improving our way of farming and be able to build a house for my family. I also hope I can buy a new pick-up truck that we can use for marketing our farm products. Let us pray that Allah will bring peace and the people of South Sudan will be free from hunger", Abdul concludes.
From the fruits of the farmers' labor and passion for farming, Abdul shows a watermelon ready for harvest.
In partnership with the Food and Agriculture Administration (FAO), the Office of US Foreign Disaster Assistance (OFDA) and MFAT, World Vision has distributed 38 water pumps benefiting 450 farmers. From the targeted 640 farmers in 2014, the program now works with 1,000 new farmers. Thirty lead farmers work with at least 25 members.
The green revolution in South Sudan, indeed, is underway.
Children go home with vegetables after helping their fathers in the farm during weekdays.
The farmers' partner in the food security and livelihoods program, Moses Thiobe is proud of their hardwork and accomplishments.